Las Vegas-area hospitals like 'war zones' after Strip massacre
October 2, 2017 - 2:46 pm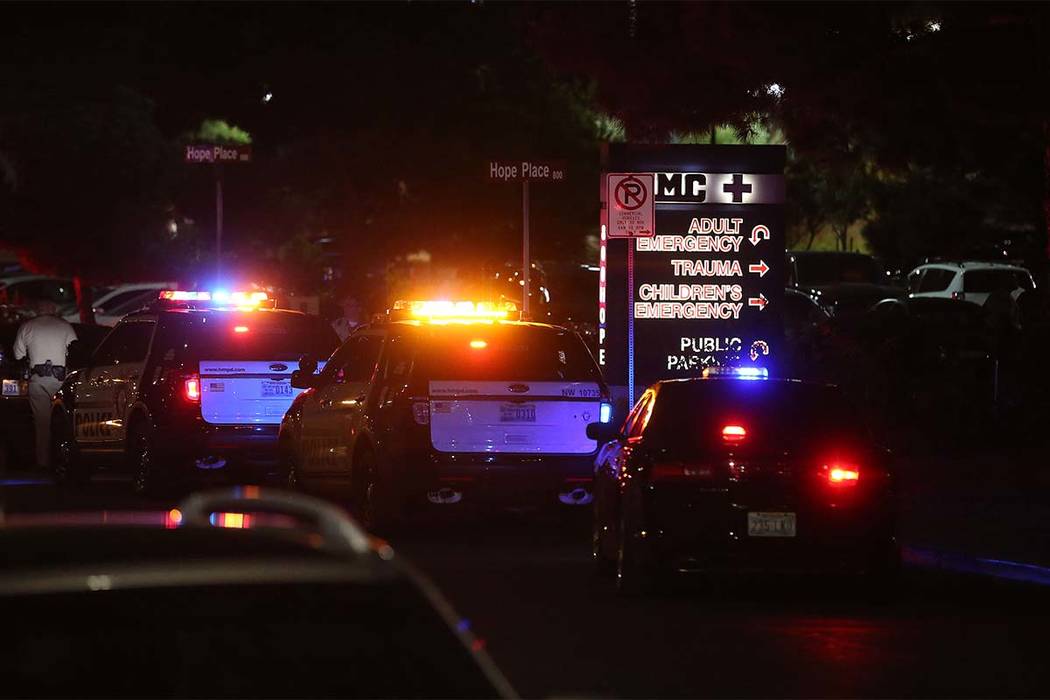 The bullet wounds that University Medical Center trauma surgeon Dr. Jay Coates saw late Sunday night were to the head, chest, abdomen, legs and arms.
"It was like we were in a war zone," he said early Monday, weary after catching two hours of sleep following nearly five hours of surgery. "From our patients' wounds, you could tell a high-powered weapon had been used."
UMC CEO Mason VanHouweling said he thought an incident where a driver mowed down pedestrians on a sidewalk on the Strip in December 2015 would be "the worst I was ever going to see in my career."
"This was 100 times worse," he said. "Unimaginable."
UMC staffers were among thousands of medical personnel at area hospitals who responded Sunday night and early Monday as it became clear that the event they had long rehearsed for had occurred.
UMC trauma surgeon Dr. John Fildes said his team participates in two major disaster drills each year and does other internal drills, too, Fildes said.
Practicing for unthinkable
"We've actually drilled in the past on a concert venue, we've drilled on a plane crash," said Fildes, the hospital's director of trauma and the chair of the UNLV School of Medicine surgery department. "We trained on this. And it just went off perfectly, on our side. I feel bad for the people that were hurt — I really do. But I'm glad we could help."
UMC spokeswoman Danita Cohen said staff had discussed with Orlando, Florida, medical staff recently how they dealt with the Pulse nightclub shooting last year as part of training.
"We were able to use that today," Cohen said.
The Las Vegas concert rampage just outpaced the Pulse shooting as the deadliest shooting in modern U.S. history.
Despite that preparation, UMC medical personnel and others at Sunrise, Valley and St. Rose Dominican hospitals said the carnage 64-year-old Stephen Paddock unleashed at the Route 91 country music festival adjacent to Mandalay Bay was beyond anything you could imagine. Patients arrived so fast that the surgeons and support personnel couldn't begin to keep up.
"We had our eight trauma operating rooms going within an hour of when we started receiving patients," Coates said. "People were lined up along the walls."
"It was controlled chaos, a combat medical hospital — blood everyplace," said Dr. Dale Carrison, head of emergency and chief of staff at UMC. "The only difference is that the patients here were wearing cowboy boots, not combat boots.""
'We couldn't save him'
Coates, who began operating before midnight and, after grabbing two hours of sleep, returned to surgery at 7 a.m. Monday to finish procedures on patients that earlier had been stabilized, said one of those he worked on didn't make it.
"He'd been shot in the head and we couldn't save him," Coates said.
UMC, Southern Nevada's only Level I trauma center, received 104 patients. Other patients — the final number is still uncertain — were later transferred to the hospital from other medical centers that couldn't handle the severity of the gunshot wounds, according to Danita Cohen, the hospital's head of public relations.
Four patients died at UMC, where 30 patients went into the trauma center, with eight needing immediate surgery. Twelve patients were in critical condition early Monday.
Sunrise Hospital and Medical Center, a Level II trauma center and the closest trauma center to the Strip, treated 214 patients, with at least 30 needing surgery. Fifteen patients died there. The Sunrise system's other hospitals, Southern Hills and Mountain View, treated nine and eight patients, respectively.
Dr. Jeffrey Murawasky said Sunrise, like UMC, had cardiovascular, orthopedic, pediatric and neurosurgeons working along with trauma surgeons.
'30 operating rooms working'
"We had 30 operating rooms working at once," he said.
Both UMC and Sunrise brought in their entire staffs — hundreds of nurses and other support staff — to handle casualties.
Gretchen Papez, a spokeswoman for the Valley Hospital System, said the network of hospitals received a total of 228 patients, eight of whom died. She provided this breakdown by individual hospital: Desert Springs, 105 patients treated; Spring Valley, 53; Henderson, 32; Valley, 29; Summerlin, six; and Centennial Hills, three.
Jennifer Cooper, a spokeswoman for St. Rose Dominican Hospitals, said all three St. Rose campuses treated patients from the mass shooting — 31 at Siena, 10 at Rose de Lima and 16 at San Martin — 57 patients in all.
The Siena campus, a Level III trauma center, had four patients in critical condition, she said.
Contact Paul Harasim at pharasim@reviewjournal.com or 702 387-5273. Follow @paulharasim on Twitter. Contact Jamie Munks at jmunks@reviewjournal.com or 702-383-0354. Follow @JamieMunksRJ on Twitter.
A previous version of this article misspelled Dr. Dale Carrison's name.