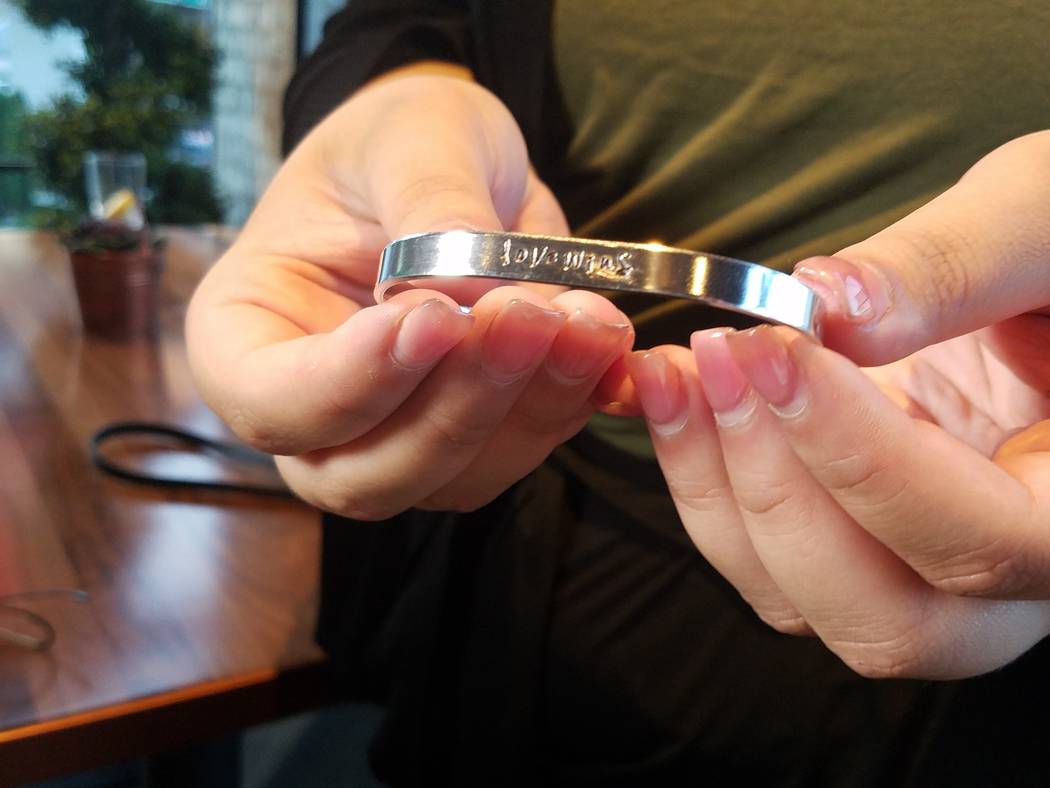 It had been more than seven months since she last saw the man who guided her to safety.
The night of Oct. 1 at the Route 91 Harvest festival, Taylor Stovall, then 17 years old, was running from gunfire with a friend. Stovall had been shot in the arm, and her friend flagged down a man who was offering help and directing people to keep running.
"My name is Parker. I'm (a former) Army medic. Do you trust me?" the stranger asked her.
Parker instructed her to lift her injured arm and put pressure on her's wound as he guided her to an ambulance. That was the last she saw of him until Friday night.
Inside Robert Irvine's Public House at the Tropicana, Stovall walked into the back area of the restaurant where Parker Gabel, 26, had come with his wife from Tucson, Arizona, to meet Stovall for the first time since the shooting.
They embraced and he handed her a metal bracelet engraved with the words "Love wins" and the date of the shooting. Stovall tried hard not to cry, she said.
"Oh my God, it's so nice to see you," she told him.
She had no idea he was in Las Vegas, his first trip to the city since the massacre.
The visit was kept secret from Stovall, who thought she was attending a typical family dinner at the restaurant. Gabel told the family he wasn't prepared to return to Las Vegas right away, but her family had planned the visit with Gabel and his wife, Sarah, over the last couple of months.
"It's amazing," Stovall said.
It was the first time they had met since that night, but not the first time they had spoken to each other.
Savannah Guthrie, an anchor on NBC's "Today," met with Stovall while she recovered in the hospital shortly after the shooting. At the behest of Stovall's mother, Wendy Jacobs, Guthrie posted on social media trying to find Parker.
Stovall and her mother spoke to Gabel over the phone a few days after she was released from the hospital. Jacobs is glad she finally had the opportunity to thank Gabel in person.
"It's just the reality that my baby girl's still here," Jacobs said.
Standing off to the side from her family, Stovall lifted her right sleeve, showing the entry and exit wounds she suffered from the bullet.
Stovall, now 18 and preparing to graduate from Nevada State High School, admits she didn't think anybody was going to come to her aid as she bled. Stovall said she would've been shot in the chest had she not turned at the last moment. Not many who experience a mass shooting can say they survived them, she said; 58 others at the concert did not.
Stovall's uncle, Dave Jacobs, called Gabel a hero, but he deflected the label. He did what he was trained to do, Gabel said, adding that there were others who did far more than he.
"I think what I did was pretty minor," Gabel said.
Returning to Las Vegas was part of the healing process, he said. And he was grateful he survived and had the opportunity to meet Stovall again.
"It feels good. It feels like we're almost completing something, closing something," Gabel said.
Contact Mike Shoro at mshoro@reviewjournal.com or 702-387-5290. Follow @mike_shoro on Twitter.