Las Vegas visitors, residents stunned by news of Texas shooting
November 5, 2017 - 11:30 pm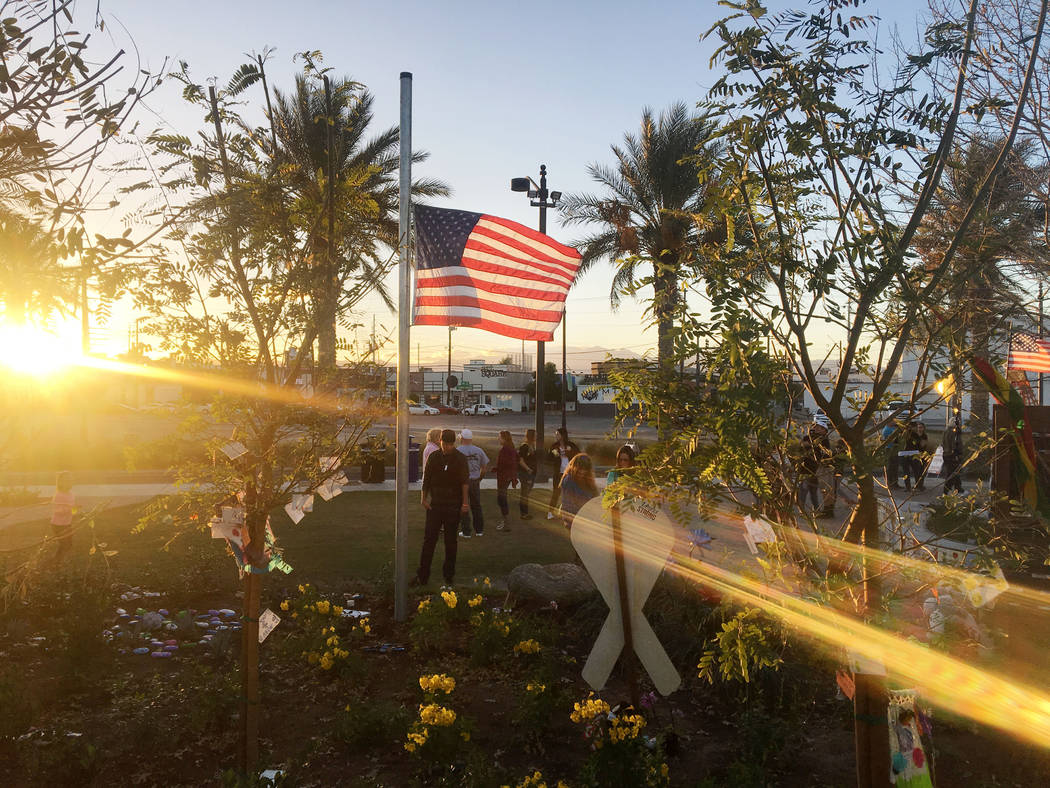 As his car engine turned over early Sunday, James Marrs took a deep breath and tapped the start button on his iPhone's GPS. Seeking closure, the 38-year-old California resident was returning to Las Vegas for the first time since the Oct. 1 country music festival shooting.
Marrs had been driving for about two hours when the news alert flashed on his phone screen: "Deadly shooting at Texas church."
Just 35 days after the deadliest mass shooting in recent U.S. history, another gunman opened fire on an unsuspecting small-town congregation during Sunday morning worship, again rocking a nation still in mourning. The shooting inside the First Baptist Church of Sutherland Springs, about 35 miles outside of San Antonio, left at least 26 people dead and dozens more injured, authorities said.
Hours after the first reports of gunfire out of South Texas, the sun, sitting close to the horizon, shined on the Las Vegas Community Healing Garden. Marrs stood in front of the remembrance wall, erected in downtown Las Vegas days after the attack at the Route 91 Harvest festival. It pays respects to each of the 58 shooting victims.
More than a month after escaping the rapid gunfire raining down on the south end of the Strip, Marrs had hoped returning to Las Vegas would kick-start his healing process. But instead, with the Sutherland Springs victims in mind, Marrs said he couldn't help but feel guilty Sunday night for surviving the October shooting.
"No one should die that way," Marrs said, looking over his shoulder at the remembrance wall. "I really just can't believe another one happened the day I came back here."
Paying it forward
In June 2016, 49 people died when a gunman opened fire at patrons at Pulse nightclub in Orlando, Florida. It was the largest mass shooting in modern U.S. history — until Oct. 1. When Orlando Mayor Buddy Dyer woke up that morning, he saw the estimated number of dead in Las Vegas had surpassed the shooting.
He called Las Vegas Mayor Carolyn Goodman.
"We're thinking of you and praying for you. And anything we can do to assist you, we're here to support you in any way we can," he told her. "It is our unique responsibility to share our knowledge and experience," he wrote in the city's blog.
In the immediate aftermath of the Texas attack, Goodman paid it forward. She sent a condolence communication to local government officials in Sutherland Springs.
"This is so demonic and so tragic," Goodman said Sunday afternoon. "We're just sending our prayers and support from Las Vegas."
Clark County Fire Department officials also were thinking about the tragedy in Texas.
"To think this might be our new norm, I have no words," Clark County Fire Department Deputy Chief Roy Session said Sunday.
In the hours after the church shooting, Session said his department was already proud of Wilson County first responders.
"As a small town, they wouldn't have the same amount of resources we have as a metropolitan city," he said. The department sent 108 firefighters to the Strip Oct. 1, and 160 responded. "We understand it's going to be a long recovery process, and we're proud of the work they're doing."
The Metropolitan Police Department released on Twitter a statement about the most recent shooting: "The news today was heartbreaking. Our thoughts and prayers are with the community of #SutherlandSprings, Texas."
'The devil's just busy'
Renee Dodson, deaconess at Victory Missionary Baptist Church in Las Vegas, stood at the front of the red pews Sunday evening. Before the baptism service, one of the church members asked her if she had heard what happened in Texas.
"It makes you tired," she said, shaking her head. "The devil's just busy."
Farther back, 76-year-old Herbert Kirkland sat, rubbing his hands. He had just ridden a half-hour on his scooter to church.
"The devil's everywhere," he said. "You're not safe. Even in your home you're not safe. There's no way to foresee it."
Minutes later, the service started. A man in an orange sweater grabbed the microphone, addressing the crowd.
"We gonna have to pray," he said. "We can't have people killing in church."
Just a few miles away, at First Baptist Church, around 20 church members gathered for the Sunday evening service. Associate Pastor Bruce Brown stood in front of the lectern and a cross surrounded by American flags.
"What does everyone want to know about the shooting? Why." He said. "As if there is any justifying going into some church and killing 26 people."
But, he assured his parishioners, "We know the action. And only God knows the truth."
On the way to church that night, his wife, Lisa, had wondered if she should change the worship music for the night to something more somber. Ultimately, she decided not to.
"By God," she said, "I will not let evil steal our worship and our joy."
While Brown thought about what the church should do as far as security, he said he's not sure what the best way is.
"People come to worship, come to pray, and they are killed in God's house," he said. "You want your doors to be open and let everybody in. But that threat is there."
At any rate, they would keep coming to church, said Keri Jones, an administrator at the church.
"We will not let it put any fear in us," Jones said. "Because God decides when we go. We know those people went to be with the Lord."
To close the service, Sunday night's small group gathered, joining hands.
Lifting them up, they sang.
Contact Rio Lacanlale at rlacanlale@reviewjournal.com or 702-383-0381. Follow @riolacanlale on Twitter. Contact Briana Erickson at berickson@reviewjournal.com or 702-387-5244. Follow @brianarerick on Twitter.