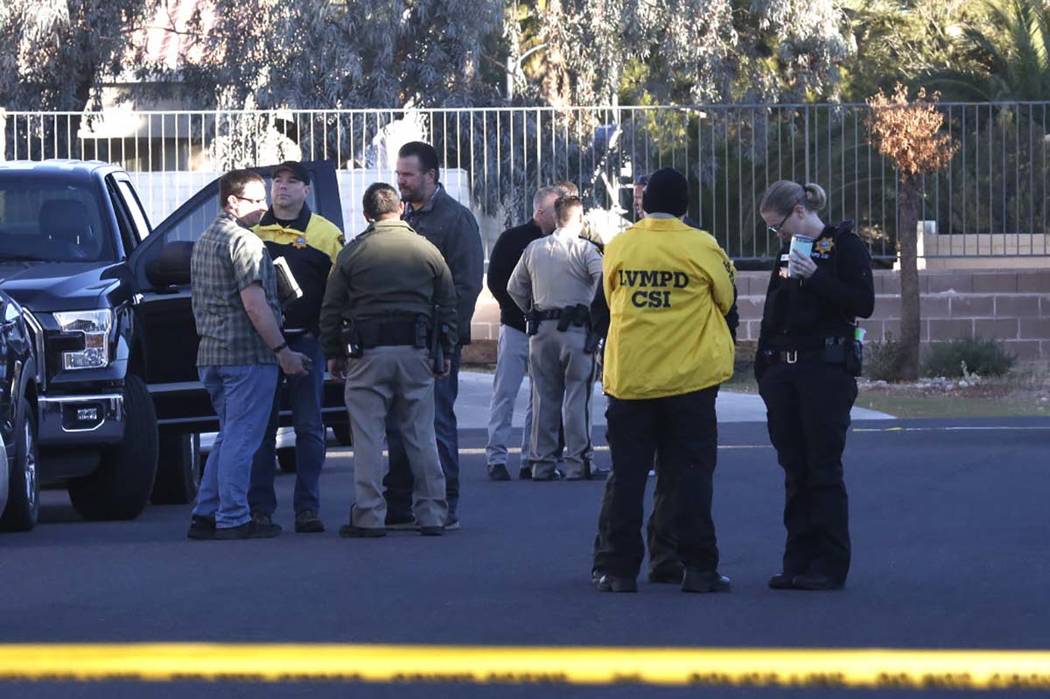 About six hours before Mandy Hernandez was due in court for a hearing regarding a restraining order against her ex-boyfriend, the man she sought protection from allegedly killed her acquaintance and kidnapped her, according to public records and Las Vegas police.
Several neighbors called police about 3:50 a.m. Wednesday to report hearing a woman screaming in the driveway of a home on the 3300 block of Robin Nest Court, near Desert Inn Road and Hualapai Way, Metropolitan Police Department homicide Lt. Dan McGrath said.
Police found a man who appeared to be about 30 with multiple gunshot wounds. The man, whose identity has not been released, died at an area hospital.
Court records show Hernandez, who owns the west valley home, applied for a restraining order in November against Joseph Fernandez Jr., 27. Police confirmed Fernandez was arrested Wednesday in connection with the shooting death and kidnapping.
Clark County Detention Center records show Fernandez is accused of murder, kidnapping, battery, home invasion and burglary.
Fernandez allegedly broke into the home and shot the man before taking Hernandez to another home, police said. She escaped to a store near Tropicana Avenue and Decatur Boulevard.
About 30 minutes after police were called, a police helicopter spotted Fernandez's gray BMW speeding near Russell Road and Jones Boulevard, police said. Patrol vehicles chased the BMW to Interstate 15 near Tropicana Avenue, where the man was arrested.
Police also arrested a woman at the home where Hernandez was taken, McGrath said.
"I don't actually know her involvement in this, but she is involved," he said.
Hernandez claimed in her application for the restraining order that Fernandez beat her for two hours and rammed his truck into her car when she tried to leave.
"Joseph forced Mandy into his truck and then drove back to her house, where Joseph told her he was calling police and she had better tell them that the car was damaged in a carjacking," the application reads. "Joseph threatened that she would get worse than what happened if she told the truth."
Fernandez was later arrested and charged with domestic battery. The two had lived together for seven months before Hernandez applied for the order, records show.
On Jan. 12, Hernandez filed motion to end the restraining order.
"The protection order is no longer needed," Hernandez wrote in the motion. "It served its purpose, and I don't want to abuse the power of it."
Hernandez had filed several complaints against Fernandez since November, police said. The most recent complaint came Friday, police said. A hearing regarding the restraining order was scheduled for 10 a.m. Wednesday.
"I think we have to give this young lady some credit that she actually did file a crime report. She did call police to get restraining orders, and oftentimes we don't see that," McGrath said.
McGrath said Fernandez is affiliated with a biker gang. Police went to the Hernandez's home Tuesday evening to follow up on her Friday report and attempt to put together a case against the man. Hernandez agreed to go stay somewhere else after police went to her home, McGrath said.
Contact Blake Apgar at bapgar@reviewjournal.com or 702-387-5298. Follow @blakeapgar on Twitter. Contact Max Michor at 702-383-0336 or mmichor@reviewjournal.com. Follow @MaxMichor on Twitter.
3300 block of Robin Nest Court Las Vegas, Nevada