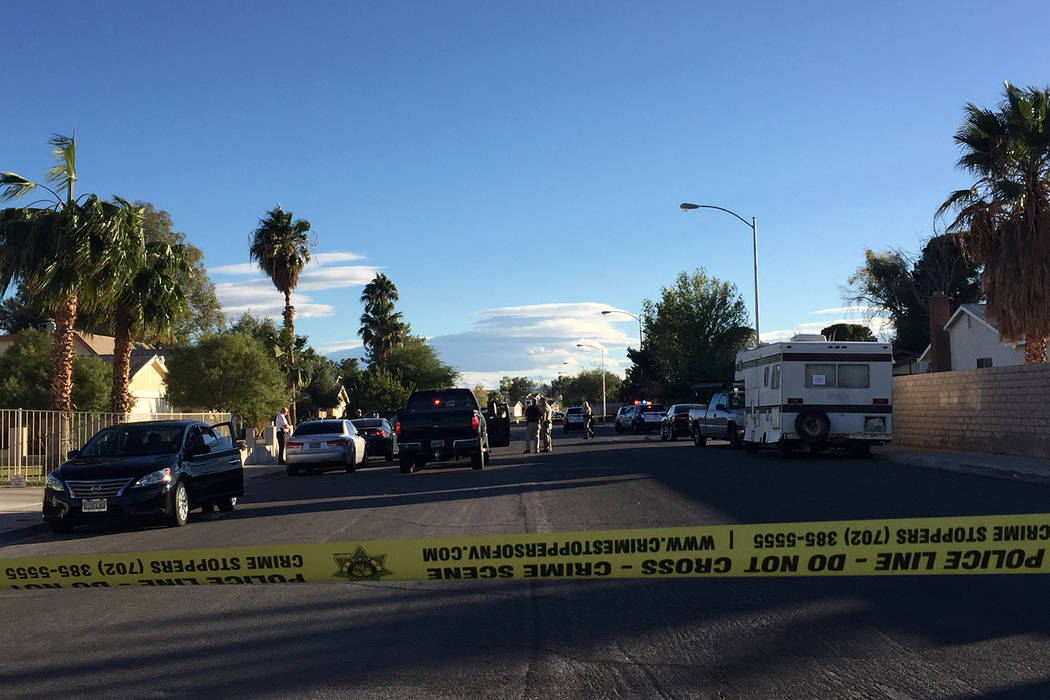 One of the two Las Vegas officers who shot and killed a double homicide suspect early Tuesday was also one of the officers who breached the Mandalay Bay gunman's hotel room late Oct. 1.
The officer, Levi Hancock, 43, has been with the department since January 2001. In a statement Thursday, the Metropolitan Police Department said Hancock is assigned to the Homeland Security division of the department's SWAT unit.
Police said Hancock and Kai Hoskins, 32, also assigned to SWAT unit, shot and killed a murder suspect after an hourslong barricade outside a west valley home. Metro said Hancock and a third officer involved in Tuesday morning's breaching of the bedroom where they found the suspect, K-9 Sgt. Joshua Bitsko, were also both on the team that breached a mass shooter's hotel suite at Mandalay Bay on Oct. 1.
"It just happened to be those two officers," Metro Deputy Chief Chris Jones said.
Three days after the mass shooting, Clark County Sheriff Joe Lombardo identified Hancock to President Donald Trump during the president's brief visit to Metro headquarters.
"Officer Hancock there at the end, to your right there — he was the first SWAT officer to engage the individual," Lombardo told the president, according to a White House transcript from the Oct. 4 visit.
On Tuesday, police killed murder suspect Jarrett Blakely Varnado following a standoff that began about 1:50 p.m. Monday, when a man was found dead near a flower bed in front of a home at 7383 Newcrest Circle, near Flamingo Road and Tenaya Way. Another man was found dead inside the home on the cul-de-sac, police said. The dead men were in their 40s or 50s and roommates, police said Monday.
Police called for SWAT about 9 p.m. Monday. About 2:20 a.m. Tuesday, Varnado was killed in his next-door home after police said he aimed a firearm at officers. Police identified him as a suspect in the two deaths based on a previous ongoing issue he had with the two men, Deputy Chief Chris Jones said. Inside Varnado's garage, police found a car belonging to one of the two men killed with Varnado's license plates.
Jones said Varnado would have faced two murder charges and other counts had he survived the shooting.
On Thursday, Jones said Varnado repeatedly refused commands to exit a bedroom and ignored a recorded plea from Varnado's mother asking him to leave. Jones said these tactics failed and officers sent in a robot and a police dog to search the house.
Police said they later broke down a bedroom door and sent in the service dog. When the dog failed to return after several minutes, officers entered the room and found Varnado on top of the dog, fighting the animal. The officers and the dog were not injured.
At that moment, Varnado rolled over and pointed a replica handgun at SWAT officers. Hancock and Hoskins opened fire, striking Varnado twice, police said. Police later determined the gun he pointed was a BB gun and Varnado had a real, loaded gun underneath him.
Body-worn camera footage played at the briefing showed the officers entering a dark, cluttered room and finding the dog with Varnado.
One of the officers, who Metro spokesman Jay Rivera said was Hoskins, fired once. Police yelled "Suspect down! Suspect down!" and Varnado continued to struggle. A moment later, Hancock fired the second shot, police said.
The footage showed an officer at one point pushing away Varnado's hand, which was raised and held the replica gun. Jones said that officer was Bitsko, the K-9 sergeant.
This is Metro's 20th police shooting this year.
Hancock and Hoskins have been placed on routine paid administrative leave pending a review of the Tuesday shooting. Hancock wasn't placed on leave after the Oct. 1 shooting, Jones said Thursday. It wasn't clear whether the same was true for Bitsko.
CBS' "60 Minutes" previously reported Hancock was armed with explosives and blew open the door to gunman Stephen Paddock's 32nd-floor room at Mandalay Bay. Bitsko told "60 Minutes" he was training dogs before the shooting. He responded and called the breach team's efforts to find Paddock "a deadly game of hide and seek," according to the CBS program.
Last week, Lombardo confirmed at least one responding officer accidentally discharged his weapon inside the shooter's suite shortly after breaching the room. The sheriff did not name the officer but clarified that the gun went off in a room separate from where gunman Stephen Paddock was found dead from an apparent self-inflicted gunshot wound.
The county coroner has still not released an official cause and manner of death for Paddock.
Contact Mike Shoro at mshoro@reviewjournal.com or 702-387-5290. Follow @mike_shoro on Twitter. Contact Rachel Crosby at rcrosby@reviewjournal.com or 702-477-8301. Follow @rachelacrosby on Twitter. Contact Briana Erickson at berickson@reviewjournal.com or 702-387-5244. Follow @brianarerick on Twitter.
36.111853, -115.252531