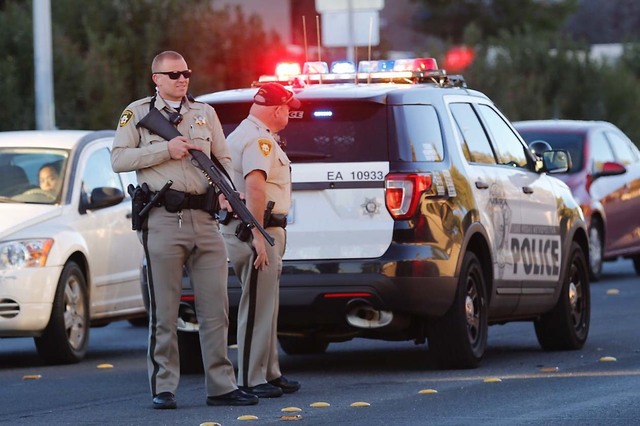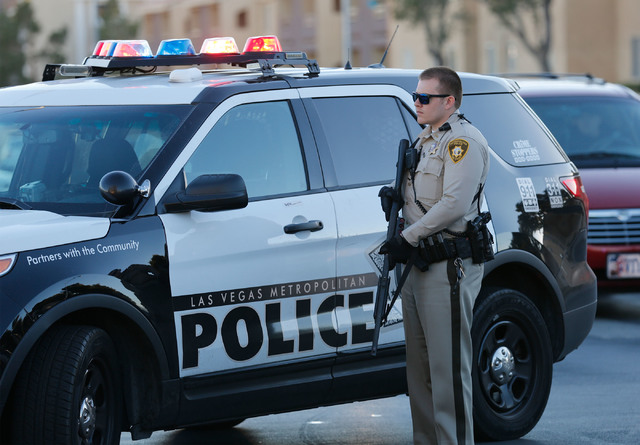 An off-duty Las Vegas police officer fired his weapon during a scuffle with an attempted robbery suspect Monday afternoon at a southwest valley animal hospital.
The Metropolitan Police Department said a man armed with a black semi-automatic handgun tried to rob the West Flamingo Animal Hospital, 5445 W. Flamingo Road, about 2:30 p.m.
The off-duty officer, who was also armed, happened to be in the animal hospital's lobby with his pet and tried to intervene, police said.
After a nearly 40-second fight with the suspect, which Metro Capt. John McGrath described as a "violent struggle," the officer fired his weapon twice at the suspect.
Capt. John McGrath with @LVMPD's office of internal oversight sharing new info on off-duty OIS earlier today #RJNow pic.twitter.com/OVjtUdqM2b

— Rachel Crosby (@rachelacrosby) December 20, 2016
It's unknown whether the suspect fired his own weapon, which he dropped and left at the scene.
The officer was not shot but suffered cuts and scrapes to the head, for which he received treatment at a nearby hospital. Police initially had said the officer did not appear to be injured.
It was unclear in the afternoon whether the suspect had been shot when the officer fired his weapon because the suspect ran from the scene.
Police locked down a large perimeter near the animal hospital for hours Monday in an attempt to find him.
The suspect ultimately was taken into custody without incident after a two-hour barricade that started about 8 p.m. at an apartment less than 2 miles from the animal hospital.
It's unclear how detectives traced the suspect to the 3800 block of Wynn Road.
As of 10:30 p.m. police had not confirmed the suspect's identity nor listed what charges he might face.
Police late Monday still had not confirmed whether the suspect suffered any gunshot wounds when the off-duty Metro officer fired his weapon, but police did say that medical had not been requested at the scene of the barricade as of 10:30 p.m.
Las Vegas Review-Journal writer Wesley Juhl contributed to this report. Contact Rachel Crosby at rcrosby@reviewjournal.com or 702-387-5290. Follow @rachelacrosby on Twitter.