Red pickup truck connects survivors of Las Vegas shooting
December 28, 2017 - 9:41 pm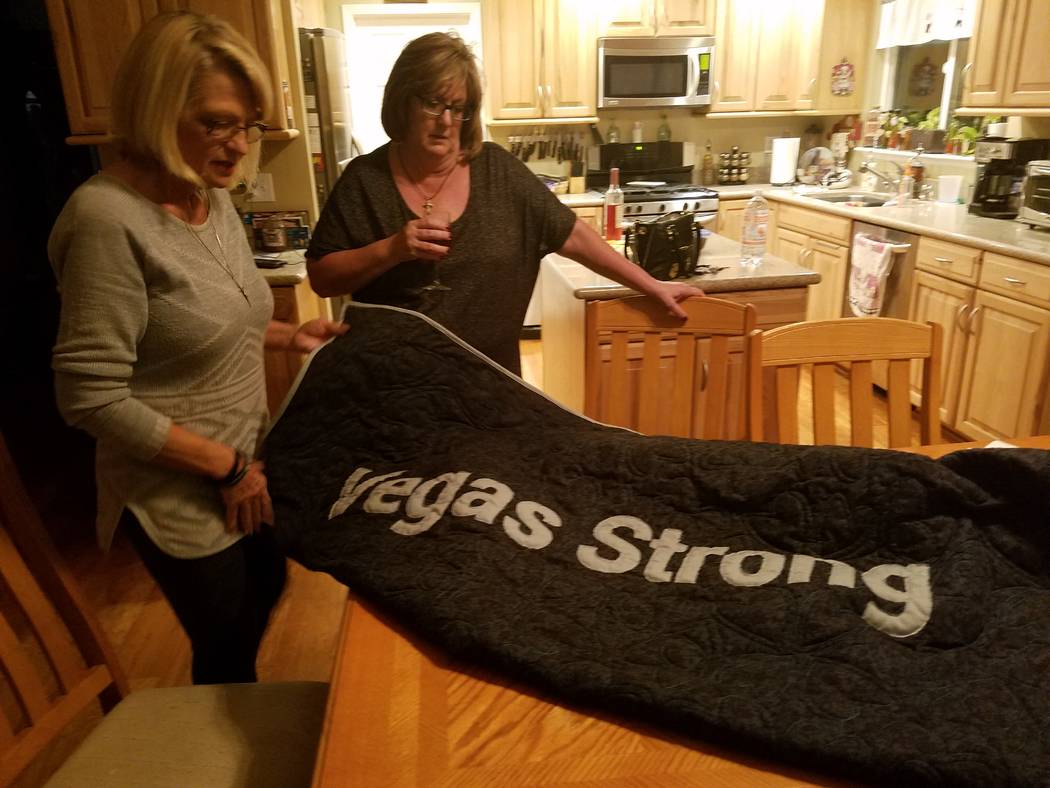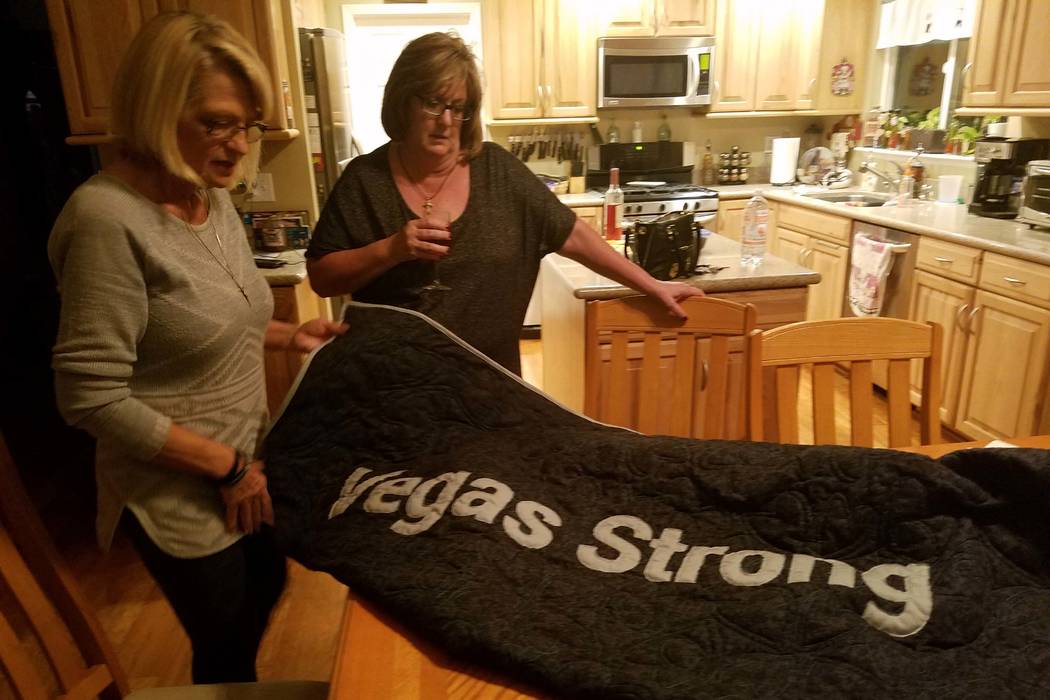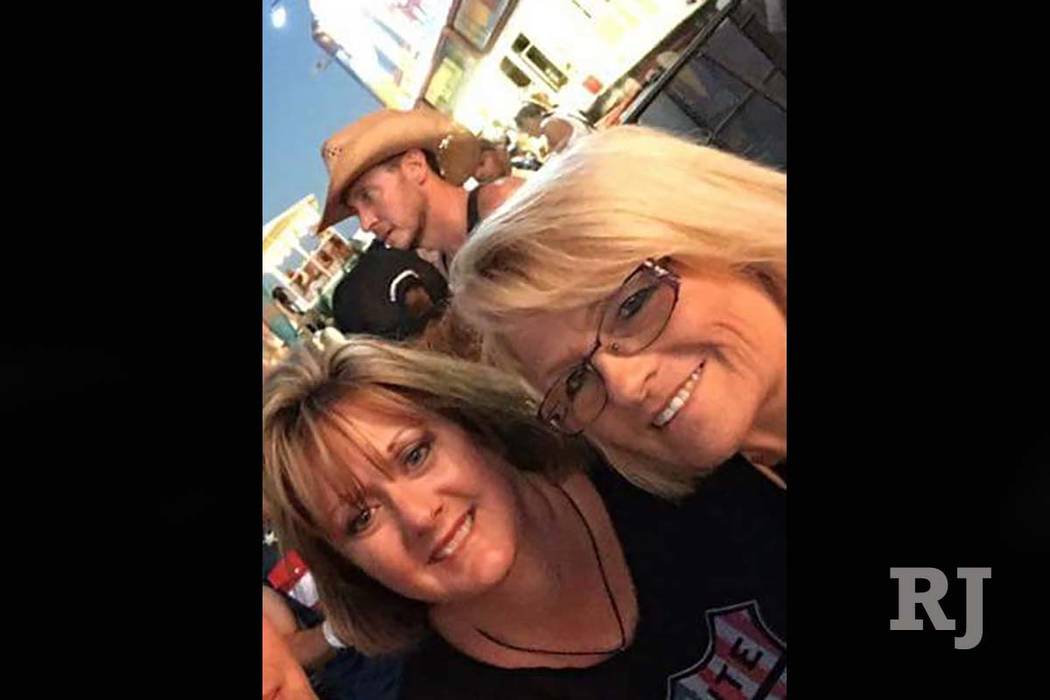 Karen Berney was watching a television interview with an Oct. 1 shooting victim when he mentioned a red pickup with tinted windows. It was hers.
That's when Berney, a survivor of the Route 91 Harvest festival mass shooting, recognized him and remembered what brought them together that fateful night.
"I don't recognize anybody else. Just his face was in my brain," Berney said, recalling the moment.
Jonathan Smith, who saved more than a dozen lives by helping people escape gunfire and will spend the rest of his days with a bullet next to his carotid artery, was one of several people Berney and Barbara Godron, her friend, drove to safety that night after a gunman opened fire on the outdoor country music concert.
Berney and Godron say between six and eight people hitched a ride in the flatbed of Berney's 2003 Ford F-150, with another two passengers inside the cabin. The pickup carried a couple of gunshot patients from a parking lot to the nearest triage location, and the two cabin passengers — a mother and daughter — to Godron's house.
The concert buddies said they've had no luck in finding everyone who rode in the pickup that night, but the driver, two passengers and a patient have since bonded over their experiences, as a handful of strangers in a red pickup became Route 91 family.
'Come with us'
Jennifer Salazar and her daughter, Jasmine, wanted only to see Jason Aldean after they won festival tickets from a local radio station in their hometown of Albuquerque, New Mexico.
Within 15 minutes of Salazar's parents dropping them off at the concert, they were running for their lives.
"When the crowd was running, we were running. When the crowd was on the floor, we were on the floor," she said.
The two had followed the stampede to a gravel parking lot, Salazar said. With no knowledge of the city and her parents — their ride — trapped inside the locked-down Tropicana, the mother and daughter yelled for help.
Salazar frantically scoured the herd of escaping concertgoers that night, searching for anybody who might be willing to help. She made eye contact with Godron, who heard her cries while running to the pickup with Berney.
"I looked at her, and I just knew I could ask her," Jennifer Salazar said.
Godron grabbed the daughter's arm.
"Come with us. Just don't let go of each other," she said.
The four ran toward Berney's Ford, parked in the nearby lot.
Berney said they reassured the mother and daughter as they ran to her pickup: "We're getting closer. We're getting closer."
At the truck, Berney got behind the wheel, and Godron helped the Salazars into the back passenger seats before climbing into the front passenger seat.
As Berney backed the pickup, people approached and asked if she could carry the injured to safety. One was off-duty San Diego police officer Tom McGrath, who had plugged Smith's bullet hole with his finger and slid him into the flatbed.
Two other women with gunshot wounds sat next to the wounded man, Smith recalled.
He didn't know who was behind the wheel, but heard McGrath tell the driver, "Drive until you see law enforcement."
Smith looked up and continued to hear gunshots as she drove.
"They kept saying, 'Go faster! Go faster!'" Berney said. "I was going fast enough because there was people in the streets, even though I know that they needed to go."
Berney drove toward Sunrise Hospital and Medical Center, but as the truck approached Koval Lane, the off-duty officer banged on the back window and yelled for the truck to stop.
"I honestly thought he was gonna break the back window," Smith said.
There was a makeshift triage center nearby, and Berney halted the pickup. The flatbed passengers unloaded from the truck.
"It wasn't real big yet, but there was a few people there," Berney said.
With ambulances on the way for the injured, Berney drove. She drove, drove and drove. Vans carrying the injured sped past their truck, horns blaring, and running lights.
Berney briefly pulled over her makeshift ambulance.
"Why are you stopping?" Godron asked.
"I'm the driver. I need to take my breath," Berney replied.
Indebted
After dropping off the patients, the Salazars asked Berney to drive them to a nearby diner, but Godron had another plan in mind.
"I can't take you there. You're coming to my house," Godron said.
The four arrived at Godron's home, where her family was waiting.
Godron's family provided the out-of-town mother and daughter with food, pillows, blankets and phone chargers.
Jasmine Salazar got a little sleep, but not her mother. She spent the early morning telling friends and family in New Mexico they were safe and fielding media interviews on her experience.
"If it wasn't for Barbara or Karen, I don't know where we would've ended up," Jennifer Salazar said.
They're family now, Jennifer Salazar said. The Salazars check in every once in a while to see how Berney and Godron are doing, or to let them know they're in their prayers. Salazar's aunts recently sent Christmas cards Berney, and Berney sent one to her family.
"We can never be grateful enough, thankful enough for what they did for us that night," Jennifer Salazar said.
Berney also sent one to Smith and McGrath. Godron said she sent Christmas cards to the Salazars and Smith, as well as more than 300 other survivors.
Godron wishes she could locate the others on the truck that night. She has tried finding them through social media but has come up short. She hopes they will reach out and let her know what happened to them.
"Just to say that they're OK," she said. "That's all I want them to do."
After Berney saw Smith, a Buena Park, California, resident, on that television interview a few days after the shooting, she reached out to a relative through a GoFundMe page set up for him.
"Tell her to call me," Smith told the relative.
Shortly afterward, the gunshot victim and Berney shared what they could remember from the night, as his memory was still a little spotty, Berney said. They've kept in touch.
Berney also reached out to McGrath's wife. She thanked Berney for getting her husband out of harm's way.
Smith recently made his first trip back to Las Vegas since the shooting. He flew out of Las Vegas on Wednesday but hopes to grab lunch with Berney when he returns for another visit Sunday.
"She put herself on the line," he said. "I'm indebted to her."
Contact Mike Shoro at mshoro@reviewjournal.com or 702-387-5290. Follow @mike_shoro on Twitter.