Somber sunrise ceremony begins remembrances of Las Vegas shooting
October 1, 2018 - 8:16 am
Updated October 1, 2018 - 8:57 am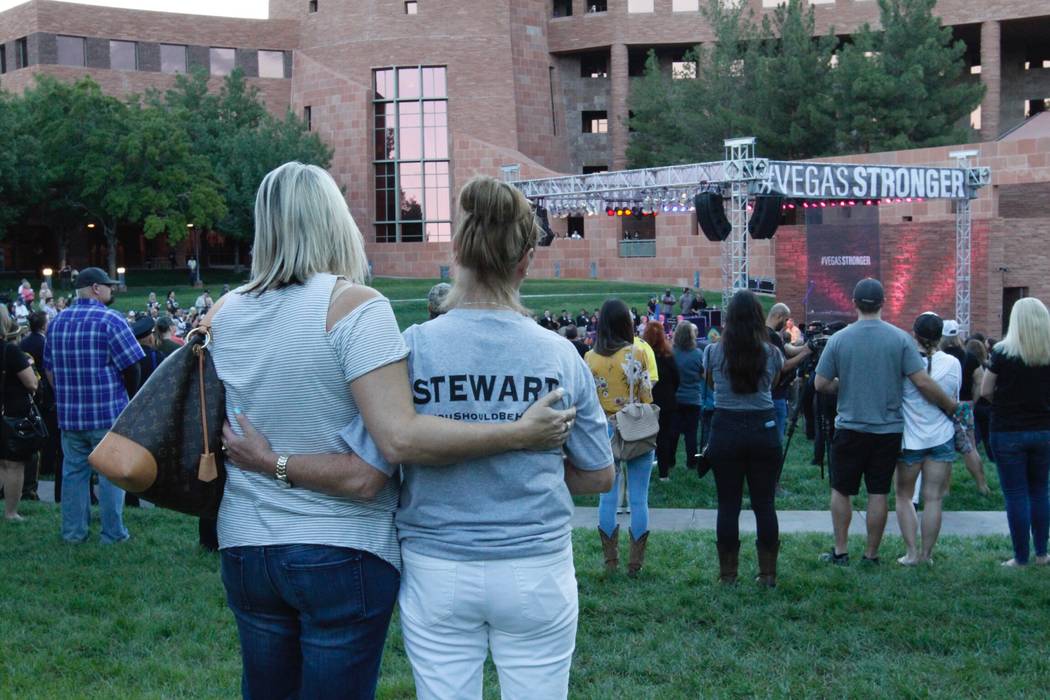 For Mynda Smith, it was the long line of cars outside the family reunification center that made the unspeakable real after the Oct. 1 shooting last year that took the life of her sister, Neysa Tonks.
At a sunrise remembrance on the anniversary of the shooting for the 58 lives lost and the survivors of the Route 91 Harvest festival in Las Vegas, Smith shared memories of her sister, stories of her healing and of her resolve to move forward in the aftermath. Speaking to a crowd at the Clark County Government Center amphitheater, Smith's voice often wavered, but never failed.
"I couldn't wrap my brain around all that was happening," she said, recalling caravans of cars loaded with supplies pulling up to the reunification center.
There are still days that feel like "sucker punches," she said one year later. But she resolved Monday not to let this tragedy take one more thing from her.
It was a message common among the speakers, who encouraged those affected to look back in remembrance but to stay resilient in the future.
"There are two choices, to give up or to lift others up. We chose the latter," Clark County Sheriff Joe Lombardo said during the ceremony.
Other speakers included Gov. Brian Sandoval and Commissioner Steve Sisolak, who introduced Jesus Campos and Stephen Schuck, a security guard and building engineer at Mandalay Bay, respectively. They were the first two to encounter the shooter on that night, and Campos was shot in the leg.
"They experienced something that most of us will never experience in our lives and they showed a tremendous amount of bravery under the worst circumstances and I admire them more than I can express," Sisolak said after the event.
Sandoval said the tragedy took something from the people of Las Vegas and Nevada that can never be put back.
"Scars of 1 October will forever be with us," he said. "But today and everyday we continue to make the choice to triumph over evil."
The event opened with a prayer for those affected, and included songs from The Academy Singers, from the Las Vegas Academy of the Arts. The event ended with 58 seconds of silence for the victims and the release of 58 doves, each with the name of a victim tied to its foot.
Contact Meghin Delaney at mdelaney@reviewjournal.com or 702-383-0281. Follow @MeghinDelaney on Twitter. #1October anniversary