Suspects waited for man to come home, then fatally opened fire Friday in east Las Vegas valley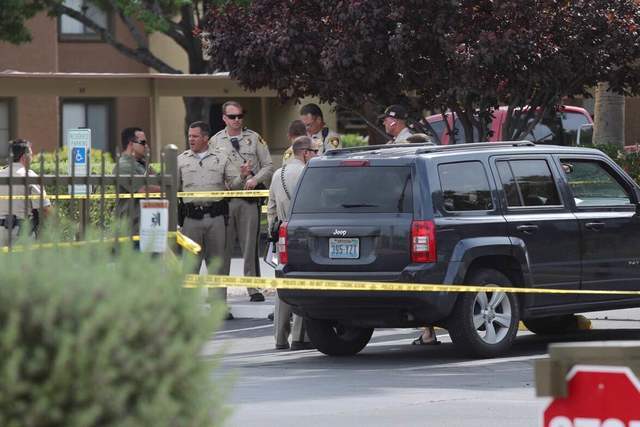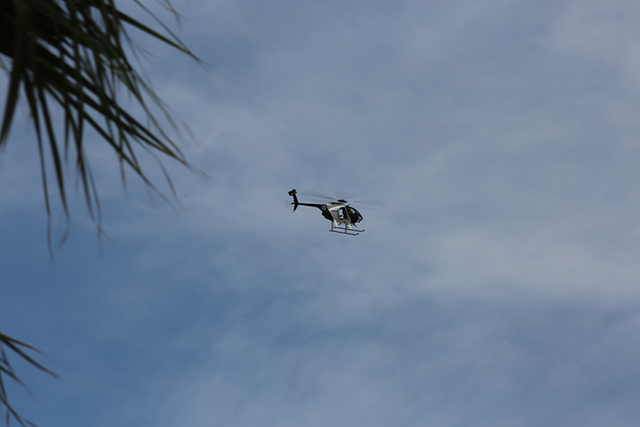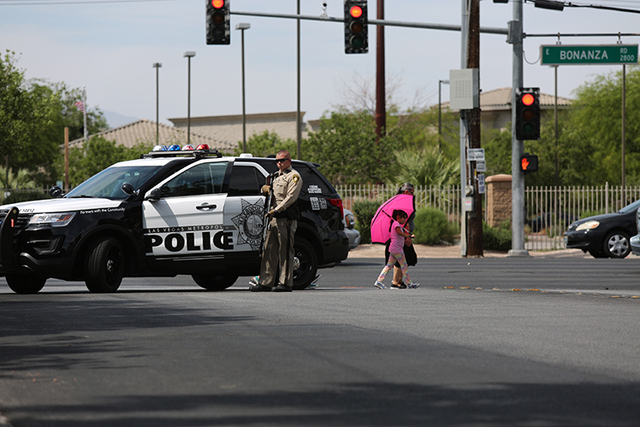 A man died after he was gunned down in the east valley Friday afternoon, and two of the suspects were still on the loose Friday night despite an hourslong manhunt.
The shooting happened at 451 N. Nellis Blvd., an apartment complex near Bonanza Road. The man had just picked up lunch, and as he pulled into the gated complex and went to park, a group of three males in a white Kia sedan were waiting, police said.
Once he parked, the man grabbed his food and opened his door. But seconds after he put his feet on the ground, the group in the white sedan pulled into the parking spot next to him.
Two men got out and opened fire, shooting seven or eight times before the man fell to the ground. Next to him were spent shell casings and the littered lunch he never ate.
He later died at University Medical Center, police said.
Right after the shooting, the suspects got back into their car and sped away. But an officer who was responding to the shooting saw the car leaving, Metropolitan Police Department homicide Lt. Dan McGrath said.
The officer turned around and followed them, alerting other units to their location.
Soon after, the suspects somehow got a flat tire and lost control of their white sedan near 28th Street and Cedar Avenue, south of Bonanza Road and west of Mojave Road. All three bailed.
The two shooters ran away, but the driver, a white man in his 30s, ran toward a woman. McGrath said he aggressively robbed her, making off with her cellphone before running into the nearby Cedar Village Apartments at 2850 E. Cedar Ave.
In the complex, he kicked down a second-floor apartment door and hid inside, which police said was grounds for a home invasion charge. As officers swarmed the complex, the man jumped from the apartment's balcony and was soon apprehended.
As for the driver, it's unclear what, if any, charges he'll face in connection to the shooting. He was being treated at UMC late Friday for injuries from his fall.
The two shooters were not in custody as of Friday night, police said.
Both shooters were described as black males wearing dark clothing. One looked to be in his 30s, about 5-feet, 5-inches tall with long dreads. The other was heavyset.
McGrath said detectives hope to release more specific descriptions of the shooters this weekend; police are going through many different surveillance tapes and witness statements because there were many different scenes.
The motive remains unclear.
Hours after the shooting, an investigator took photos near the man's still-parked SUV as two young boys rode up to the crime scene on bikes.
Each paused to peek past the yellow tape, then quickly circled back, pedaling and playing together just before sunset.
Contact Rachel Crosby at rcrosby@reviewjournal.com or 702-387-5290. Find @rachelacrosby on Twitter.