Suspect accused of fatal shooting inside Starbucks in Las Vegas is identified
September 26, 2016 - 8:57 am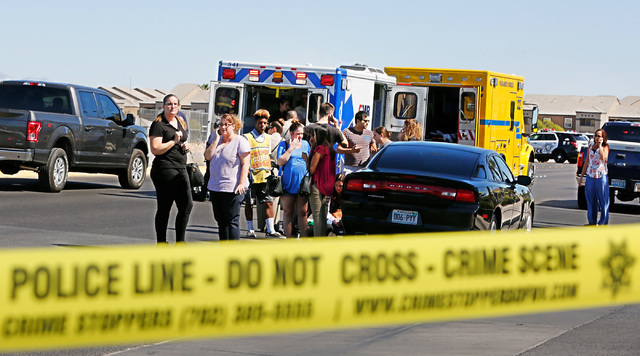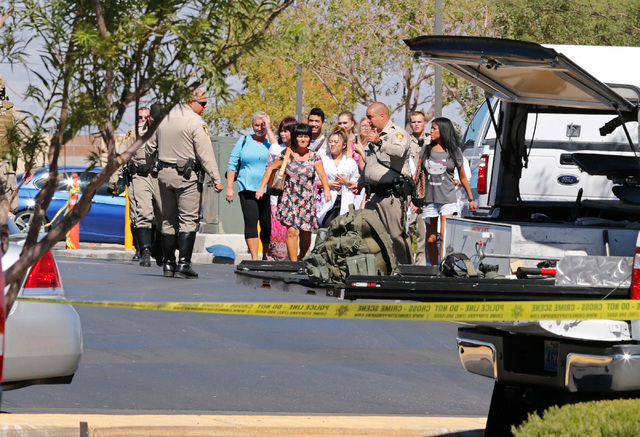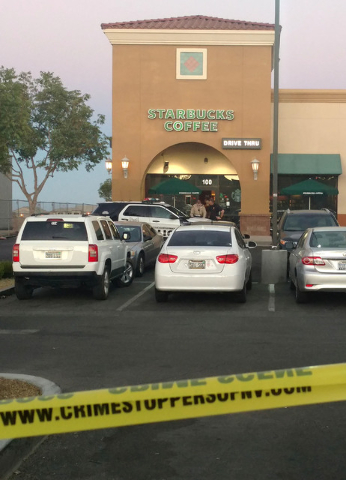 The man suspected of shooting a person Sunday morning inside a southwest valley Starbucks earlier had his payment card declined at the coffee shop's drive-thru window, Las Vegas police said.
The suspect, identified via police records Monday morning as 34-year-old Pedro Jose Garcia, was booked before noon Sunday on counts of murder, robbery, using a gun to commit a robbery and shooting a gun inside an occupied building. He remained in Clark County Detention Center Monday morning, and his first court appearance is scheduled for Tuesday morning.
The person who was shot died about an hour later at Spring Valley Hospital Medical Center, police said.
Police responded to the scene after receiving an 11:28 a.m. report of a shooting at the Starbucks, at 7260 S. Rainbow Blvd., Metropolitan Police Department Lt. Dan McGrath said during a briefing Sunday afternoon.
The incident was first treated as a possible hostage situation, but no hostages were taken, police said.
Before the shooting, the suspect had ordered something at the Starbucks' drive-thru, but his card was declined at the pickup window, McGrath said.
The suspect parked his vehicle behind Starbucks and went inside, where he got into an altercation with a man in his 40s. He then shot the man at least once in the chest, fired his gun in the air and pointed it at other customers, McGrath said. Twelve to 14 people were inside the Starbucks at the time of the shooting, he said.
The suspect called into Metro's dispatch line a couple of times and offered a different description of the shooter, McGrath said. He later presented himself to officers as a witness, but police didn't buy his story and took him into custody at 11:37 a.m., McGrath said.
The suspect also told officers that there was a bomb in an unattended backpack, which prompted a precautionary evacuation of businesses in the strip mall and surrounding area while police checked the scene. No bomb was found, police said; they declared the scene safe at about 2:13 p.m.
Several witnesses identified the man as the shooter, McGrath said, adding that the suspect has a history of violent crime.
"He should not have a gun," said McGrath, who noted the man also has some tattoos that appear to be gang-affiliated.
Since his arrest, the suspect has been uncooperative and has given different versions of what happened and different explanations for why he shot the man, McGrath said.
Rainbow Boulevard was blocked off at Warm Springs until just before 3 p.m., when police allowed the north-south thoroughfare to reopen.
Police were expected to be at the scene for several more hours interviewing witnesses and investigating the scene inside the Starbucks, McGrath said at about 3:15 p.m.
Across the street from the Starbucks, friends and family stood behind police tape waiting for their loved ones to be released by police. Kristina Gebers sat inside a car with her daughter nearby as she waited for officers to finish questioning her 19-year-old son, an employee at the Starbucks. Gebers' son and other witnesses were being questioned at the Soul Food Cafe, 7320 S. Rainbow Blvd.
"He called me and the first thing he said was, "Mom, don't freak out,'" she said. "He's a hero, I'm so proud of him. He just stayed so calm."
She said her son, Will Wright, told her that he and another employee hid in the Starbucks' management office after the gunman began shooting.
"All I could do was beg him to stay down," she said. "I thought with all of my heart he was going to be in a shootout."
Kim Plank said her 20-year-old daughter, Tenaya Zimmerman, also a worker at the Starbucks, jumped out of the drive-thru window after the first few shots were fired.
Gebers broke into tears as Wright stepped over the police tape.
"There he is, he's OK," she said, going to embrace him. "I am so, so proud of you."
The incident marked the second deadly shooting to occur in the Las Vegas area Sunday morning. A man was killed in the Chinatown district earlier in the day.
Contact Max Michor at mmichor@reviewjournal.com or 702-383-0381. Follow @MaxMichor on Twitter. Contact Rachel Hershkovitz at rhershkovitz@reviewjournal.com or 702-383-0381. Follow @rzhershkovitz on Twitter.