Suspect acted erratically before killing police dog, 2 people, police report says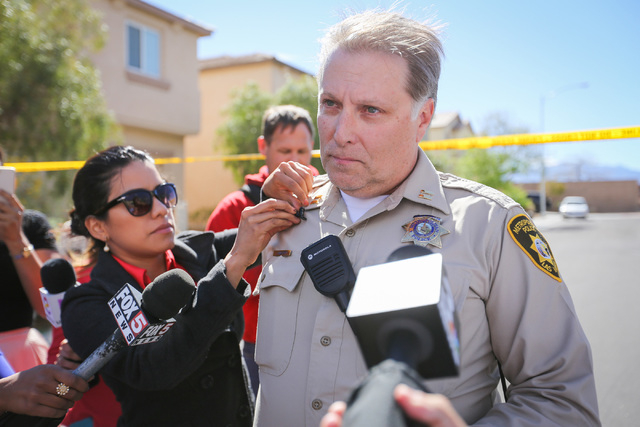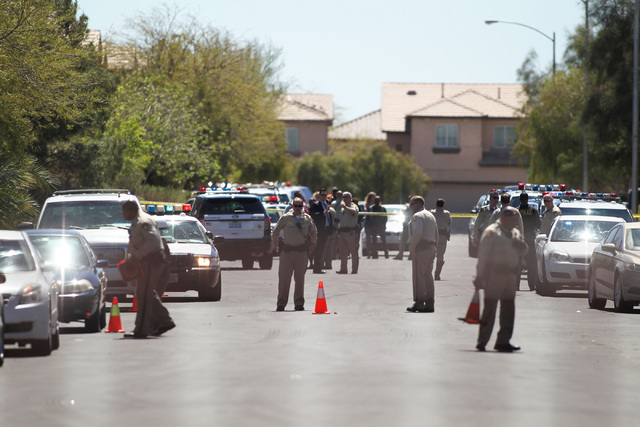 The man who police say shot and killed two people and a police dog Thursday was visiting his mother and yelling that people were after him and he was being followed in the hours before the shooting, according to Las Vegas police records.
James Craig Simpson, 31, was shot several times by four different officers, including the police dog's handler.
Simpson had put the gun on the street but picked it back up when the police dog started coming after him, according to the report. He grabbed the gun and started running, and it was then that police say he turned around and fired toward the officers, who shot back.
Brandon Hughes and his mother, Felecia Wimberly-Hughes, were identified as the homicide victims in the police records. Public records show that the two lived nextdoor to Simpson's mother.
Emergency crews were dispatched just before noon Thursday to 9848 Fast Elk St., near Log Cabin and North El Capitan ways. The two bodies were found inside the home.
The arrest record said that Simpson called his mother, Twila Oliver, in the middle of the night to pick him up. Oliver sent a taxi for him.
About 6 a.m., Oliver was woken up by a knock at her bedroom door. It was Simpson, and he was holding a handgun she had never seen before. Simpson began yelling at her that people were after him, were following him and were outside.
Simpson continued to act erratically, and his mother's directives for him to put down the gun and leave were ineffective. She called police at 12:07 p.m.
The argument between Simpson and his mother moved into the garage, where they approached by the Hugheses.
Oliver and Simpson struggled over the gun, according to police records, and Simpson shot Brandon Hughes in the garage.
Wimberly-Hughes began to try to give her son first aid, but Simpson grabbed her by her hair and hit her with the gun. That's when Oliver left the garage to check on her elderly mother.
Simpson fired at least three more shots. An officer would later find Wimberly-Hughes' body by the front of the garage, according to police records.
Oliver saw from an upstairs window that Simpson had moved out to the street, and that police had arrived.
The dog's partner, Las Vegas police Sgt. Eric Kerns, officer James Coovert, and two other officers — identified only as Lewis and Luna in the arrest record — opened fire on Simpson, who was rushed to University Medical Center for treatment.
Multiple neighbors told the Las Vegas Review-Journal on Thursday that they heard several shots during the ordeal. One neighbor, Cathy Gates, 51, said she saw police shoot Simpson several times "all through the chest" after he shot the police dog. She indicated the area he was shot by touching her throat and drawing her hand down to her upper abdomen.
Simpson was shot several times in the neck and chest. He was said to be stable and awake Thursday night but paralyzed from the neck down.
Simpson is facing two counts of first-degree murder, three counts of discharging a firearm into an occupied structure, and one count each of attempted murder and first-degree kidnapping. A public records search on Friday for prior convictions for Simpson revealed only traffic citations.
The police dog, Nicky, had returned to duty less than a month ago after recovering from a machete attack in a February standoff.
This is a developing story. Check back for updates.
Contact Wesley Juhl at wjuhl@reviewjournal.com and 702-383-0391. Find @WesJuhl on Twitter.
RELATED
Neighbor footage shows officer-involved shooting that left K-9 dead — VIDEO
Partner fired at gunman who police say killed his K9, Nicky, and 2 people