Trump announces arrest of MS-13 leaders in Nevada, New York
Updated July 15, 2020 - 3:38 pm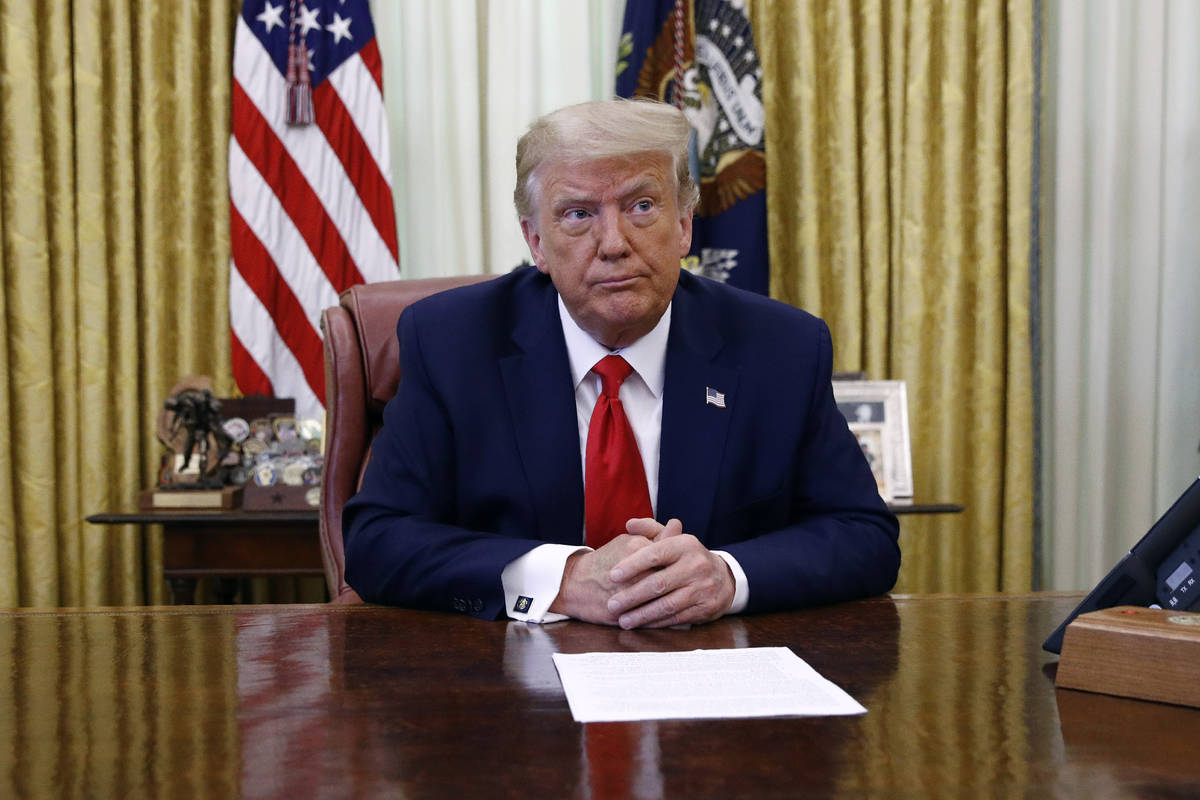 WASHINGTON — President Donald Trump on Wednesday announced that key figures of the MS-13 international gang were arrested in New York and Nevada, and said the Department of Justice would seek the death penalty for an MS-13 leader.
"We have the MS-13 leader on charges of terrorism — that's a first," Trump said during an Oval Office meeting that included Attorney General Bill Barr and other big names in federal law enforcement.
"We believe the monsters who murder children should be put to death," Trump added.
Trump said that 21 key MS-13 figures had been indicted on charges of murder, kidnapping and drug trafficking in Nevada and New York in the last week. In addition, U.S. Attorney Zachary Terwilliger of the Eastern District of Virginia issued the first charge against an alleged MS-13 member for providing material support for terrorists.
"We took down the Hollywood clique, which operated not only in Nevada, but also in California and in the Eastern District of New York — again, Long Island," Barr said.
Brutal murders
Prosecutors will seek the death penalty against Alexi Saenz, an alleged MS-13 leader in New York, who, according to Barr, was involved in the murder of seven individuals, including two Long Island teenagers butchered with machetes and baseball bats in 2016.
In 2018, Trump visited the parents of Kayla Cuevas and Nisa Mickens and later invited them to attend his State of the Union address that year where he introduced them as victims of crimes committed by undocumented immigrants who crossed America's southern border with Mexico.
"These two precious girls were brutally murdered while walking together in their hometown," Trump said. "Six members of the savage gang MS-13 have been charged with Kayla and Nisa's murders. Many of these gang members took advantage of glaring loopholes in our laws to enter the country as unaccompanied alien minors — and wound up in Kayla and Nisa's high school."
David Ruhnke, an attorney for Saenz, told the Review-Journal he would not respond with a public comment.
Nevada charges
Nevada U.S. Attorney Nick Trutanich, who had been in the Oval Office for the briefing, told the Review-Journal that his office had charged 13 individuals.
"Our MS-13 case does not involve violence," Trutanich said. Instead, he said his office used a law known as the federal kingpin statute. "The interesting thing about our case is that it's the command and control of MS-13 nationally. That's why you saw a briefing with the president and attorney general today."
Nearly half of the 13 men indicted in Las Vegas live in Los Angeles, Trutanich said, but they often came via "a well-worn path" to Las Vegas, a way station in the international drug trade with hubs in Central America and Mexico.
The 21-count indictment, which was unsealed Tuesday, cited a series of drug transactions and gun trafficking that occurred over 11 months, ending in April. Law enforcement personnel continued the investigation despite the coronavirus pandemic. All but two of the 13 people who were indicted have been arrested.
"During the operation, guns came off the street," Trutanich added and said that authorities even found a "ghost gun," a firearm with no serial numbers that cannot be traced to an owner.
The indictment described MS-13 as a "seniority-driven structure" that managed the supply of narcotics; sold firearms, ammunition and silencers; collected money; and recruited members.
Many of those charged have prior convictions, and 11 are immigrants in the country illegally, Trutanich said.
Selling guns, drugs
The allegations against the 13 men indicted in Nevada date to early July 2019, a little more than two months after three other suspected MS-13 gang members were indicted on murder and racketeering charges in connection with a kidnapping and slaying of a rival gang member.
The mutilated body of 21-year-old Arquimidez Sandoval-Martinez had been found in February 2018 at a desert area near the Lake Mead National Recreation Area.
The defendants in that case are still awaiting trial.
In the indictment unsealed this week, prosecutors alleged that a high-ranking MS-13 gang member, Escalante-Trujillo, also known as "Buchaca," and others sold rifles and handguns, methamphetamine, Oxycodone, cocaine and fentanyl out of Las Vegas for the past year, even working around the coronavirus outbreak.
In early July 2019, Escalante-Trujillo told a drug buyer he knew "people in Tijuana, Sonora and Mexico City to help with drug supply," the indictment alleged.
He showed a "bag of firearms" to the buyer and "claimed he had 'kids' running narcotics and firearms for him" before calling a senior-level gang member in El Salvador, the indictment stated. He boasted of ties between MS-13 and the Mexican Mafia and "nearly all the Mexican Cartels."
Escalante-Trujillo also tried to get the buyer to earn cash by soliciting a female for prostitution in Las Vegas "in an effort to build rapport with a methamphetamine buyer," the indictment stated.
In April, with much of Las Vegas and the country in lockdown, Escalante-Trujillo connected a drug buyer with Alvaro Ernesto Perez Carias, known as "Toro," a senior member of MS-13, who "offered access to bulk methamphetamine despite difficulties elsewhere in large drug acquisitions as a result of the COVID-19 pandemic," according to the indictment.
As recently as July 2, Jose Alfredo Ayala-Flores, known as "Blackie," and Carlos Lopez-Guzman, known as "Troso," drove four pounds of meth to Las Vegas from California, while attempting to evade law enforcement vehicles they thought were following them.
The drugs were sold later that day to a buyer for $13,500.
Targeting MS-13
During his first full month in office, Trump signed an executive order aimed at dismantling transnational criminal organizations that listed MS-13 as a priority for the Organized Crime Drug Enforcement Task Force. In August 2019, the administration launched Joint Task Force Vulcan, which worked with authorities in El Salvador, Guatemala, Honduras and Mexico with a goal of ultimately destroying the international MS-13.
"As a candidate, President Trump promised he would protect the American people from violent illegal immigrants and criminals, secure the country's borders, and demand order in the streets. Since taking office, he has taken decisive action to deliver on those commitments. Today's announcement that more than 20 violent MS-13 gang members have been recently indicted and will be prosecuted to the fullest extent of the law is another win for law-abiding, freedom-loving Americans across the country," said White House Assistant Press Secretary Karolina Leavitt in a statement sent to the Review-Journal.
Contact DebraJSaunders at dsaunders@reviewjournal.com or 202-662-7391. Follow @DebraJSaunders on Twitter. Review-Journal reporter David Ferrara contributed to this story.
President Trump is taking decisive action to capture and deport MS-13 gang members.

Joe Biden has pledged to STOP deporting these animals. pic.twitter.com/y40eLo0nbN

— Trump War Room – Text TRUMP to 88022 (@TrumpWarRoom) July 15, 2020
https://platform.twitter.com/widgets.js