US attorney general honors Las Vegas officers for Oct. 1 valor
Updated September 18, 2018 - 7:09 pm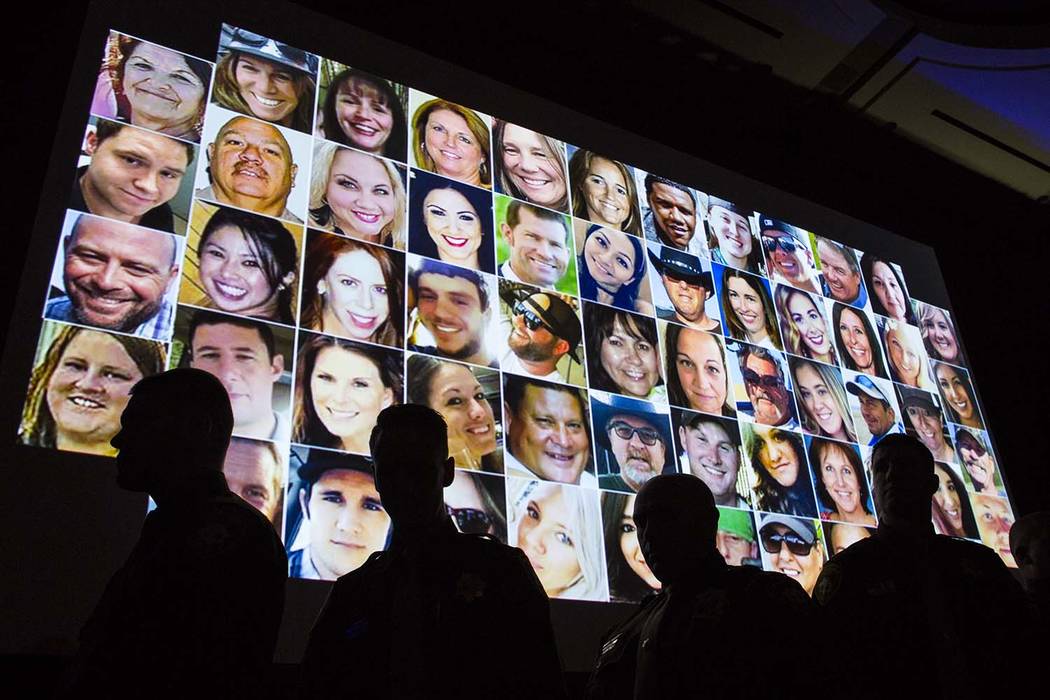 The U.S. Department of Justice on Tuesday honored four Metropolitan Police Department officers for their efforts the night of the Oct. 1 mass shooting on the Strip.
Attorney General Jeff Sessions presented the officers with the Attorney General's Award for Distinguished Service in Policing at a ceremony in Washington.
Sessions recognized Metro officers Jeremiah Beason, Patrick Burke, Monty Fetherston and Steve Morris Jr. for their actions as the first four officers to assemble and make it to the 32nd floor of the Mandalay Bay after a gunman opened fire on a crowd of 22,000 concertgoers, killing 58 and injuring another 850.
The four officers stood on stage and accepted their awards from Sessions.
"By running towards the danger, they saved countless lives," a Justice Department release said.
The four helped clear rooms near the shooter's room on the 32nd floor that night, a Metro release said.
Burke was among those honored at Metro's Best of the Badge gala earlier this month for his work clearing the rooms, as well as positioning himself to confront the shooter — who killed himself — in case he tried to escape. He and Morris helped bring an injured woman to a paramedic and went to help on the 32nd floor, according to prepared comments from Sessions.
Beason and Fetherston were directing traffic outside of the Route 91 Harvest festival concert grounds when they saw smoke coming from the Mandalay Bay. They ran to the inside of the hotel and met up with security on the 32nd floor before clearing rooms.
Sessions also honored a Washoe County Sheriff's Office deputy, Ned Nemeth, for his work as a K-9 officer and combating drug trafficking along Interstate 80.
Contact Mike Shoro at mshoro@reviewjournal.com or 702-387-5290. Follow @mike_shoro on Twitter.