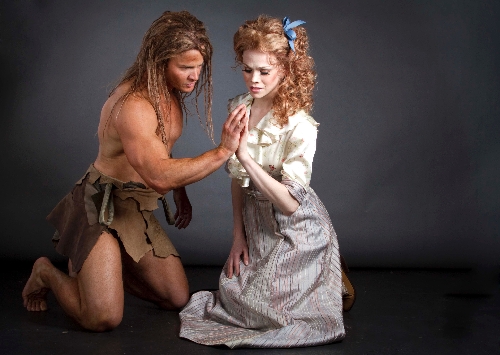 It's difficult to think of a guy who'd be less at home in the admittedly picturesque canyons of Southern Utah.
Nonetheless, Tarzan, the venerable lord of the African jungle will, indeed, be hanging around Ivins, Utah, this summer as the Tuacahn Center for the Arts presents the Broadway musical "Tarzan" as part of its "Broadway in the Desert" series.
The opening of "Tarzan" on Monday at the Tuacahn Amphitheatre will mark the musical's regional premiere and kick off Tuacahn's 2010 season.
"Tarzan" will play in repertory with "Cats" through mid-August. Then, the musical spoof "Crazy for You" will replace "Cats" and play in repertory with "Tarzan" through Oct. 16.
"Tarzan" is based on the 1999 Disney animated film, which was, itself, based on the stories of Edgar Rice Burroughs. Scott S. Anderson, Tuacahn's artistic director and director of "Tarzan," said that, after seeing the play on Broadway and then in Europe, he figured it'd be a great fit for Tuacahn.
For one thing, "Tarzan" is "a family-perceived show," Anderson says. But also, he continues, thanks to the classic movies, the novels and more recent iterations such as the Disney film, the play surely will keep everybody from kids to boomers to seniors entertained.
Nor does it hurt that "Tarzan" is a dynamic show. There's a flood, some flying actors and, Anderson notes, some "pretty amazing" songs by Phil Collins, including the Oscar-winning "You'll Be in My Heart."
"I just thought it had elements that could work," Anderson says, and that "our audiences would love to see it."
Still, Anderson admits that when he approached Disney a few years ago, they weren't all that familiar with Tuacahn. Actually, he admits with a laugh, "they had no clue."
Anderson responded with a yearlong campaign that included sending Disney videos and photos of the Broadway-level productions, from "Footloose" to "Les Miserables," Tuacahn has produced. "I bugged them about a year until they got tired of me calling," he jokes.
But, it worked and, Anderson says, "Disney has been amazing."
"Tarzan" is "not an easy show to produce," he notes. "I call it Peter Pan on steroids."
There are, for example, several audience-wowing but technically complicated effects. On the upside, "Tarzan" can benefit from the flood effects used in "Utah!" Tuacahn's long-running historical production, as well as a flying system put in for a 2006 production of "Peter Pan."
But, technical wizardry aside, "Tarzan" is, Anderson says, "just a fun story for the family."
Meanwhile, when "Cats" takes the stage, Tuacahn's repertory company will be joined by Lisa Hopkins Seegmiller in the role of Grizabella. Seegmiller portrayed Mimi in Baz Luhrmann's 2003 Tony Award-winning Broadway production of "La Boheme."
Then, when the run of "Cats" concludes, "Crazy for You," winner of the 1992 Tony award for best musical, will alternate with "Tarzan." The show, with music and lyrics by George and Ira Gershwin, is particularly appropriate for Tuacahn because it portrays a slice of theater life in a decaying Nevada village.
"It's a fun show," Anderson says. And, as for the notion of a musical set in the middle of a desert, he adds, "we thought that was great."
Anderson is optimistic about Tuacahn's 2010 season. Last year, between 135,000 and 140,000 people attended shows there, he says, and the percentage of visitors from Southern Nevada has risen from about 5 percent to 9 percent during the past few seasons.
It could be related to a search for closer-to-home entertainment in tough economic times, he agrees. But, it also could have something to do with Tuacahn's rising reputation among not only audiences, but actors as well.
Anderson recalls traveling to New York City for auditions, and having to show actors a video "so people could see where we came from." Now, he says, "we've built a nice reputation," an effort helped by the premiere of "Tarzan."
"I think it's building," Anderson says, "and people are starting to look at this as a real entity in regional theater."
Tuacahn's picturesque scenery can't hurt, either. Tuacahn also hosts concerts — the schedule for 2010 includes Styx and the Doobie Brothers — and, Anderson says, "artists I've talked to say: 'Please, book me again. This is an amazing setting.' And we get that constantly from everyone."
For more information, visit Tuacahn's website (www.tuacahn.org).
Contact reporter John Przybys at jprzybys@review journal.com or 702-383-0280.
"Tarzan"
When: Mondays, Wednesdays and Fridays, at 8:30 p.m., starting Monday through Aug. 30; at 8 p.m. from Sept. 1 through Sept. 29; and at 7:30 p.m. from Oct. 1 through Oct. 15 (all times Mountain time)
Where: Tuacahn Amphitheater, Ivins, Utah (near St. George)
Tickets: $28-$56 (800-746-9882 or www.tuacahn.org)
"Cats"
When: 8:30 p.m. (Mountain time) on Tuesdays, Thursdays and Saturdays, starting Tuesday through Aug. 14
Where: Tuacahn Amphitheater, Ivins, Utah
Tickets: $28-$56 (800-746-9882 or www.tuacahn.org)
"Crazy for You"
When: Tuesdays, Thursdays and Saturdays, at 8:30 p.m. from Aug. 26 through Aug. 31; at 8 p.m. Sept. 2 through Sept. 30; and at 7:30 p.m. from Oct. 2 through Oct. 16 (all times Mountain time)
Where: Tuacahn Amphitheater, Ivins, Utah
Tickets: $28-$56 (800-746-9882 or www.tuacahn.org)