14 Japanese artists depict water in new Bellagio gallery
Updated July 5, 2018 - 4:40 pm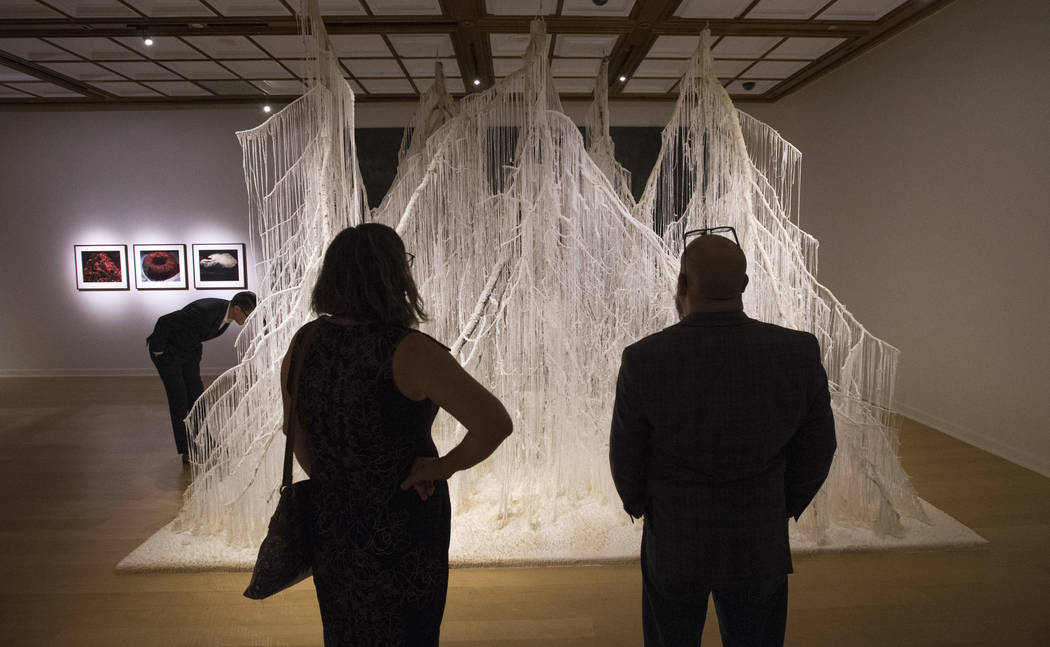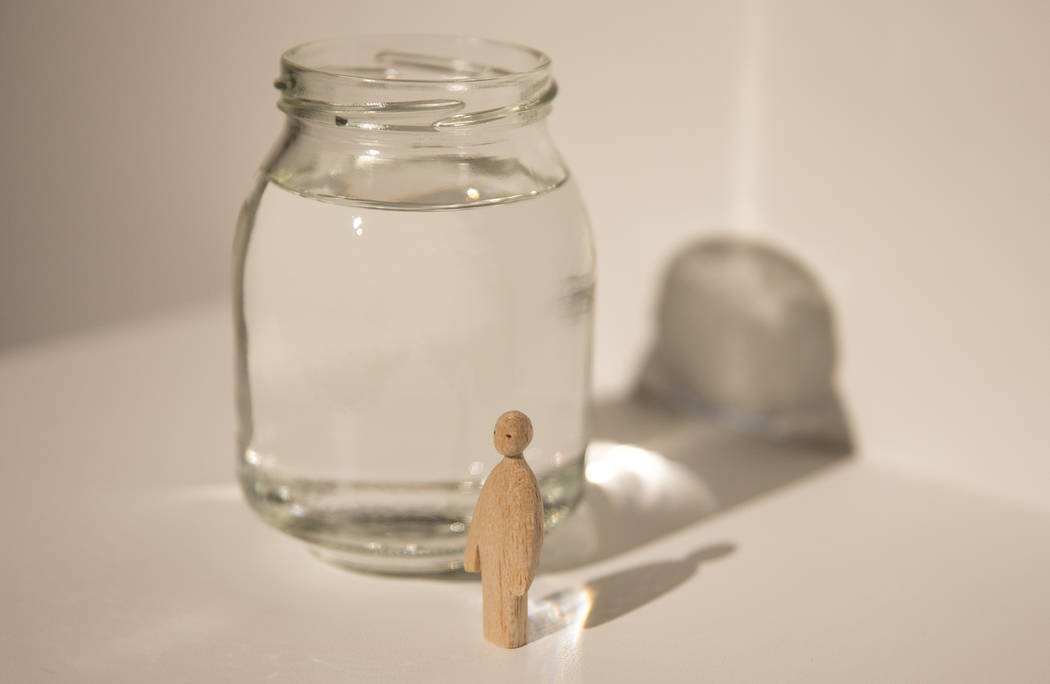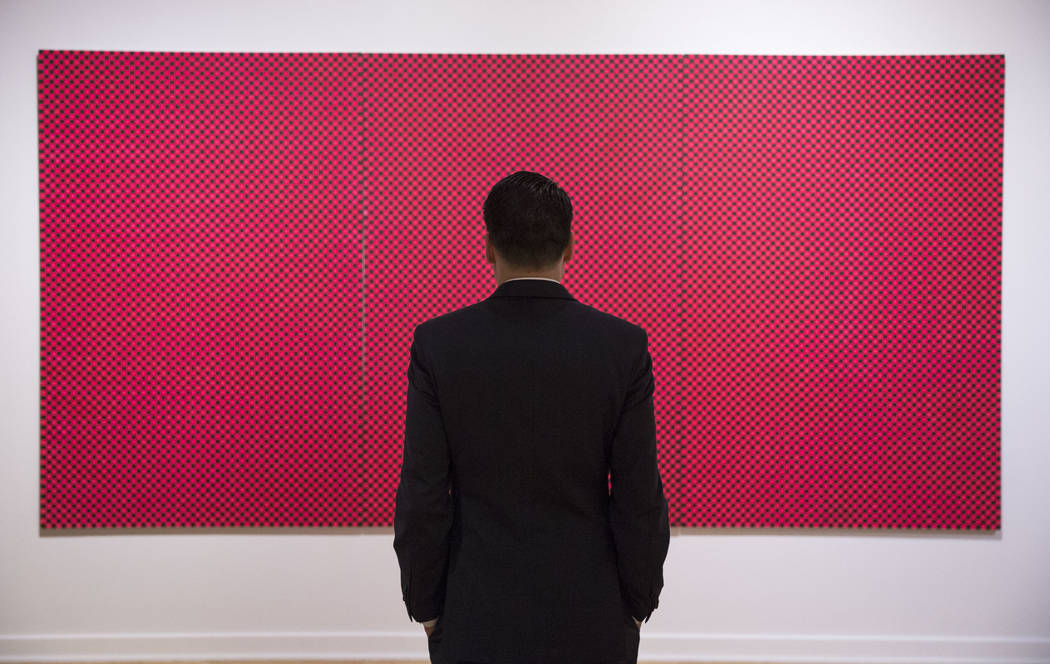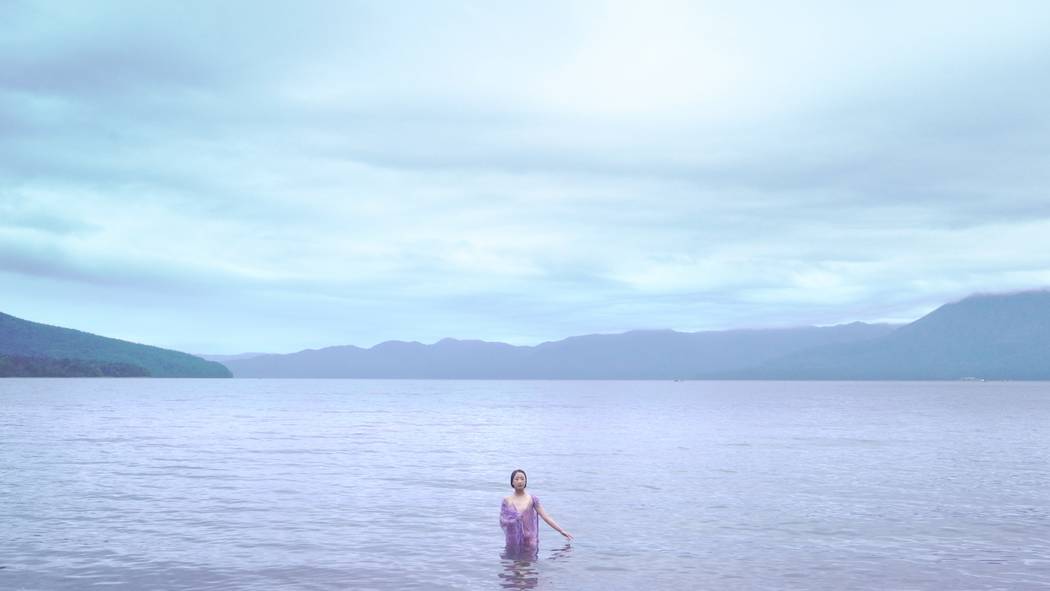 Outside Bellagio, extravagant fountains shoot choreographed water jets into the desert air multiple times an hour.
Inside Bellagio, water also plays a primary — but not always literal — role in a new exhibit at the hotel-casino's Gallery of Fine Art.
"Primal Water" spotlights 14 Japanese artists, spanning four generations, whose works explore water as the life-giving, thirst-quenching entity that makes existence possible in the Mojave Desert or on islands floating in the middle of the sea — and as a metaphor for life itself.
After all, water may be colorless and literally fluid, but it's also inescapable, as exhibit curator Midori Nishizawa observes.
"It can go anywhere without distinction," she says, citing a quote from ancient Chinese philosopher Lao Tzu: " 'Nothing is softer or more flexible than water, yet nothing can resist it.' "
The exhibit itself echoes Lao Tzu's observation, flowing beyond the gallery to an adjacent screening room — where visitors can see three shorts by filmmaker Nao Yoshigai, including 2017's aptly titled "Across the Water" — and on to Aria's lobby atrium. There, a reconstruction of the late Sadamasa Motonaga's 1956 installation "Water" features pools of colorful liquid inside clear plastic tubing.
Meanwhile, back in the Bellagio gallery, Motonaga's 1963 painting "Red and Yellow" explores a more abstract fluidity.
Other works are more conceptual, such as artist Rei Naito's "Untitled" and "human," which pair a jar of water with a tiny figure. "It's about the nurturing aspect of water," Nishizawa says.
The earliest works featured in "Primal Water" include photographs by Shoji Ueda, including a misty 1933 "Seascape" and family portraits from the Tottori Sand Dunes, which undulate like waves, in the background of a portrait depicting "Papa, Mama, and the Children."
And scientist Ukichiro Nakaya's 1939 film "Snow Crystals" documents his research on the formation of snowflakes.
Speaking of snowflakes, an apparent blizzard has struck Yasuaki Onishi's "Vertical Emptiness BG, 2018" — a site-specific installation featuring local mesquite branches, suspended from the gallery ceiling, and sprayed with hot glue and liquid urea that, when dry, crystallizes "like a snowscape," the curator says. "In the summer, in Las Vegas."
Glue also plays a primary role in Onishi's "Plate of phenomena 14FI," providing eddying layers of texture in a wall panel that looks as though it could have been made from frozen black water — or hardened lava.
Even humble bars of soap, still emitting faint fragrances, inspire Noe Aoki's stacked shapes resembling Inuit igloos or Native American tepees.
Overall, on an everyday basis, everyone can relate to the water, Nishizawa says. But the visions of the artists represented in "Primal Water" may prompt exhibit visitors to heighten their awareness toward water as a source of life, she adds. "I want people to talk about it a little and come up with ideas — to look at something with a new, fresh eye."
Artist-in-residence Kisho Mwkaiyama
Kisho Mwkaiyama is used to the relative solitude of his studio in Japan.
For the next six months, however, the artist is working in a very different sort of studio: a public one, in a bustling Strip casino, where visitors can watch him work.
In conjunction with the Bellagio Gallery of Fine Art's new Japanese-themed "Primal Water" exhibit, Mwkaiyama will be in residence in a studio next door, creating a series of 24 paintings — using watercolors, of course — titled "Vendarta 100: Six Elements and the Seasons."
The six elements — water, land, fire, consciousness, wind and emptiness — come from Buddhist philosophy. (Which, as a Buddhist monk, Mwkaiyama definitely understands.)
The gleaming, shimmering colors the artist will use in his 24 paintings — each 3-by-3-foot canvas featuring 50 layers of paint — will reflect the changing seasons, Mwkaiyama explains during an interview in his Bellagio studio.
In addition, the color changes according to the light, he says, via translator Mieko Hirai Braun.
"This is kind of an unusual setting," Mwkaiyama says of the Bellagio studio, adding that his life as an artist in Japan is "completely opposite compared to Las Vegas. These are two completely different environments."
Mwkaiyama's journey from Japan to Las Vegas began when MGM Resorts chairman James Murren — or, as the artist refers to him, "Jimmy-san" — saw his works at a Tokyo gallery and invited him to come and create in Las Vegas.
A preliminary visit, before the start of his residency, was his first Las Vegas experience. "I really, really strongly feel the energy of the earth and water," the artist says of his initial impressions. "And also everyone smiling."
Mwkaiyama plans one trip back to Japan during his six-month stay, to "heal myself and cleanse my spirit." But Las Vegas isn't as spiritually empty as some might think, he adds. "In the Buddhist teaching, the human being needs desire and also to enjoy wealth and having a relaxing time," he says. "It's divine sin."
During his visit, "I really want to incorporate the whole energy — the energy of the people, the energy of the air," he says. "That's the only way I can paint."
Contact Carol Cling at ccling@reviewjournal.com or 702-383-0272. Follow @CarolSCling on Twitter.