Costume curator helps preserve Las Vegas' showgirl past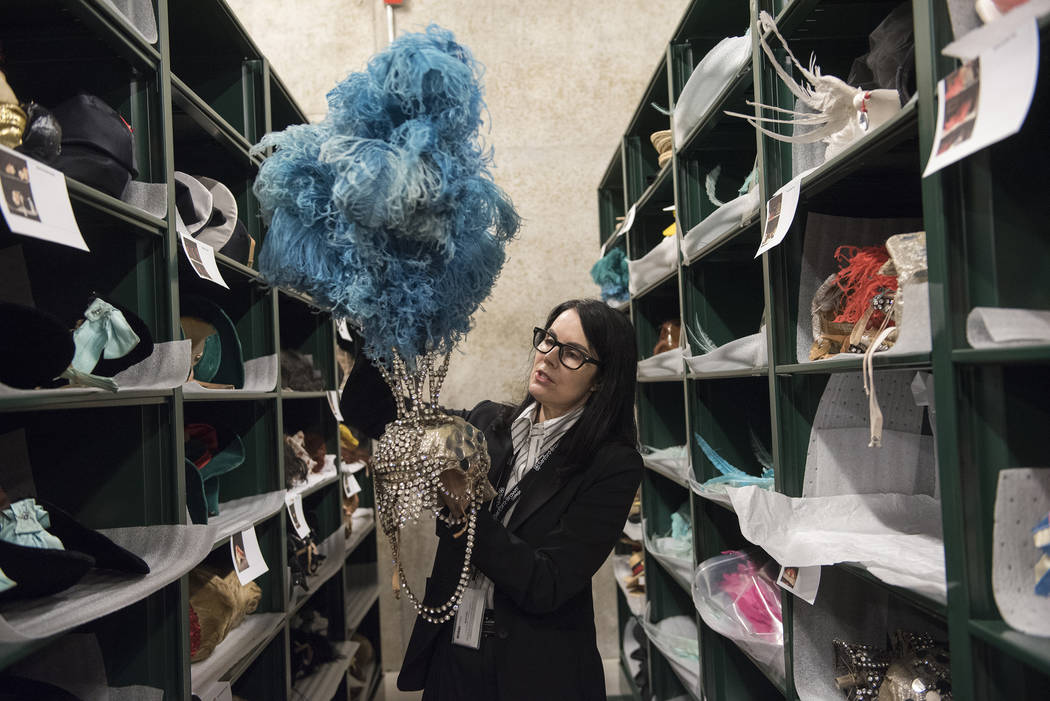 Vegas Voices is a weekly series highlighting notable Las Vegans.
Karan Feder has always been fascinated by fashion.
"I was literally one of those girls who made her own Barbie doll outfits," she notes. "I've totally always loved it."
But it wasn't until her first job — working with legendary costume designer Bob Mackie for musical star Mitzi Gaynor — that Feder realized her true love wasn't fashion design but costume design.
"My third year in college," at the University of Wisconsin in Madison, where she grew up, "I realized there was a person behind the scenes, designing (costumes). I fell in love with costumes versus fashion, because there was less following the rules."
After going Hollywood — literally — Feder, 56, worked on large- and small-screen projects, from "A River Runs Through It" to "The Golden Girls" and "The Wonder Years."
But a 2004 move from earthquake-shaky Southern California to Southern Nevada (Feder and her entrepreneur husband, Michael Feder, "were convinced 'the big one' was going to hit") has given her a whole new world of costumes to explore. Or, more precisely, a whole old world.
After moving to Las Vegas, Feder started Entertainment Exhibitions, focusing on entertainment costume preservation and exhibition. And she managed the now-shuttered Liberace Museum's eye-poppingly extravagant costume collection.
In 2013, Feder joined the Nevada State Museum, Las Vegas, where she volunteers at least two days a week, overseeing a collection that ranges from 19th century underwear (including crotchless bloomers) to vintage shoes and handbags that have been donated to the museum.
Another donation, however, dominates Feder's museum realm: some 8,000 pieces from the Tropicana's long-running Folies Bergere. The collection has inspired a museum exhibit — and Feder's newly published book "The Folies Bergere in Las Vegas," which is chock-full of photos documenting the "sequined sensation's" five-decade history.
We caught up with Feder in her temperature- and humidity-controlled museum workroom, where she's surrounded by such relics as a 30-pound, peacock-inspired headdress — dubbed "the Frickin' Bird Hat" by the showgirl who first had to wear the precarious piece.
Review-Journal: What makes costumes and costume history so fascinating?
Feder: Working with Mr. (Bob) Mackie and the outrageous things he was doing, he was like my dream designer. So great. So now I'm involved with saving his costumes and I've come full circle. Gorgeous showgirl pieces. Especially now in this city, as we transition away from the big spectacular productions. … Would those costumes ever make an appearance again? The cost of those. In some of my research, I've located the budget breakdowns and they were incredibly expensive — easy, $5,000. Everything was hand-done and it had to last for thousands of performances, on those big stages with hundreds of girls and boys. I feel like I'm really interpreting a sort of lost period of time.
What are your duties at the Nevada State Museum, Las Vegas?
My unofficial title is guest curator of costumes and textiles, (which involves) putting together exhibits, processing individual pieces … doing conservation work. … Every costume has its own objective record, including photographs.
Why is it important to preserve and study costumes from past shows?
I think it says a lot about the people who lived here, the entertainment industry folks (of the '50s). They were like the early settlers. They met each other, they got married, they made babies. And when they were done (performing), they opened dance schools. It's been really fun for me. The people who wore the "Folies Bergere" costumes, these are people who really settled Las Vegas. Show people. Entertainers.
What inspired your new book, "The Folies Bergere in Las Vegas"? And what makes that show special among all the classic Vegas showgirl extravaganzas?
The book was inspired because the state museum acquired the existing collection from the Tropicana. My responsibility was to figure out what had just been donated to us. … And the Las Vegas News Bureau had such a fantastic photo archive. … When I started my research, they had negatives that had never been developed. I was looking at photos that had never been released. … The reason I think the Folies Bergere is important is because it was a 50-year show. From the time it opened in 1959 to when it closed in 2009, you can understand the evolution of stage costume in a single show.
What's the importance of Las Vegas in theatrical costume history? Are all the great costume shows in the past or are there contemporary examples that can compare with the classic shows?
Las Vegas was unique because of the huge American versions of European cabaret shows. When we have our visual statement of Las Vegas, it is a showgirl. … Those shows were inspired by Europe, but we expanded the scale. Today our shows are different. I do think it's a phase. The Cirque shows are incredibly popular, but star vehicles are also very popular, and those are transitioning. With all the chorus boys and chorus girls, there's still some cabaret. … I don't know if people want to see shows like this anymore. Maybe it's cyclical.
Daily ritual?
Yoga
Last show you attended?
"Baz — A Musical Mash-Up"
Best place to take out-of-town visitors?
Bellagio Conservatory
Favorite vacation destination?
Pismo Beach, California
Favorite movie?
"Auntie Mame"
Contact Carol Cling at ccling@reviewjournal.com or 702-383-0272. Follow @CarolSCling on Twitter.