Art scene puts eclectic stamp on Life is Beautiful
September 23, 2017 - 11:50 pm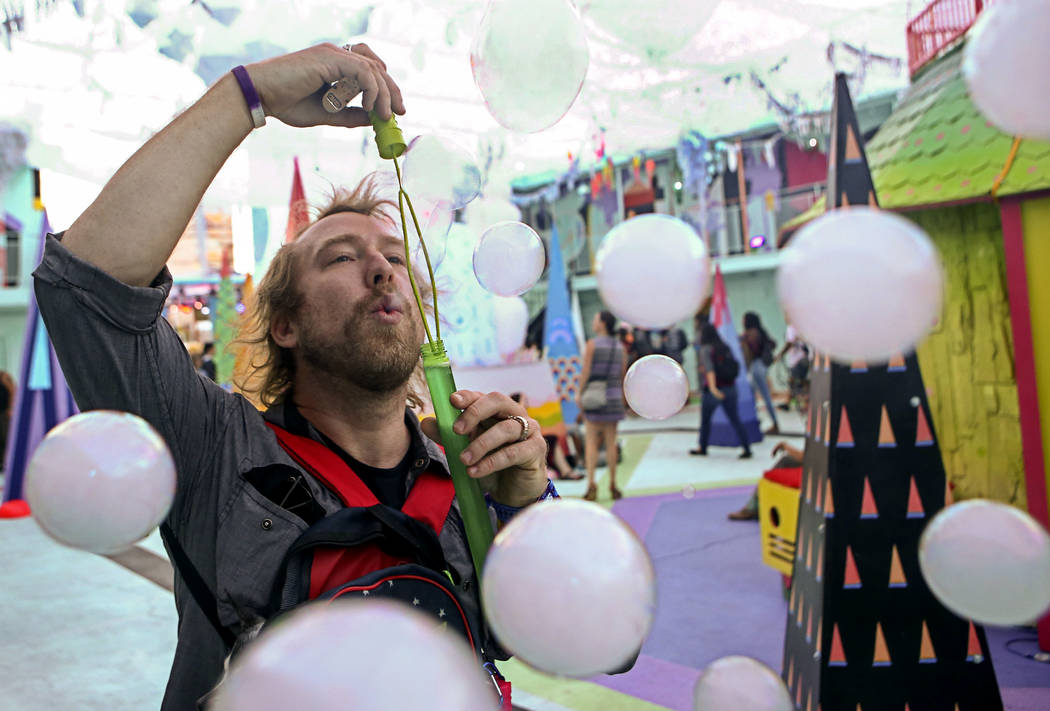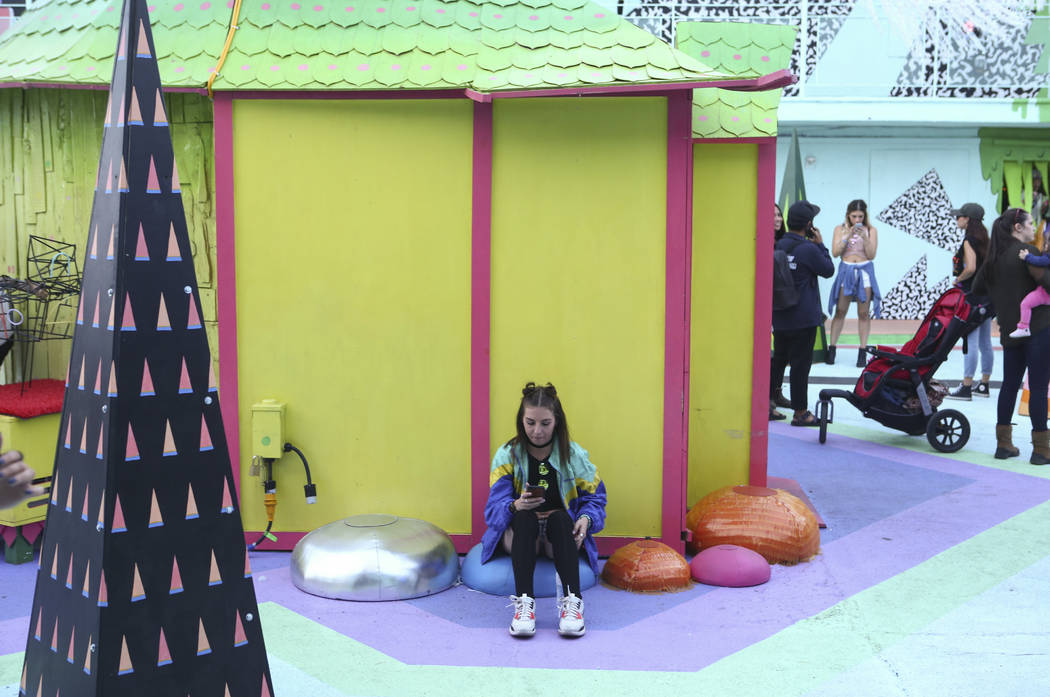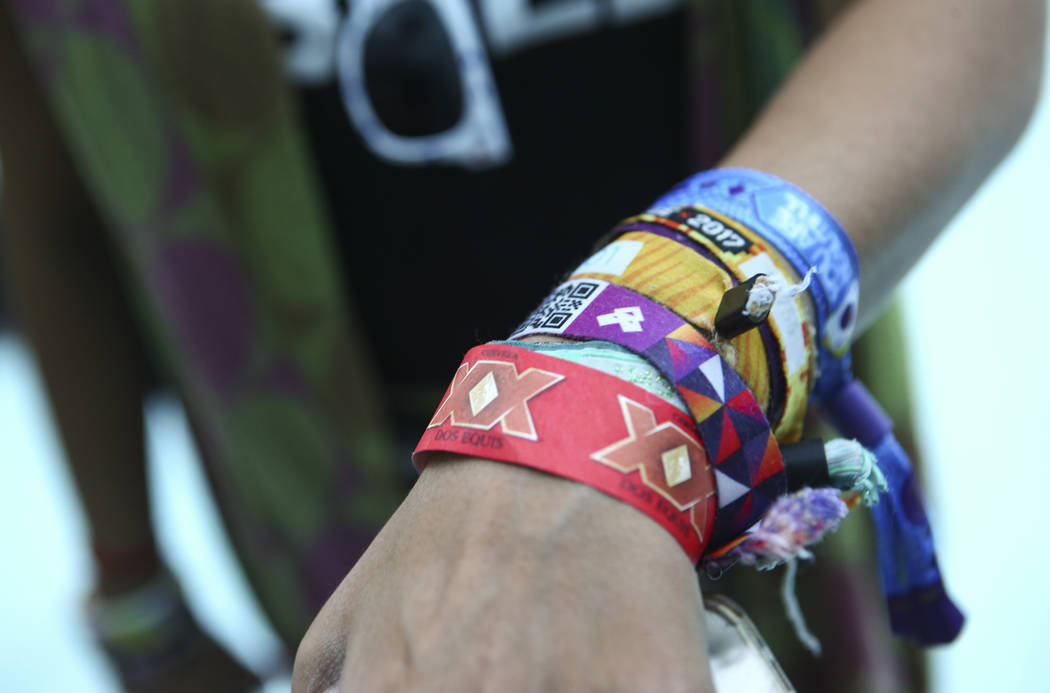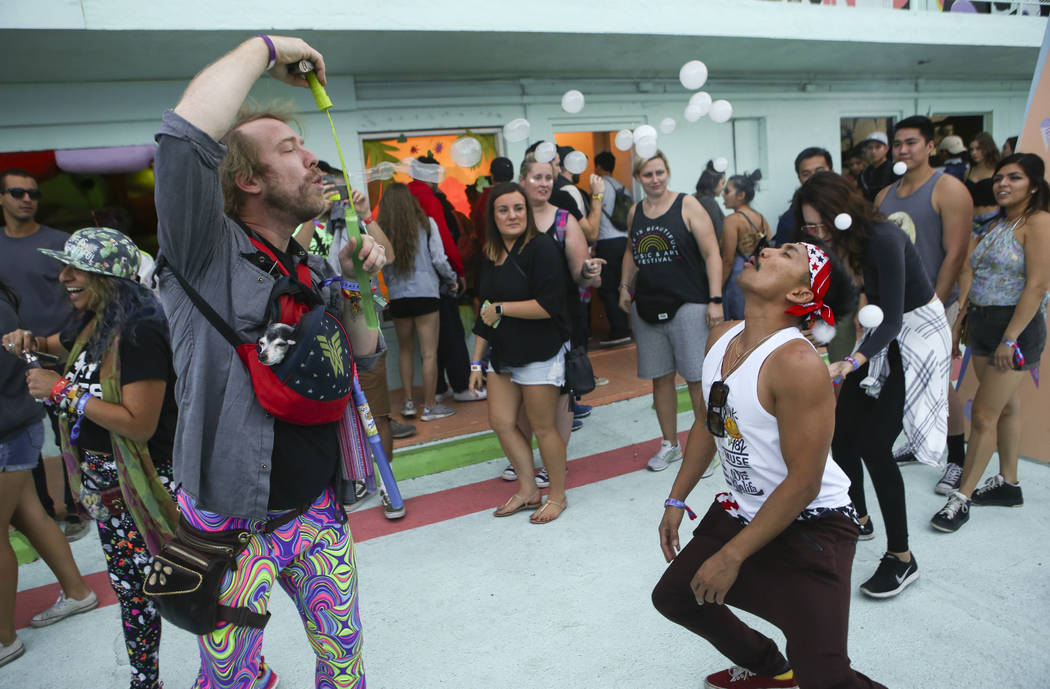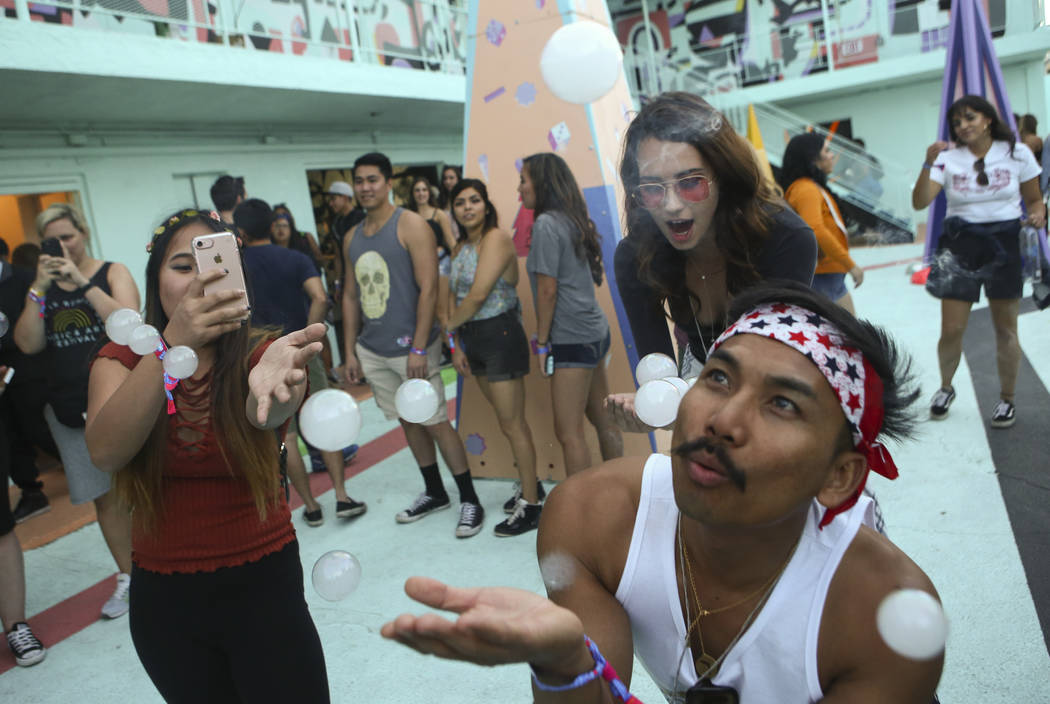 Like her owner's psychedelic leggings among the sea of costumes, face paint and neon clothing, the 15-year-old Chihuahua nestled in his mesh Wonder Woman bag looked right at home.
"As long as she's on my chest, she's the happiest thing ever," owner Graham Herbster said.
A crowd formed around him inside Life is Beautiful's "Art Motel" on Saturday evening as people turned away from the artistically themed rooms.
Here is Graham Herbster, recent Burning Man attendee, blowing vape smoke bubbles in the Art Motel at Life is Beautiful pic.twitter.com/cl4HRA9Qpx

— Mike Shoro (@mike_shoro) September 24, 2017
Herbster held a bubble wand in his left hand — matching the bubbles tattoo on the same wrist — and a vape box in his right. He inhaled from his vape and blew into the wand, producing white, smoky bubbles.
"If one in every 2,000 (people) don't like bubbles, you just kind of look at it and be like, 'How black is your soul?'" said his partner, Sona Shah.
A stranger watched Herbster and uttered a bewildered, "What?"
"Your mind has been blown," Herbster replied.
Herbster and Shah, accompanied by their emotional support dog, Pixie, were among the thousands of festivalgoers exploring the individual rooms inside "Art Motel," a vacant motel at 225 N. Seventh St. transformed into an interactive art project, at the music and arts festival.
The Art Motel pic.twitter.com/Qvn5RqkGcO

— Mike Shoro (@mike_shoro) September 24, 2017
Immersive experience
A New Mexico-based art collective called Meow Wolf created the project. The motel had several themed rooms and huts, each built and decorated by the artists.
Nick Toll, with the collective, helped paint various parts of the motel, including a mural and some pyramids.
He wanted participants to take an active, immersive role in experiencing the motel's art.
"You make it a part of your life," he said.
There's a laser harp thing at the Art Motel.
"Lasers, man," Greeley, Colorado, native Austin Sena said before sticking his hands out. "Woah" pic.twitter.com/6fZvVJeooS

— Mike Shoro (@mike_shoro) September 24, 2017
Herbster apparently agreed.
"I could easily take a nap in that honeycomb room," Herbster said.
Herbster and Shah met at a past music festival. In the span of two weeks, they visited festivals across Iceland, the Netherlands and Croatia, also visiting France and Germany. And that was before their trip to Burning Man.
"We're kind of like a festival fairy tale," he said.
One of my personal favorite rooms in the motel pic.twitter.com/2A8z3lAQ1E

— Mike Shoro (@mike_shoro) September 24, 2017
A volunteer for the festival and artist, Dawn Starr Looking Elk, sat on a bench in the Dia de los Muertos-themed room. Looking Elk, wearing a yellow mesh dress and about a dozen bead bracelets, contemplated the decorative skeletons blooming from faux flowers. She said the room represented the artist portraying grief, death and the celebration of life, as well as cultural assimilation and acceptance.
"It only enriches us all," she said.
Making their mark
She said Las Vegas is not just a tourist destination but is becoming an art destination as well.
"All these great contemporary street artists around the world are basically putting their stamp on Las Vegas," she said. "I'm really glad to be a part of the art scene in Las Vegas and Life is Beautiful."
"Everybody comes here as a tourist, but in a way we have the biggest passport 'stampage' of all: the great contemporary artists in the world," she said.
Aaaaand one more video, for good measure pic.twitter.com/bO4jkmybKK

— Mike Shoro (@mike_shoro) September 24, 2017
Inside the apocalyptic Doom Room, people stepped and jumped in foam, prompting an electronic mucklike sound effect. Edgar Frausto, 26, posed for a picture and jumped into the foam, making a squelching sound as he landed.
"I felt like nothing mattered," he said with a smile.
Austin Sena, of Greeley, Colorado, waved his hand across floor-to-ceiling lasers arranged to play and sound like a harp as their paths were interrupted.
"Lasers, man," he said, sticking out his hands. "Whoa."
Two women stood at the window of a room that housed two boxing marionettes made of pillows. People in the room pulled strings hanging from the ceiling, controlling the giant puppets' arms.
The women were art managers and were familiar with the Art Motel creators' work.
One of the women, Shannon Riley, gushed over the interactive nature of the rooms.
"Look … people are lining up not just to listen to music but to be part of physical art," she said.
Contact Mike Shoro at mshoro@reviewjournal.com or 702-387-5290. Follow @mike_shoro on Twitter.
*squelch* pic.twitter.com/hib6MtVSq8

— Mike Shoro (@mike_shoro) September 24, 2017