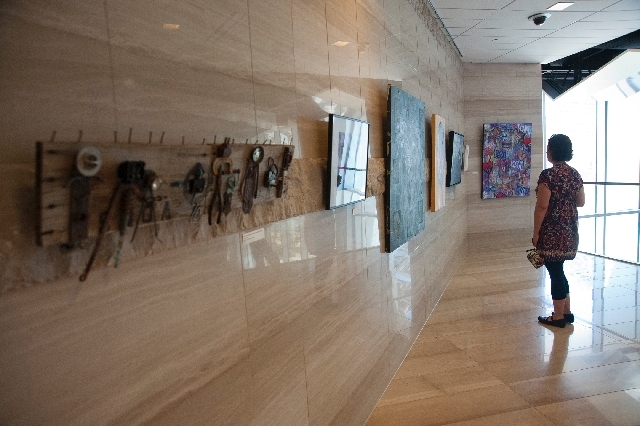 There's Vegas — the 24-7 spree that tourists see.
There's Las Vegas — where those of us who live here spend our waking, and sleeping, hours.
But in "Our Las Vegas," a variety of local artists share their visions of everything from Glitter Gulch's trademark neon to a party-hearty Rat Pack very different from the one we know and love.
The dual exhibition represents the first physical manifestation of an online project that launched in May 2012, according to "Our Las Vegas" director Jon Winet .
Or, as the project website describes it, " 'Our Las Vegas' is a new media public art project that celebrates the fierce and passionate connection that local and out-of-town artists, fiction writers, photographers, musicians, journalists, dancers and designers make with 'The Radiant City.' "
Part One of "Our Las Vegas' " new phase: a free exhibit of artworks on the second-floor Chamber Gallery at Las Vegas City Hall.
Some of the artworks were created especially for "Our Las Vegas," according to curator Ginger Bruner .
And the City Hall display serves as "sort of a sampler," in Winet's words, for "Our Las Vegas' " second component spotlighting "the artists and creative spaces" at downtown's Emergency Arts complex, 520 E. Fremont St.
"So many things are going on in all the galleries," he says.
The City Hall gallery show and the Emergency Arts exhibits, commissioned by the Las Vegas Arts Commission, signal "how interested we are in trying to connect the city" artistically, Winet says.
Those connections occur easily at Emergency Arts, says artist Alexandria Lee, who has a studio at the downtown complex.
"Our Las Vegas" also has space in the building, enabling Lee to connect with Bruner , the project's associate producer. (Bruner's photograph of "Las Vegas Snow Globes" also adorns the exhibition poster.)
Lee is not a full-time artist; her "day job" involves performing as the Showbot with Blue Man Group at the Monte Carlo.
She's represented in "Our Las Vegas" by "RFID Chip," a painting of a woman with an apple (accented by the title radio-frequency identification chip) in her mouth — and the phrase "to protect private property from the masses" repeated in the background, echoing the traditional punishment for naughty students: writing on the blackboard 500 times.
The painting, Lee says, was inspired by, among other things, Snow White's poisoned apple and the question of "what we want, what we don't want — and what we get."
A Las Vegan since the age of 8, the 26-year-old Lee moved to Los Angeles about two years ago "because I didn't think the opportunity was as great" to pursue performing and visual arts locally.
Now that she's back, Lee has discovered Las Vegas is "a good place for other arts," she says.
Lee's painting doesn't have an obvious Vegas connection, unlike some of the other works in the City Hall exhibit.
A photograph of former Mayor Oscar Goodman, surrounded by a bevy of burlesque queens as he cuts a feather boa "ribbon," represents the Burlesque Hall of Fame, which is located inside Emergency Arts.
Tim Carvalho , whose Carvalho Creative design studio is in Emergency Arts, pursues fine art as well as graphics — as evidenced by his triptych of canvas-mounted neon photographs titled "Casino, Tubes, Vegas."
And artist Snipt , representing Get Up Gallery, conjures an entirely new Vegas "Rat Pack" by replacing the grinning visages of Frank Sinatra, Dean Martin and Sammy Davis Jr. with those of carousing cartoon rodents Mickey Mouse, Fievel Mousekwitz (of "An American Tail " fame) and Jerry, whose feline nemesis Tom is nowhere to be seen.
The show's range of media and subject matter reflects the project's goal of showing "a different side of Las Vegas," according to Lisa Stamanis , who oversees urban arts initiatives for the city of Las Vegas. "It's important for Las Vegans that they have things that are not related to the Strip and casinos."
As such, "Our Las Vegas" provides "a great springboard" to consider "the difference between what we sell Las Vegas as and the actual experience when you live here," Stamanis says. "It's a fun question for Las Vegans — how do we paint that portrait and how do we tell that story?"
The Las Vegas Arts Commission spent about a year helping develop the "Our Las Vegas" exhibition project, she says.
The result is "bigger and better than I envisioned," says commission chair Maura Parrott , praising the new "bricks-and-mortar presence" to go along with "Our Las Vegas' " online presence. (The website, at http://ourlasvegas.wordpress.com, includes information on the project as well as "The Daily Frame," an online photographic gallery updated — you guessed it — daily.)
"It's so great for us to have that presence," Parrott says of "Our Las Vegas' " online component. "They're like our neurons going out," providing "multiple access points" to "Our Las Vegas" and other local art projects.
As such, "Our Las Vegas" reflects the project's — and the arts commission's — goal of building a public art community online.
"We think of it as social sculpture," Winet says. "The intention is the same — to call attention to creative possibilities. We're as proud of our Twitter feed as we are of our first bricks-and-mortar project."
Contact reporter Carol Cling at ccling@
reviewjournal.com or 702-383-0272.
Preview
What: "Our Las Vegas"
When: 7 a.m. to 5:30 p.m. Mondays-Thursdays, through July 18 (closed holidays)
Where: Las Vegas City Hall Chamber Gallery, 495 S. Main St.
Admission: Free (229-1012; http://ourlasvegas.wordpress.com)