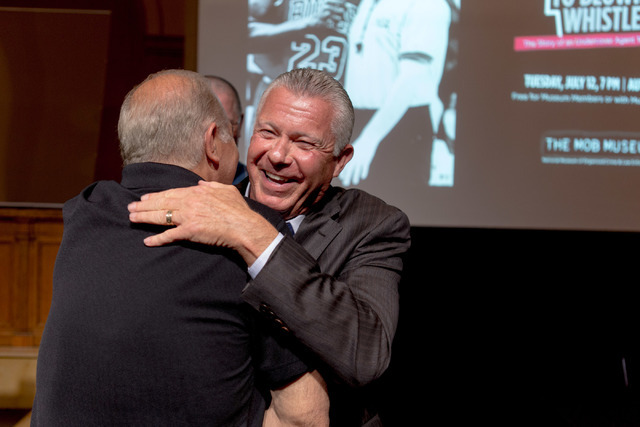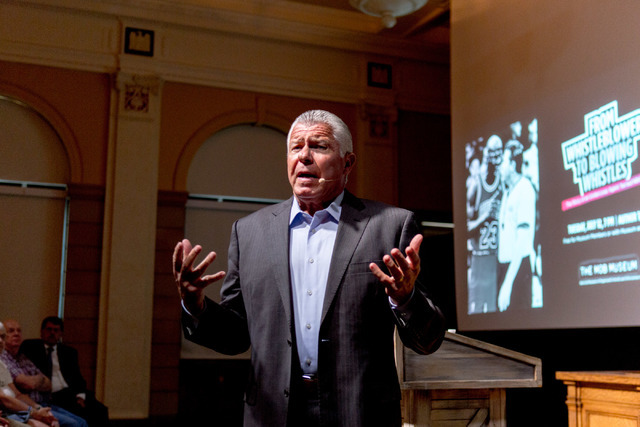 When it comes to dramatic career changes, Bob Delaney might have everyone beat.
Delaney appeared at the Mob Museum in Las Vegas on Tuesday night to talk about how he went from an undercover agent assigned to bust up New Jersey crime families to respected NBA official.
The talk covered the story outlined in his book, "Covert: My Years Infiltrating the Mob," which was released in 2008.
Among the 50 people in attendance were museum patrons and a group of NBA referees.
Delaney spent about three years undercover for New Jersey State Police in the mid-1970s. He posed as a trucking executive to infiltrate the Genovese and Bruno crime families, who controlled the New Jersey waterfront.
During that time, he was known by mobsters as Bobby Covert. His work eventually led to more than 100 arrests, Delaney said.
But Delaney said telling that story is not the main reason he makes public appearances.
"What I think is more important is what happened afterwards, and the emotional roller coaster ride I went on as a result of that undercover job," he said.
To cope with the post-traumatic stress disorder that came from the sting operation, Delaney started officiating high school basketball games while he was still a trooper. He eventually worked his way up to the NBA, where he would serve as a referee from 1987 to 2011.
Delaney said the physical activity and vigilance that comes with calling a basketball game was therapeutic for him and provided structure to his life.
"I was on a street that had no rules and no boundaries," he said. "I went to a basketball game that had rules and it had boundaries."
Now he's the league's vice president of referee operations and director of officials, a job he has held for two years.
The ex-undercover agent uses his public appearances as an opportunity to advocate for PTSD awareness. He said that people who serve in the military, law enforcement and other first responder jobs are especially at risk for letting their post-traumatic stress become debilitating because their jobs require a facade of strength.
"The reality is you're still a human being," he said.
Delaney said he has made stops at numerous military posts throughout the U.S., Europe and Asia to talk to military members about the importance of sharing their experiences.
Tuesday night's event lasted just over an hour, and included a question-and-answer session that quickly deviated from mob talk to basketball talk.
Delaney has been in Las Vegas since July 6 for the NBA Summer League. He said he planned the talk with the museum over a year ago. He makes several appearances across the country annually to talk about his story.
A group of about 10 referees sat in the back of the museum's second floor courtroom to support their colleague.
"He's just an awesome guy," said Joe Crawford, the well-known and recently-retired NBA official.
Delaney's appearance was the sixth in a series of nine author talks scheduled this year. All are free to museum members and anyone who has bought regular-priced tickets for museum entry on the day of an event.
Contact Blake Apgar at bapgar@reviewjournal.com or 702-383-0342. Find @BlakeApgarLV on Twitter.