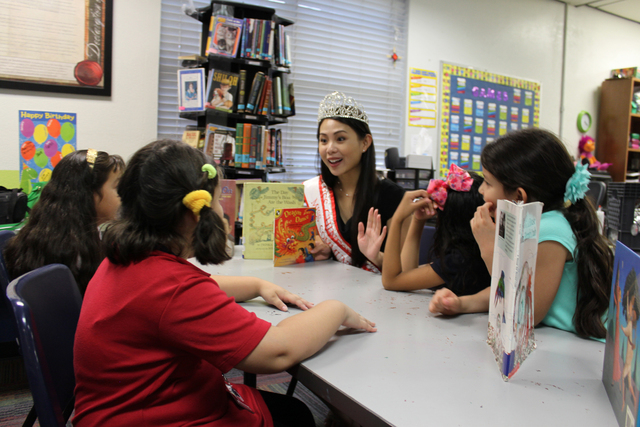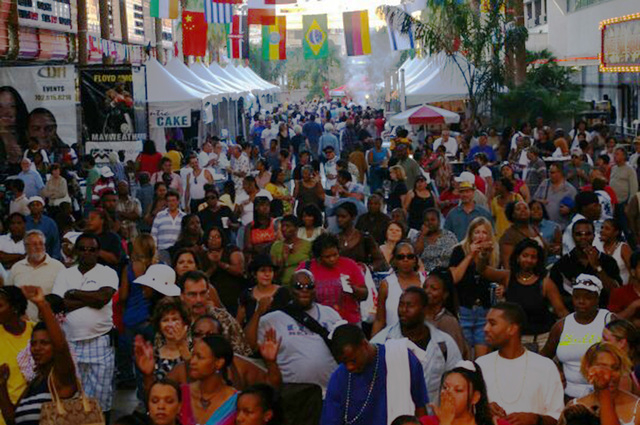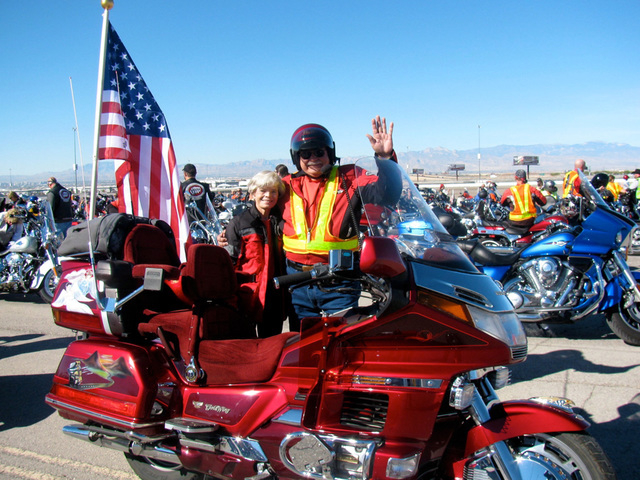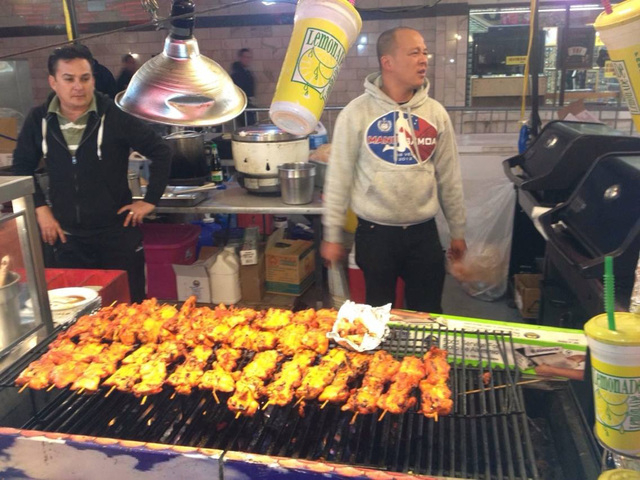 IN YOUR NEIGHBORHOOD
The Miss Asian Las Vegas Pageant is scheduled for 2 p.m. Sept. 28 in the Palazzo Theatre at the Palazzo, 3325 Las Vegas Blvd. South. In addition to traditional pageant rounds in interview, swimwear and evening gowns, the production is set to feature displays of Asian culture and costume. This year, the pageant will have representatives from Teen, Miss, Ms. and Mrs. categories, with contestants ranging in age from 15 to 52. Tickets start at $28. Visit venetian.com/missasianlasvegas or call 866-641-7469.

The ninth annual Las Vegas Culture Fest food and music festival is slated for 11 a.m. to midnight Sept. 27-28 at the Fremont Street Experience. Visitors can expect food and music representing a wide variety of cultures. Admission is free. Call 702-743-9613.

The 52nd season of the Southern Nevada Musical Arts Society is scheduled to include a concert featuring folk songs, sea chanteys, spirituals and Broadway selections at 2 p.m. Sept. 28 at the Winchester Cultural Center, 3130 McLeod Drive. Tickets are $10 in advance and $12 the day of the show. Visit clarkcountynv.gov or snmas.com or call 702-455-7340.

The 10th annual Las Vegas Ride for Kids is scheduled Sept. 28 at the Las Vegas Motor Speedway, 7000 Las Vegas Blvd. North. Registration runs from 8 to 9:45 a.m. There is no cost to ride, but donations are encouraged. Riders can register and raise funds online at lvrideforkids.org/registration or in person the day of the ride. The ride is set to begin at 10 a.m., with riders rolling south on the 215 Beltway to Town Square Las Vegas for lunch and a Celebration of Life ceremony. The ride raises money for the Pediatric Brain Tumor Foundation, which provides funding for research and family support programs including college scholarships for survivors. Call Carter Powersports at 702-795-2000 or visit lvrideforkids.org.

The fourth annual Paint the Square Pink is scheduled from 6 to 9 p.m. Sept. 27 at Town Square Las Vegas, 6605 Las Vegas Blvd. South. The Southern Nevada Affiliate of Susan G. Komen for the Cure plans to kick off Breast Cancer Awareness Month with a silent auction, live entertainment, wine, specialty drinks and hors d'oeuvres while breast cancer survivors and co-survivors participate in a fashion show. Tickets are $35 in advance and $40 at the door. Visit tinyurl.com/townpink or call 702-822-2324.

The Young Explorer series invites children 6 or older accompanied by an adult to learn about a new animal each month at Clark County Wetlands Park, 7050 Wetlands Park Lane. Mimicry: Amazing Imitators of the Natural World is scheduled from 9 to 11 a.m. Sept. 27. Visit clarkcountynv.gov/wetlandspark or call 702-455-7522.

In honor of National Childhood Obesity Awareness Month, the third annual Healthy Kids Festival is scheduled from 10 a.m. to 2 p.m. Sept. 27 at Paradise Park, 4775 McLeod Drive. The event is designed to provide children and their families with information about healthy eating and activity choices and is set to include healthy eating demonstrations, music, entertainment, sports exhibitions, games and more. Call 702-948-5942 or email all_4_kids@unce.unr.edu.

A Blackout Skate Party is set for 7 to 11 p.m. Sept. 26 at Crystal Palace Skating Center, 4680 Boulder Highway. Plans for the event include drawings for prizes and glow sticks for sale. The price is $9 or $10 with skate rental. Visit skatevegas.com or call 702-458-7107.

Kristen Hertzenberg, best known for her stint as Christine in "Phantom — The Las Vegas Spectacular," is set to perform at 5 and 8 p.m. Sept. 27 in Cabaret Jazz at The Smith Center for the Performing Arts, 361 Symphony Park Ave., Tickets range from $29 to 45. Visit ww.thesmithcenter.com.

A Clark County District G Movie in the Park Night is set to feature a free screening of "Despicable Me 2" at 7 p.m. Sept. 26 in Whitney Park, 5712 E. Missouri Ave. Children must be accompanied by adults, and patrons are encouraged to bring blankets and lawn chairs. "The Smurfs 2" is to be screened at 6:30 p.m. Oct. 24. Visit clarkcountynv.gov or call 702-455-8531.

Registration for classes is scheduled Oct. 4-18 at the West Las Vegas Arts Center, 947 W. Lake Mead Blvd. Six-week sessions such as African Drum, Modern Dance, Audio Engineering and more are scheduled Oct. 22-Dec. 6. For more information or to register, visit artslasvegas.org/classes/wlvac.htm or call 702-229-4800.

Ward 5 Coffee with the Councilman is scheduled from 9 to 10 a.m. Oct. 2 at Starbucks, 751 N. Rancho Drive. City Councilman Ricki Y. Barlow invites the public for coffee and conversation on how to improve Ward 5 and the city of Las Vegas.

As part of the Tuesday Afternoon at the Bijou: Mickey Rooney, the All-American Teen series, the 1943 film "The Human Comedy" is set to be screened at 1 p.m. Sept. 30 at the Clark County Library, 1401 E. Flamingo Road. Visit lvccld.org or call 702-507-3400.

Performances of "My Children! My Africa" are scheduled from 8 to 10 p.m. Sept. 25-27 in the Black Box Theatre in the Alta Ham Fine Arts Building at UNLV, 4505 S. Maryland Parkway. Tickets are $13.50 and $15 with discounts available to seniors, military personnel, people with disabilities and UNLV faculty and staff and students. Visit pac.unlv.edu or call 702-895-2787.

"Hendrix Bros – Heart & Soul," an art exhibition by Melvin and Tim Hendrix, is scheduled from 9:30 a.m. to 6:30 p.m. Wednesdays through Fridays and 9:30 a.m. to 5 p.m. Saturdays through Nov. 8 at the West Las Vegas Arts Center, 947 W. Lake Mead Blvd. Visit artslasvegas.org or call 702-229-4800.

"Re-Visualizing Las Vegas," an exhibition of Las Vegas News Bureau photos manipulated and colored with modern techniques, is scheduled to be on display on from 7 a.m. to 5:30 p.m. Mondays through Thursdays through Nov. 15 at the Las Vegas City Hall Chamber Gallery, 495 S. Main St. Visit artslasvegas.org or call 702-229-1012.

Wednesdays at 8 p.m. through Oct. 22, the Inspire Theatre is set to host screenings of essential Las Vegas movies. The events are slated to begin with cocktails at 7 p.m. and continue with the screening at 8 p.m. "Diamonds are Forever" is slated to be shown Oct. 1. Admission is free with purchase of a $7 cocktail. Visit facebook.com/inspirelv.

The High Roller observation wheel at The Linq, 3545 Las Vegas Blvd. South, is set to open from 10 to 11:30 a.m. Saturdays exclusively for families with children 12 or younger. The Family Hour Package is $49.95 and includes two adult tickets, three child tickets, three pairs of High Roller binoculars for guests to keep and three juice drinks from the Sky Lounge. Visit linq.com.

The exhibit "Storyland: A Trip Through Childhood Favorites" is scheduled to visit through Jan. 4 at the Discovery Children's Museum, 360 Promenade Place. The exhibit transforms seven beloved and award-winning picture books into three-dimensional, play and learning environments. Visit discoverykidslv.org.

Luis Varela-Rico's steel sculpture of the human hand, titled "Organic Study No. 1," is set to remain on display through Sept. 26 in the Clark County Government Center Rotunda Gallery, 500 S. Grand Central Parkway. Visit clarkcountynv.gov/parks.

"Unnatural Selection," an exhibition of artwork by Sam Davis, is scheduled 7 a.m. to 5:30 p.m. Mondays through Thursdays from Sept. 25 to Jan. 15 at Las Vegas City Hall, 495 S. Main St. Visit artslasvegas.org.

The Women's Chamber of Commerce of Nevada plans to host the Athena International Women's Leadership Day Luncheon from 11:30 a.m. to 2 p.m. Sept. 26 at the Monte Carlo, 3770 Las Vegas Blvd. South. Fox news anchor Olivia Fierro is set to serve as mistress of ceremonies. Tickets are $45. To register, call 702-733-3955, email athena@womenschamberofnevada.org or visit womenschamberofnevada.org.

Broadway Open Mic Night is scheduled at 8 p.m. Sept. 28 at the Onyx Theatre, 953-16B E. Sahara Ave. The event is set to feature musical theater open mic with a provided piano accompanist, theatrical lighting and sound. Sign-ups begin at 7:30 p.m., and participants have the option of receiving a video copy of their performance. Admission is $10. Visit onyxtheatre.com or call 702-732-7225.

The art exhibit "Fusionaroma," by Behzad Dowlatshahi and Samira Nozari, both published poets and painters known in Iran, is set to tour galleries through Jan. 4. It is set to be exhibited through Oct. 14 at the Whitney Library, 5175 E. Tropicana Ave., 702-507-4010.
WORTH A DRIVE
A meet-and-greet with experts who frequently make appearances on the downtown Las Vegas-based "Pawn Stars" reality show is slated for 5 p.m. Sept. 27 at the Clark County Museum, 1830 S. Boulder Highway. Tickets cost $125 and include drinks, food, an autographed poster and more. Proceeds are set to benefit the museum. Experts set to participate include Mark R. Hall-Patton, Rebecca Romney, Brett Maly, Craig Gottlieb, Jesse Amoroso, Jeremy Brown and Johnny Jimenez. Visit pawnstarsxperts.blogspot.com.
The 18th annual Bite of Las Vegas is planned from 11 a.m. to 10 p.m. Sept. 27 at Desert Breeze Park, 8425 Spring Mountain Road. Performers include American Authors, Colbie Caillat and Daughtry. Online advance general admission tickets are $19.26 at tinyurl.com/mahe4pu. Tickets at the gate are $25; children 6 or younger will be admitted free with a paying adult. Visit tinyurl.com/potdwr4.
The Royal Tea Society plans to host an Addams Family Tea from 11 a.m. to 1 p.m. Oct. 5 at Lakeside in Desert Shores, 2620 Regatta Drive. The cost is $25 for members and $45 for nonmembers. RSVP with prepayment by Sept. 30 to the Royal Tea Society, P.O. Box 370545, Las Vegas, NV 89137.
Foreclosed Upon Pets Inc. plans its sixth annual fundraiser from 5:30 to 8 p.m. Oct. 7 at a private residence. The event is limited to 125 people. A donation of $30 per person will cover beer and wine, a buffet, live music, raffle, silent auction and pet goodie bag. Proceeds go to assist the group with spay/neuters, vaccines and microchips for rescue dogs and cats. RSVP by Oct. 1 by contacting Sandy Marsh at smarsh2009@yahoo.com or 702-279-2544.
Light of the World Childhood Cancer Foundation Inc. plans to host its second annual silent auction from 6 to 8 p.m. Sept. 25 at The Sparklings, 8310 S. Rainbow Blvd. Admission is free. Visit lightoftheworldnv.org.
Comedian and entertainer Mark Lundholm is scheduled to perform his show, "Addicted," from 7 to 9 p.m. Sept. 25 at Solutions Recovery Wellness Campus, 2975 S. Rainbow Blvd. Tickets are $20 at addicted-too.eventbrite.
PLAN AHEAD
Performers 50 or older are invited to audition for the Doolittle Senior Center's "I've Got Talent Senior Showcase." Senior singers, dancers, musicians, comedians or other performers who are interested may call the center at 702-229-6125 to request an audition appointment, or stop by 1930 N. J St. Auditions are scheduled Nov. 5 and 6 at the senior center. The showcase is scheduled at 11 a.m. Nov. 19 at the West Las Vegas Library Theatre, 951 W. Lake Mead Blvd.
Tickets are on sale for the seventh annual production of "A Choreographers' Showcase" by the Nevada Ballet Theatre and Cirque du Soleil, scheduled at 1 p.m. Oct. 26 and Nov. 2 at the Mystere Theatre at Treasure Island, 3300 Las Vegas Blvd. South. Tickets are $25 and $45 and can be purchased by calling the theater box office at 702-894-7722 or visiting nevadaballet.org.
Registration is open for the seventh annual Scale the Strat fundraising stair climb scheduled for March 1. This year, Scale the Strat is scheduled concurrently with the third annual USA Stair Climb Championship, which is expected to attract elite stair climbers from all over the world and allow amateur climbers the opportunity to rub elbows with the best athletes in the sport as they climb the stairs in the Stratosphere Tower. An early bird discount rate of $40 is available before Dec. 31. Climbers are also asked to make a minimum $150 fundraising pledge for the American Lung Association. Online support and personal fundraising coaching is available. Visit scalethestrat.com.
Bank of America customers receive free entry Oct. 4 and 5 to the Discovery Children's Museum, 360 Promenade Place, the Las Vegas Natural History Museum, 900 Las Vegas Blvd. North, and the Springs Preserve, 333 S. Valley View Blvd. Admission is offered through the bank's Museums on Us program, which allows Bank of America customers free access to select museums on the first weekend of every month. Participants must show their U.S. Trust, Merrill Lynch or Bank of America debit or credit card to receive free admission for the cardholder. Visit museums.bankofamerica.com.
Gardening in Small Places: Tree Selection and Care, a workshop offered by the University of Nevada Cooperative Extension, is scheduled from 8 a.m. to noon Oct. 4 at the Lifelong Learning Center, 8050 Paradise Road. Advance registration is required, and there is a $25 fee for the workshop. Visit unce.unr.edu, email lvmastergardeners@unce.unr.edu. or call 702-257-5555.