Las Vegas Latino artist inspired by Mexican folk art of pinatas, papel picado
November 12, 2016 - 9:51 pm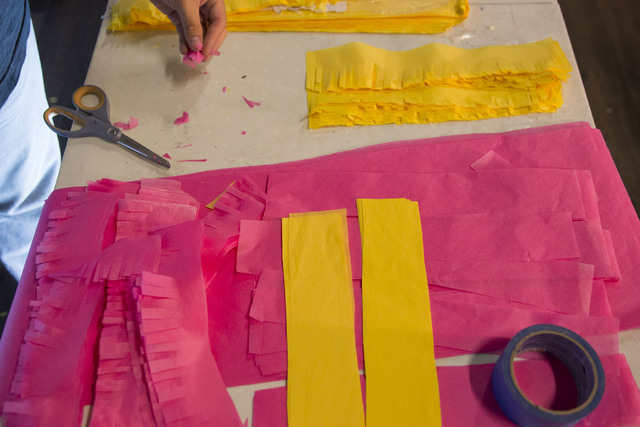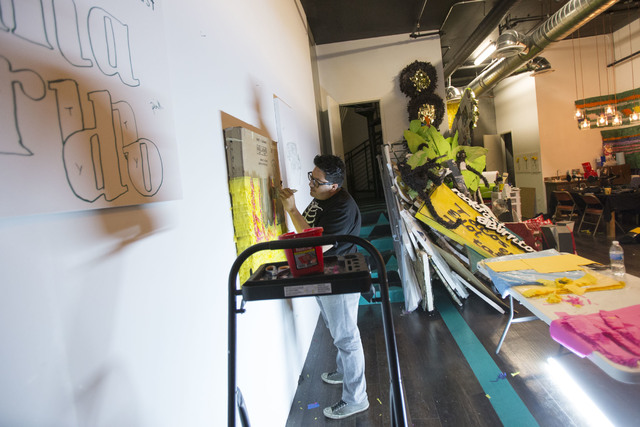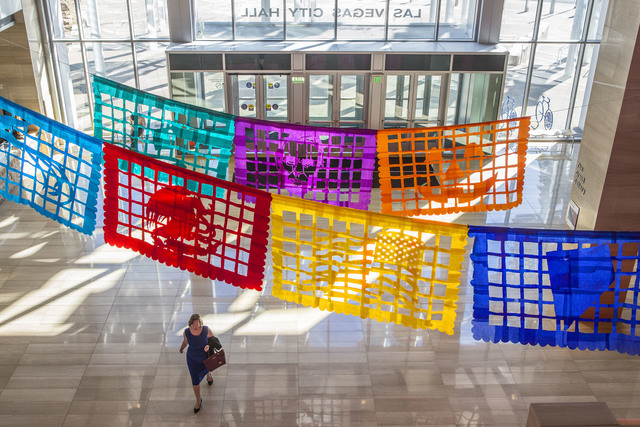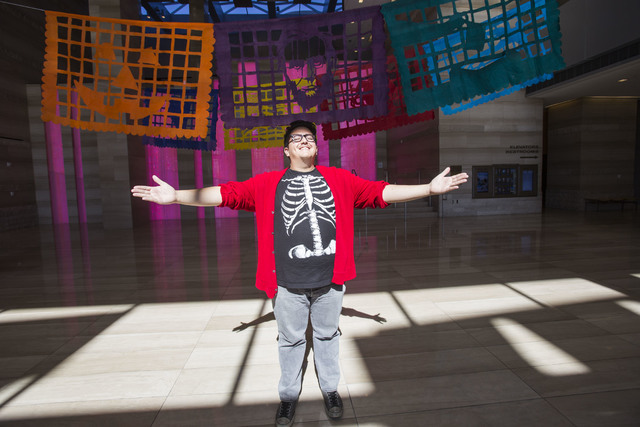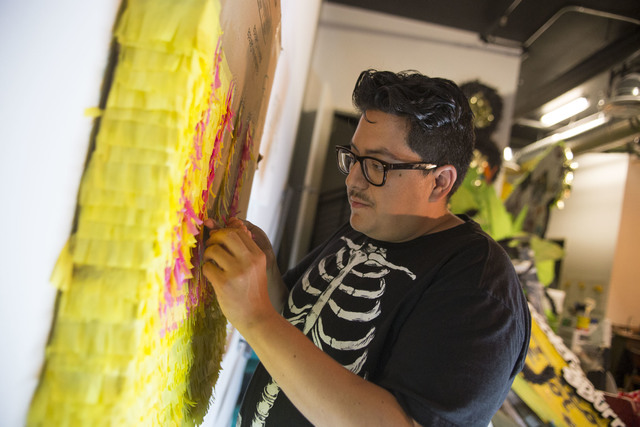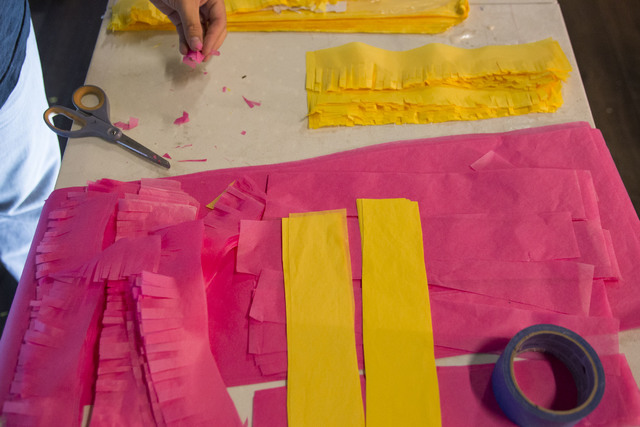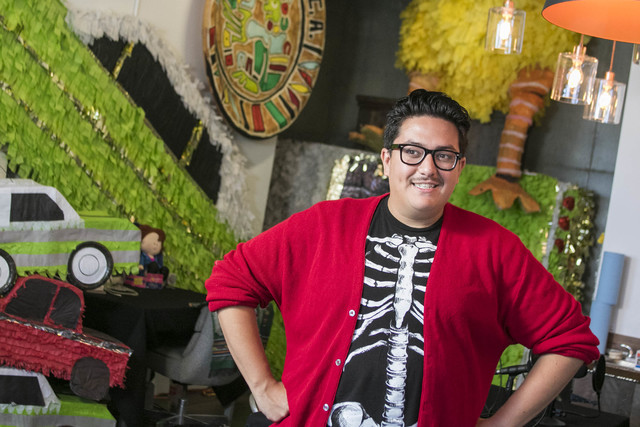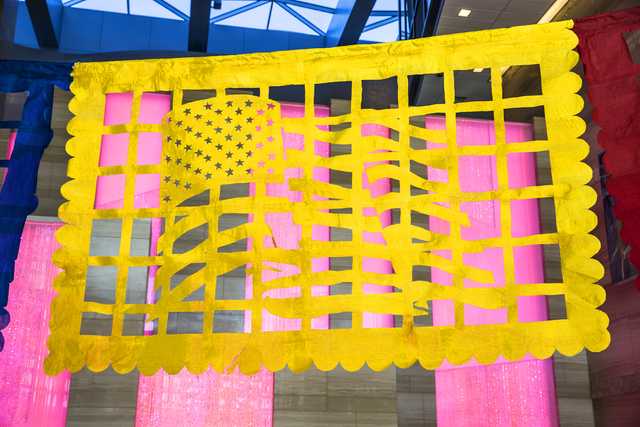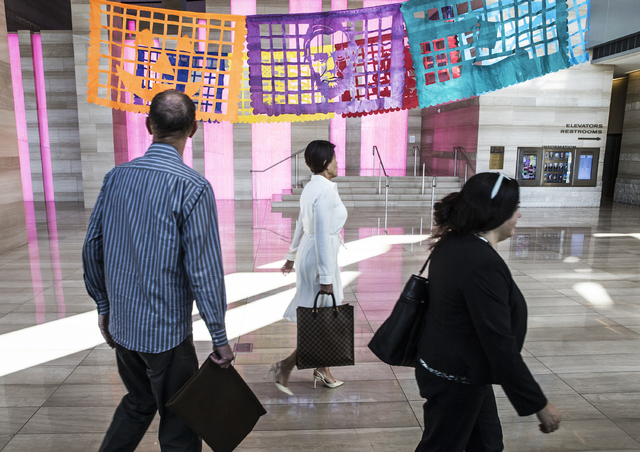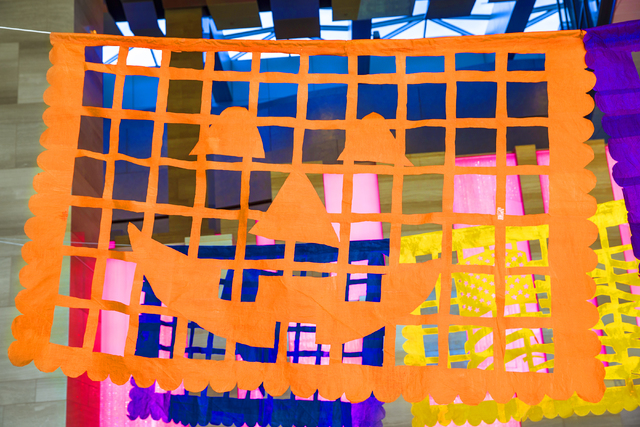 As a kid, Justin Favela hated pinatas.
"I was a very calm, quiet kid who didn't want any conflict," he says.
No wonder the blindfolding and "the demonstration of forced … masculinity" always bothered him.
They still bother him. But Favela has figured out a way to deal with it: by making the pinata's paper-encrusted aesthetic a trademark of his artwork.
During September's annual "Life Is Beautiful," for example, the 30-year-old artist "pinata'ed" the old Town Lodge motel downtown, exploring "the ephemeral nature of a pinata and Las Vegas — they're always changing."
Hanging on a wall of his downtown studio, where Favela's the first artist in residence at the Juhl condominium complex: a giant lime green car roof, part of his cardboard-and-tissue-paper rendition of a 1964 Chevrolet Impala sedan, featured in a 2013 Springs Preserve exhibit celebrating Route 66.
And last year, shortly after Donald Trump announced his presidential bid — and characterized immigrants from Mexico as "bringing drugs," "bringing crime" and "rapists" — Favela was commissioned by Lindo Michoacan restaurant (run by one of his cousins) to create a Trump pinata, which patrons quickly demolished.
"To me, there was something wrong about it," Favela says of his Trumpinata. "What Trump (was) saying was, Latinos are a violent people, evil," and restaurant patrons "beating the crap out of (the pinata) was just reinforcing those stereotypes. … I understand their feelings, but I don't like that it's enforcing those stereotypes."
Yet it's the pinata — and other traditional Mexican crafts — that have inspired, and transformed, Favela's artwork.
Consider "Patrimonio," his current exhibit in the lobby of Las Vegas City Hall, which spotlights Favela's take on papel picado (chopped paper), a Mexican folk art featuring intricate patterns cut into sheets of tissue paper.
"Patrimonio's" giant, multicolored banners salute U.S. holidays such as Veterans Day (with a waving American flag), Election Day (a citizen casting a ballot), Nevada Day (a Silver State outline) and Lincoln's birthday. Other panels honor Guatemalan and Mexican independence days (Sept. 15 and 16), saluting the homelands of Favela's parents.
"When I was in school at UNLV, I started thinking about my identity as a Latino — and about making my art about my identity," Favela says. "It's a decision I just dove into headfirst."
Once he pondered his Latino identity, he wondered, "What symbol represents Latin America in the U.S.? The pinata — and the taco." (The latter played a starring role in Favela's contribution to artist Diane Bush's "The Final Tally," the election-night finale of her yearlong "Dishing It Out 2016" project.)
"It was definitely a great jumping-off point," Favela says of adopting the pinata aesthetic. "When you automatically pinata something, people want to know what's inside."
After "playing with that notion, now I see it as a tool that I can use," he says.
Favela began his six-month Juhl residency in September, after Juhl owner/developer Uri Vaknin (who owned an art gallery in his former hometown of Atlanta) saw Favela's work in "Tilting the Basin: Contemporary Art of Nevada." (The exhibit recently ended an 11-week run at Reno's Nevada Museum of Art and will travel to Las Vegas in 2017.)
Favela is one of six artists with multiple works in "Tilting the Basin" (including a "Family Fiesta" performance art piece) and when Vaknin "saw Justin's work, it was one of those extremely rare moments," the developer says. "Everything about (it) just spoke to me."
Citing the material, concept and execution, along with the postmodern use of materials, Favela's work represents a meeting of "high culture and low culture," Vaknin says, from an "amazing and eloquent young man."
Vaknin had planned to institute an artist-in-residence program at the Juhl and "when I met Justin, it all came together," he says.
While in residence at the Juhl, Favela's working on a "really big" piece for a group show at the Denver Art Museum featuring 13 Latino artists. His contribution: re-creating the courtyard and garden set from the 2002 movie "Frida," which starred Salma Hayek as legendary Mexican painter Frida Kahlo.
"Since I've moved here to this space, I've gotten so many opportunities that have just popped up," Favela says.
Including a home base for a twice-monthly podcast, "Latinos Who Lunch," during which Favela and co-host Emmanuel Ortega — billed as "Favyfav and Babelio" — dish on pop culture, art and identity politics.
Despite Favela's current downtown address, however, the artist's "favorite side of town" always will be "the east side of town, where I was raised."
A graduate of Las Vegas High School, Favela loves walking into a neighborhood store and running into one of his relatives. (With more than three dozen first cousins in the family, it's a likely prospect.)
Describing himself as "a very proud Las Vegan," Favela thinks it surprises people that he and other artists call Las Vegas home.
"I take it as a responsibility to represent Las Vegas," he says. "Las Vegas isn't known for its contemporary art."
But that's changing, in part because "in Las Vegas, it's easy to surround yourself with amazing people," Favela says. "My art family is really strong here. I consider all my best friends family."
That explains why his friends often join him to work at his Juhl studio.
In January, Favela hopes to launch a weekly studio open house, where Juhl residents and the general public can stop by to work on a group project for the complex.
And when his residency ends in March, Favela will find a new place to call home.
After all, "I was working out of my garage" before his current residency. "I don't mind working out of my garage again."
The key is "something I find very important: bringing your friends with you," he says. "As long as you surround yourself with support, it's easier to succeed."
Read more stories from Carol Cling at reviewjournal.com. Contact her at ccling@reviewjournal.com and follow @CarolSCling on Twitter.
Preview
Who: Artist Justin Favela
What: "Patrimonio"
When: 7 a.m.-5:30 p.m. weekdays through Dec. 15
Where: Las Vegas City Hall Grand Gallery, 495 S. Main St. (first floor)
Admission: Free (702-229-1012)