Las Vegas poetry slam team competing in battle of ideas, emotions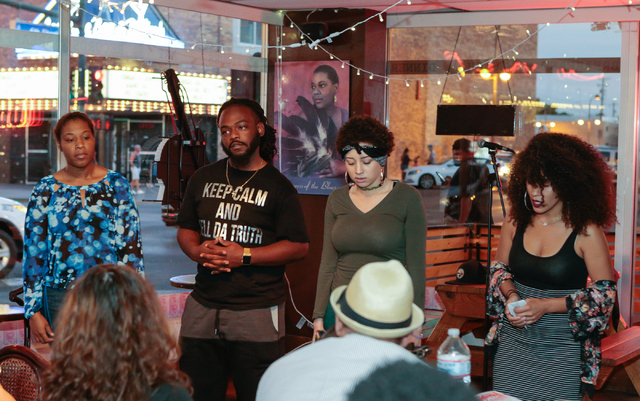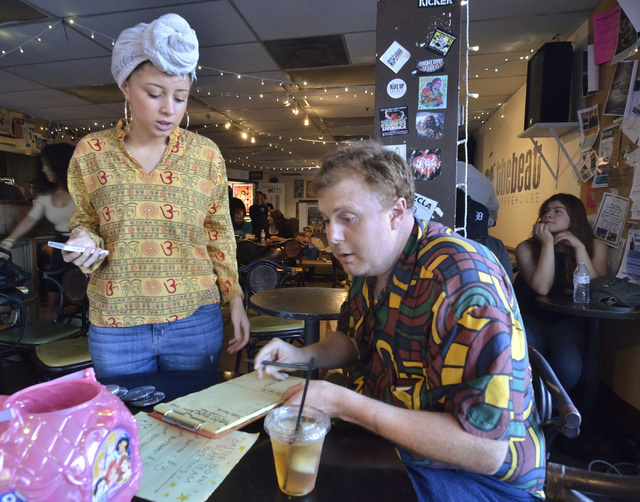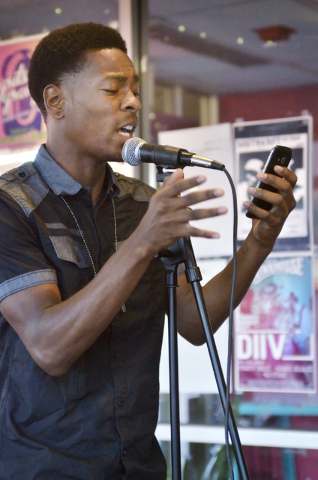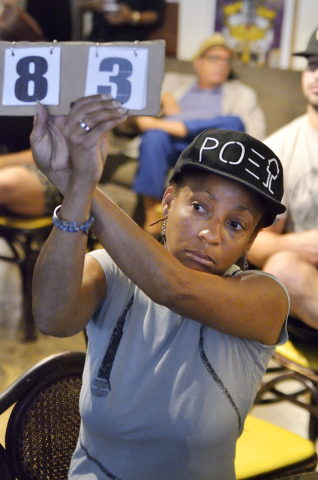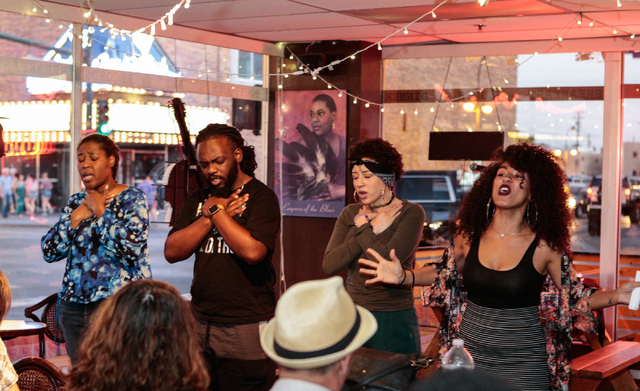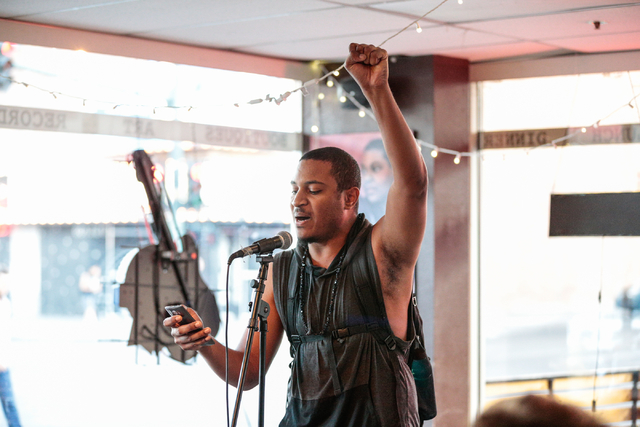 On a sweltering Friday evening in downtown Las Vegas, more than two dozen people sweat it out inside The Beat coffeehouse eagerly waiting to hear … poetry?
Not that boring stuff you had to endure in school. Tonight's performance — and that, and not the more staid "reading," is the word for it — will be presented by Battle Born Slam, Las Vegas' slam poetry team.
This week, Battle Born Slam will compete against more than 70 slam poetry teams from across the country at the National Poetry Slam in Decatur, Georgia. To prepare for the event, Battle Born Slam members have spent the past few months sharpening their skills by presenting their work at open mic nights and other events around town.
The centerpiece of their performance on this night will be a group piece called "We Are the Same." The performance will raise the temperature inside the coffeehouse by a few degrees and even raise a few bucks when a hat is passed afterward to help cover expenses for this week's trip (www.gofundme.com/battlebornslam).
But most important, team members will prove vividly to audience members the intellectual and visceral power well-chosen words delivered with passion can have.
Since its creation in 2010, what would eventually be called Battle Born Slam has presented workshops and performances in schools and at public venues in the valley. For the past five years, the Battle Born Slam team also has represented Las Vegas at the National Poetry Slam.
Vogue Robinson, a team member, mentor and organizer, has competed in two previous national slams. At the national event, poets present pieces of three minutes or less in the form of solo pieces, duets and group performances. In contrast to poetry readings, poetry slams invite audience response and are built upon the poet interacting with audience members through such techniques as accents, voice inflections and gestures.
In poetry slams, audience participation is mandatory, Robinson says, and "the delivery is different than what you'll usually see. So it's more than just words alone. It's a presentation."
This year's Battle Born Slam team was selected after a competition that ran from last fall through April of this year. Members admit that transitioning from the solitary craft of writing poetry to the very public craft of performing poetry in front of a live audience was, at times, challenging.
Ashley "Ms. AyeVee" Vargas comes from a theater background. She was in her first movie at the age of 10, studied theater in high school and at the University of Nevada, Las Vegas, and has been been writing poetry since the age of 8.
But she didn't start performing her work until last year. "I never put it together that you can take this written art and make it into a performance piece," she says.
"The hardest part for me was, I'm a private person, so I'm not performing some prize-winning play by a playwright. I'm doing my life, my words, and that continues to be the hardest part."
Robinson will be competing in her third national slam. While it's difficult to predict the topics this year's competitors will address, "there are a lot of current events that are going on … that people are talking a lot about," she says.
She also suspects much of this year's work will revolve around such subjects as personal stories, family, identity, personal growth, survival and just about every other facet of "what it means to be human."
Loren "Lo" Campbell started writing poetry about four years ago but has been performing only since last year. She admits that taking the microphone for the first time was scary.
"I didn't have my poem memorized because I had it on my phone, but I was up there and started shaking, and it was so nerve-racking but amazing at the same time," she says. "It was like, 'This is what I'm supposed to be doing.' "
Darelle "RelldaTruth" Davis has been writing poetry since the age of 10. Transitioning into performance "was kind of easy for me because I'm kind of shy but I like being the center of attention," he says.
Alternate Marquis Ealy says much of his work is political, although he hopes to expand into other topics and, on this evening, he and Campbell present a duet. Ealy says group pieces can be difficult because "it's got to be like one voice that has a bunch of different tones. Not only that, but you have to make a piece that has to be where no one person stands out.
"It's really complicated and it has a lot of moving parts, but when you get together right, like it's supposed to, it's a thing of beauty."
The group piece the team presents, "We Are the Same" — written by Vargas — flows perfectly as the poets trade off and toss lines to one another. The audience provides vocal punctuation with scattered hoops, yeahs and finger snaps.
At the conclusion of the piece, the poets walk to the back of the coffeehouse to handshakes, pats on the back and even a hug or two from audience members. Clark County Poet Laureate Bruce Isaacson is impressed.
"They're really good," he says. However they do in this week's National Poetry Slam, Isaacson is excited that the team is connecting with audiences and maybe, in a larger sense, helping to expand and strengthen Southern Nevada's poetry scene.
Slam poetry "is still controversial, because a lot of people think, 'What is competition in poetry?' that those two things are antithetical," he says.
"But the key thing is that all these young people just want to listen to a night of words, and that's really something."
Read more from John Przybys at reviewjournal.com. Contact him at jprzybys@reviewjournal.com and follow @JJPrzybys on Twitter.