Las Vegas women find their artistic voice in 'A Room of One's Own'
February 7, 2017 - 12:00 pm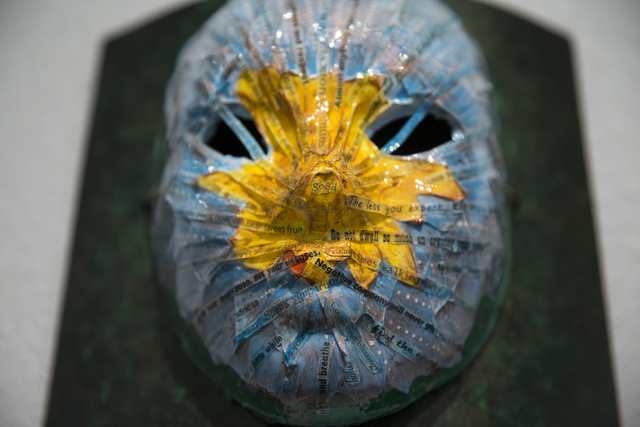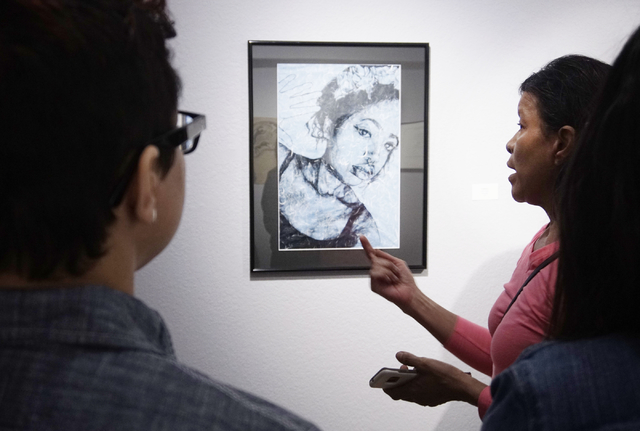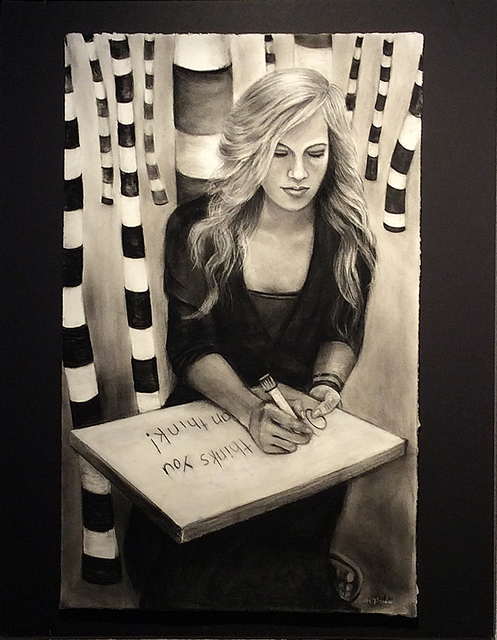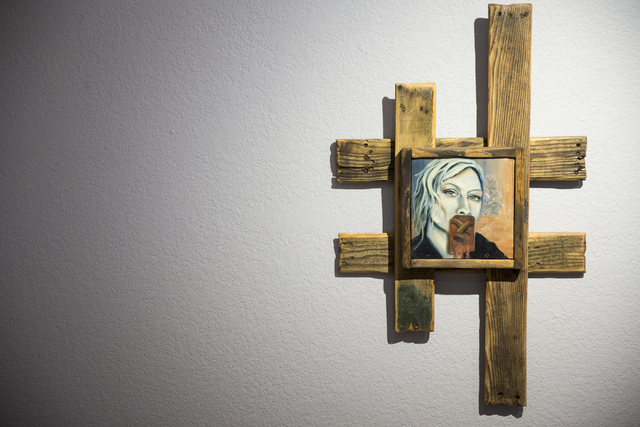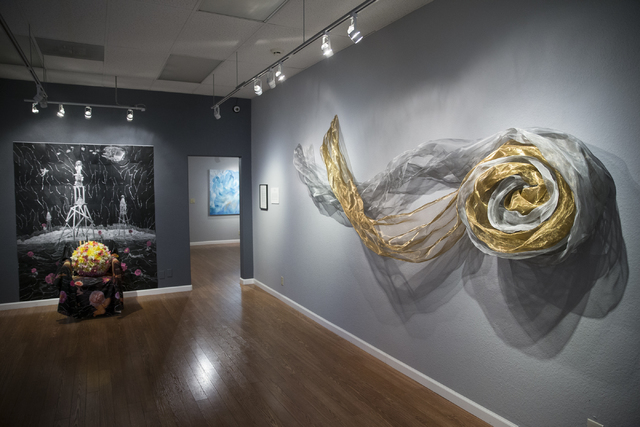 A swirling sculpture of silver and gold mesh hangs across from an otherworldly mixed-media collage of flowers and women's bodies. There are colorful portraits alongside poetry. The artists vary as widely as the media they use, with exception of one characteristic: they're all women. In this nondescript gray building in Las Vegas, women get a gallery of their own.
Through March 31, Left of Center Art Gallery hosts "A Room of One's Own," an all-women's exhibition inspired by Virginia Woolf's influential essay of the same name. In the essay, she argues that women writers must have their own space — literal and figurative — to create their best art. The exhibition is also organized to coincide with Women's History Month in March.
"All of us, whatever we do, whatever medium we use, whether we're a writer, a sculptor, we all need the space to create and as professional artists, somehow we've all carved that time or space or whatever to be able to create work," says Marylou Parker, the gallery director, curator and an exhibiting artist.
Parker and College of Southern Nevada English professor Erika Vital-Lazare curated the collection of visual and literary art, respectively, by artists mainly associated with institutions around Las Vegas such as CSN, UNLV, Nevada State College and Nevada Humanities. The gallery will also host workshops and presentations throughout the duration of the exhibition.
While the point of the exhibition is to feature a diversity of women artists, the work itself does not all explicitly deal with womanhood or femininity, nor was it a requirement. For some, such as writer DeAnna Beachley, their experiences as women are innately tied up in and inevitably influence any work they do. "You can't separate yourself from your work," Beachley says.
For others, such as short story and children's book author Alexis Parsha, being a woman is not reflected in her work or career.
"Right now, we're under the auspices of those who would rather that we not express who we are as women, in whatever shape that might be," Vital-Lazare says. "I thought it was important to not be restricted by too many boundaries when I asked for their work."
Bobbie Howell, who has three pieces of intricately cut paper in the exhibition, incorporates the voices of women around the world in her work. One, titled "Weeping Mothers," was inspired by the conflict in Syria and the horrors the mothers in Aleppo must witness. In another, Howell carved tiny faces into the kaleidoscopic design, representing the hundred lost school girls in Nigeria.
"As an artist, what do we do? What do we do when things — I don't know. You just try to raise awareness or think about them, just like, know that you're not forgotten, we do demand to know where you're at and it's not acceptable," Howell says.
Read more from Sarah Corsa at reviewjournal.com. Contact her at scorsa@reviewjournal.com and follow @sarahcorsa on Twitter.