Library galleries offer space for artists and patrons alike to learn and grow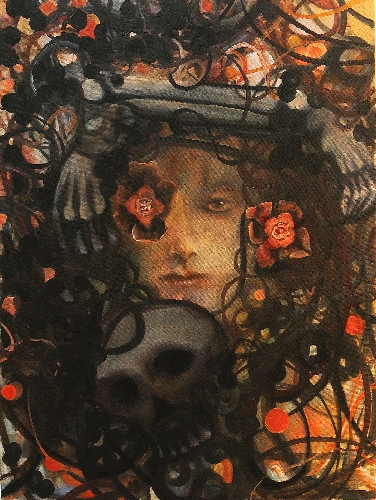 An artistic riddle: If Darren Johnson's paintings in the Summerlin Library gallery are art, are the comments scribbled in the guest book by people who have seen Johnson's paintings performance art?
The give and take over Johnson's pieces — which feature realistic-looking figures uttering mundane comments via word balloons — certainly is entertaining enough to be.
"Much fun," writes Ed.
"Fantastic work — ironic, real, American!" raves Kristen.
"Not fun, just mean and insulting," counters Jean, following up the next day — from the similar appearance of the writing, anyway — with: "I can't stand what the media promotes — & now this is called 'art.' "
And that's followed by an anonymous counter-counterpoint that reads: "Absolutely fantastic. Lighten up!!!"
The exchange is perfect for the Summerlin Library gallery, one of more than a dozen art galleries and exhibition spaces throughout the valley where locals can view a diverse roster of works created by a diverse roster of artists in low-key, casual surroundings.
Denise Aileen Alvarado, gallery services coordinator for the Las Vegas-Clark County Library District, said the district maintains 14 art exhibition spaces, including 12 stand-alone galleries. Each year, those spaces host an average of 80 shows, which collectively account for the display of about 2,000 individual pieces of artwork.
All of the shows in the library galleries are available for viewing at no charge, and each exhibit is up for an average of two months, although some do tour multiple library branches before closing.
The library district has been incorporating art galleries into its branches for more than two decades, Alvarado said. The galleries and exhibition spaces not only offer a display venue for valley artists and craftspeople, but mesh with the library district's public education mission.
Visiting a gallery with children is "great family education," Alvarado said, and it's not unusual to see kids sharing with their parents information about artists and artistic styles that they learned in school.
"We also have workshops and lectures," Alvarado said.
A viewer making a tour of the district's galleries probably will see pieces created from a variety of artistic media, from oils and watercolors to metal, clay and ceramics, as well as photos, textiles and wood.
Fannie M. Ludaway's show, "Collage, My Interpretation," runs through May 1 at Enterprise Library, 25 E. Shelbourne Ave. It marks not just her first exhibit in a library but, she said, "my very first show."
"It's a wonderful opportunity," Ludaway, 57, said. "You don't find collages in people's homes — you just don't — and I just want to show that (they) can look as good as a picture that was painted."
Laraine Kaizer-Viazovtsev's exhibit of oil paintings, "Recent Works," runs through April 2 at the Clark County Library, 1401 E. Flamingo Road. She said it marks her first solo exhibit in "a public space like a library, which is awesome."
Kaizer-Viazovtsev, 35, likes that her pieces will be seen by an audience that might not visit an art gallery or art museum.
"You get a very rich and diverse group of people, especially at Clark County (Library)," she said. At her show's opening night reception, "it was really fun to just sit there in a corner and watch" as passers-by would be "drawn to a piece and take another look or stand there awhile. It's thrilling."
Johnson has viewed other artists' work in valley library galleries before. The spaces are "a nice little added bonus" in library branches, he said. "I've actually learned a lot about local artists by visiting them."
Now, his first solo show, "Important Conversations in Midwestern Brown" runs through May 3 at Summerlin Library, 1771 Inner Circle Drive, and will tour several other branches after that.
Johnson, 33, likes the low-key, casual viewing atmosphere the library district's galleries offer.
"There are no salespeople kind of making anyone uncomfortable, and no crowds usually," he said, which may make passers-by more likely to stop in and even jot a comment in the guest book before leaving.
During his show's previous stop, at Sahara West Library, "I had hundreds of comments from all kinds of different people," he said. "There were kids who had their 2 cents."
Johnson finds it particularly appropriate that his paintings — which incorporate text in the form of word balloons — are being displayed in a library. The paintings are "sort of about excessive talk," he said, so "I think it's kind of funny to invade library space with them."
At Centennial Hills Library, 6711 N. Buffalo Drive, an art exhibit by students at Rhodes Elementary School runs through April 10. Linda Stout, the school's art specialist, said the exhibit features one piece from each class at the school.
Students "were really excited" about having their works shown in their neighborhood library, she said, and had "a real sense of pride and encouragement" for classmates whose works were selected.
Meanwhile, Caitlin Wolle, 17, is preparing her first solo show, which is scheduled to open May 26 at Spring Valley Library, 4280 S. Jones Blvd.
Wolle, a junior at Las Vegas Academy of International Studies, Performing and Visual Arts, applied at the end of her freshman year to exhibit her work in a library gallery. She plans to show primarily pencil and watercolor drawings there.
Wolle finds the prospect of exhibiting in a public library both exciting and frightening.
"I definitely want to do art as a career, so I definitely want to get myself out there," she said, "but it's also a bit scary."
Artists who wish to show their work in a library gallery should send Alvarado a packet containing a letter of request, five jpegs or slides of the artwork, an artist's statement, a bio, if desired, and current contact information.
But it's probably wise for artists not to hold their breath.
"I really do not have to seek out artists," Alvarado said. "I have a waiting list of about a year-and-a-half ahead in all the galleries."
Contact reporter John Przybys at jprzybys@ reviewjournal.com or 702-383-0280.
See For Yourself
Gallery exhibits in Las Vegas-Clark County Library District branches may be viewed for free. Hours are from 10 a.m. to 7 p.m. Mondays through Thursdays, and 10 a.m. to 6 p.m. Fridays, Saturdays and Sundays.
For more information, visit the Las Vegas-Clark County Library District's web page (www.lvccld.org) and follow the links to "Events & Galleries" and then "Gallery Exhibits."