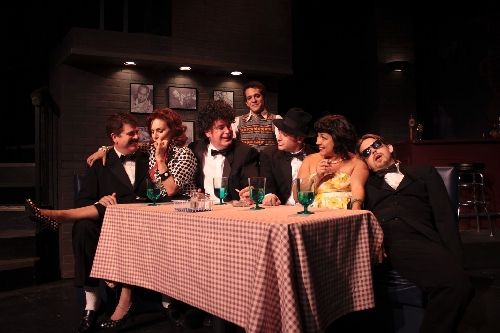 Las Vegas Little Theatre's "Side Man," Warren Leight's funny, tender ode to the Jazz Age, is stately, face-paced and hollow.
At a pivotal moment, Gene, an obsessed horn player, becomes fascinated with a Clifford Brown trumpet solo that he and friends are listening to on cassette. As if in a trance, he starts to finger the notes. The pantomime goes on for a while, and it's obvious we're meant to see how this troubled man is alive only in music.
But, as mounted by director Rob Kastil and performer Mario Mendez, the scene is soulless. We don't believe Mendez is really caught up in his character's passion or that Kastil understands this script on a gut level.
Our "in" to the story is Gene's young son Clifford (Jason Nino), who zips back and forth in time periods trying to deal with a self-absorbed father, a stifling mother and his own desires to make a life for himself. Nino is likable, but he's all memorized gestures and line readings. His mother, Terry (Tressa Bern), is portrayed as if she were in an adult "I Love Lucy" episode. She has a horribly exaggerated New York accent. Gene's bandmates – typified by a man (Stephen McMillan) in a dark, Marty Allen fright wig who grows into a gray, Marty Allen fright wig – are all one-liners. It's one thing for real people to tell jokes; it's another for characters to be jokes.
The show is helped considerably by Kastil's strong sense of rhythms and a parade of talent that commands respect. Mendez gains strength in the second act when Gene grows weary of his situation; it's a joy to read his eyes. And the detailed, varied set (by David Sankuer) as well as the lighting (by Ginny Adams) that suggests memory, goes a long way in keeping you interested.
But it's difficult to take the events in this play seriously when they're set up as vaudeville routines. We're supposed to want to be a part of this bygone area populated by "child men" who are incapable of respecting the rules. But there's no flesh and blood in this production for us to mourn.
Anthony Del Valle can be reached at vegastheaterchat@aol.com. You can write him c/o Las Vegas Review-Journal, P.O. Box 70, Las Vegas, NV 89125.
Review
What: "Side Man"
When: 8 p.m. Thursdays-Saturdays; 2 p.m. Sundays (through Sept. 30)
Where: Las Vegas Little Theatre mainstage, 3920 Schiff Drive
Tickets: $21-$24 (362-7996; lvlt.org)
Grade: C-