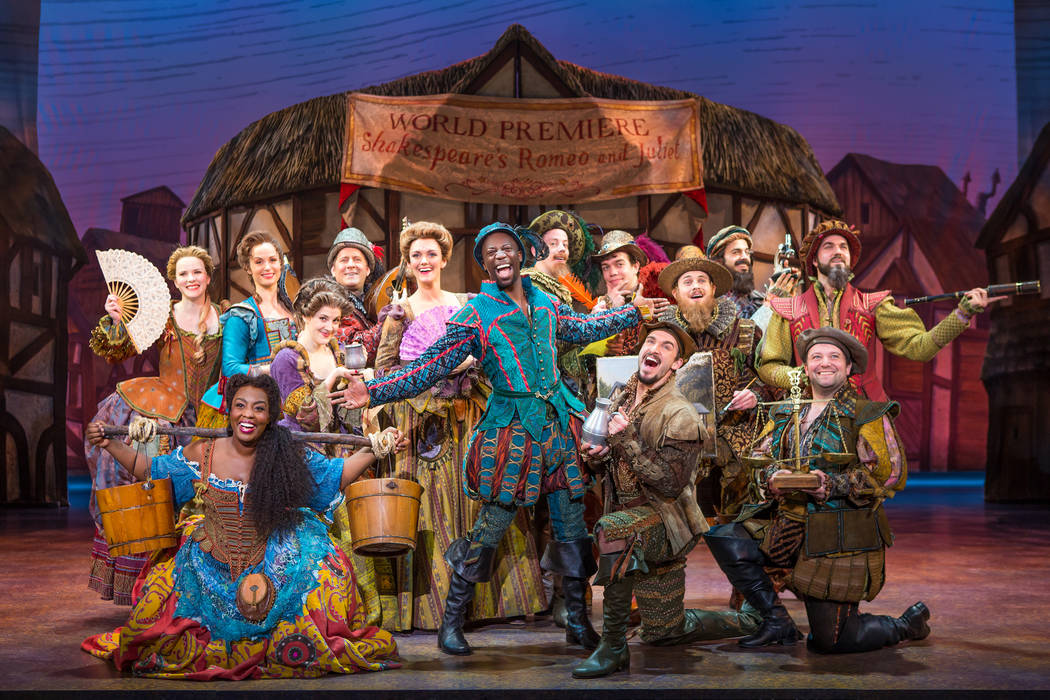 To be, or not to be, a musical.
That was never the question for the creators of "Something Rotten!" It was more like the answer.
After all, the Elizabethan-era musical romp — which opens an eight-performance run Tuesday at The Smith Center's Reynolds Hall — focuses on the production of the very first musical.
It's called "Omelette: The Musical." (Not to be confused with "Hamlet," although there's an undeniable ham-and-eggs connection in there somewhere.)
There's also a definite connection between the creators of said "Omelette" — brothers Nick and Nigel Bottom, who run a stage troupe in 1595 London — and their theatrical nemesis, one William Shakespeare by name.
In Nick Bottom's view, Will is a pill. Or, to quote Nick in one of the musical's opening songs, "I just don't get it, how a mediocre actor from a measly little town is suddenly the brightest jewel in England's royal crown."
Nigel, by contrast, argues that Shakespeare's "poetry soars like a sweet violin; God's own inspiration like lightning doth strike him," prompting Nick to complain, "Jeez, you sound just like him."
Beyond the power of Shakespeare's pen, however, there's the problem of Shakespeare's celebrity.
Preening in "Will Power," Shakespeare shakes it like a rock star, regaling the assembled multitudes with these modest lyrics: "I am the Will with the skill to thrill you with my quill — I am the hard-working Bard you regard."
It may be difficult to declaim with one's tongue firmly in cheek, but "Something Rotten!" and its central performers manage the feat with ease.
Then again, they've had practice.
That's because the three actors headlining the tour — Rob McClure as Nick Bottom (yes, he shares a name with the weaver who metamorphoses into a literal ass, thanks to some mischievous magic in the real Shakespeare's "A Midsummer Night's Dream"), Josh Grisetti as brother Nigel and Adam Pascal as Will Shakespeare — closed the show on Broadway before taking it on the road.
The curtain came down on Broadway's "Something Rotten!" on Jan. 1; by mid-January, the show was on the road, according to Grisetti.
Except for the three principals and one chorus member, "the entire company was new," he notes during a telephone interview from the musical's Kansas City, Missouri, stop.
"All four of us were doing the show at night" during the monthlong tour rehearsal, Grisetti recalls. And "to save us from being worked to death," the tour understudies sometimes performed "to give us a little bit of a break."
Although the touring version "pretty much is" the Broadway show, according to director-choreographer Casey Nicholaw, "we made a few tweaks here and there."
The "we" includes songwriters (and brothers) Karey and Wayne Kirkpatrick; Wayne is the Grammy-winning songwriter behind Eric Clapton's "Change the World." (Karey Kirkpatrick co-wrote the musical's book with John O'Farrell, his collaborator on the screenplay for the 2000 animated feature "Chicken Run.")
Recently, Nicholaw joined the company on the road to "sort of tinker" with the show, Grisetti notes. "It's never quite a finished piece. It keeps it interesting for us."
Among the changes from the Broadway original: a second-act rewrite on the ballad "To Thine Own Self."
The creators "had these ideas from when they opened" in 2015, "but they just ran out of time. The tour gave them the opportunity to make those changes."
Not that they change the essential nature of "Something Rotten!"
Nicholaw first learned of the production through Tony-winning producer Kevin McCollum, a pal of Karey Kirkpatrick's since their days working at Disneyland.
"I was absolutely hooked the minute they started talking," Nicholaw says of the show, noting its focus on two subjects dear to his heart: Shakespeare and musical theater.
"Two scenes and three songs" were his introduction to what would become "Something Rotten!" Now, "only two of the songs are still in it," the director-choreographer adds, "and I don't even recognize what they were."
But that's showbiz.
"Everything's always a challenge," Nicholaw admits, citing the trimming of extraneous scenes as an essential step in the process of creating a hit. "The audience tells you what works and what doesn't work."
Forsooth, a spoof: Parodying musicals past and present
"Something Rotten!" may be set in Shakespeare's day, but its references range from the Bard to Broadway.
Of course, Broadway musical spoofs are nothing new for Tony-winning director and choreographer Casey Nicholaw, whose credits — notably "Book of Mormon" and "Spamalot," which he choreographed — include heaping helpings of song-and-dance humor inspired by stage predecessors.
Numerous "Book of Mormon" numbers echoed bits from "The King and I" to "The Sound of Music" — and beyond.
The "Something Rotten!" references, meanwhile, range from "Mary Poppins" and "The Music Man" to "The Lion King" and "Phantom of the Opera," to cite a few. (A New York Times article that ran shortly after the show's 2015 Broadway debut cited more than 80, according to actor Josh Grisetti, who plays Nigel Bottom.)
"It is pretty funny I end up doing these shows," Nicholaw says of the musical spoofs.
And when there's a musical spoof, can tap-dancing be far away? Not in a show he's choreographing, Nicholaw adds, only half in jest.
Some of the numbers are definitely "tap-happy, and it didn't even start out that way," he notes. "Everybody kept wanting it, so I kept adding more and more."
Which is exactly what happened in the stage version of "Aladdin," when he added tap to "A Friend Like Me" only after Disney Theatricals chief Tom Schumacher asked him, " 'Where's the tap number?' " Similarly, "Book of Mormon" co-director Trey Parker told him, " 'I picture 'Turn It Off' as a tap number,' " so Nicholaw obliged.
"People love seeing something on stage they can't do," the director-choreographer says of the old-fashioned yet surefire dance style. "It makes you happy. There's something about (seeing) something familiar."
And speaking of familiar, Grisetti and Nicholaw's history of collaboration extends to "Spamalot's" Las Vegas incarnation at the Wynn, where the actor played Prince Herbert and the Historian.
"That was the first time Casey and I worked together," Grisetti says. "It's full circle."
In more ways than one, given the period costumes featured in "Spamalot" and "Something Rotten!"
As Grisetti quips, "I only play Vegas when I get to wear a codpiece."
Contact Carol Cling at ccling@reviewjournal.com or 702-383-0272. Follow @CarolSCling on Twitter.
361 Symphony Park Ave., Las Vegas, NV