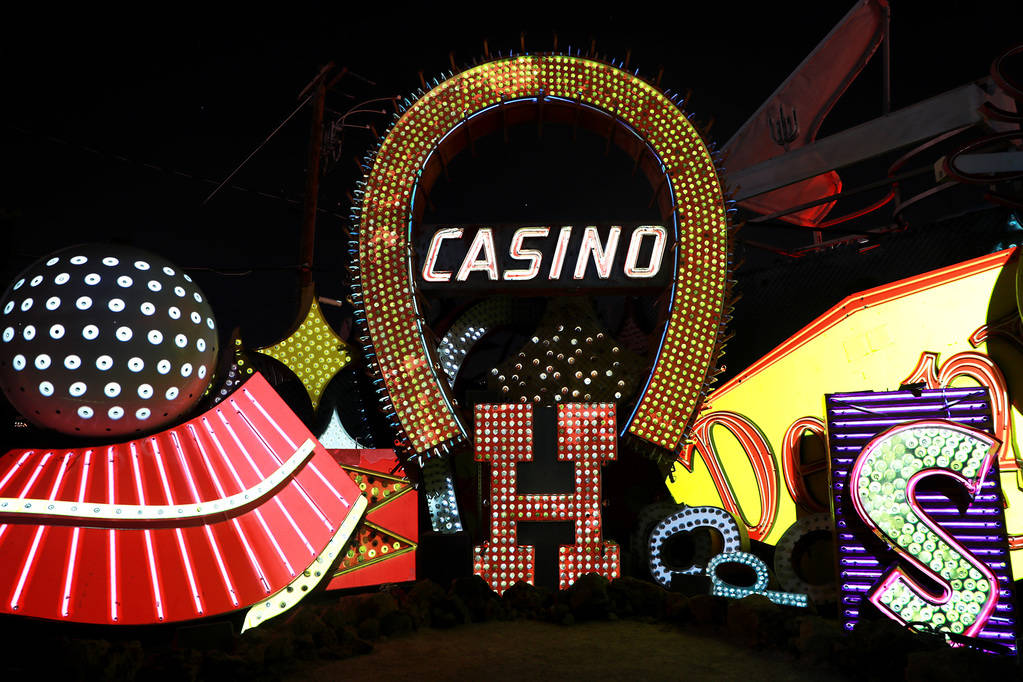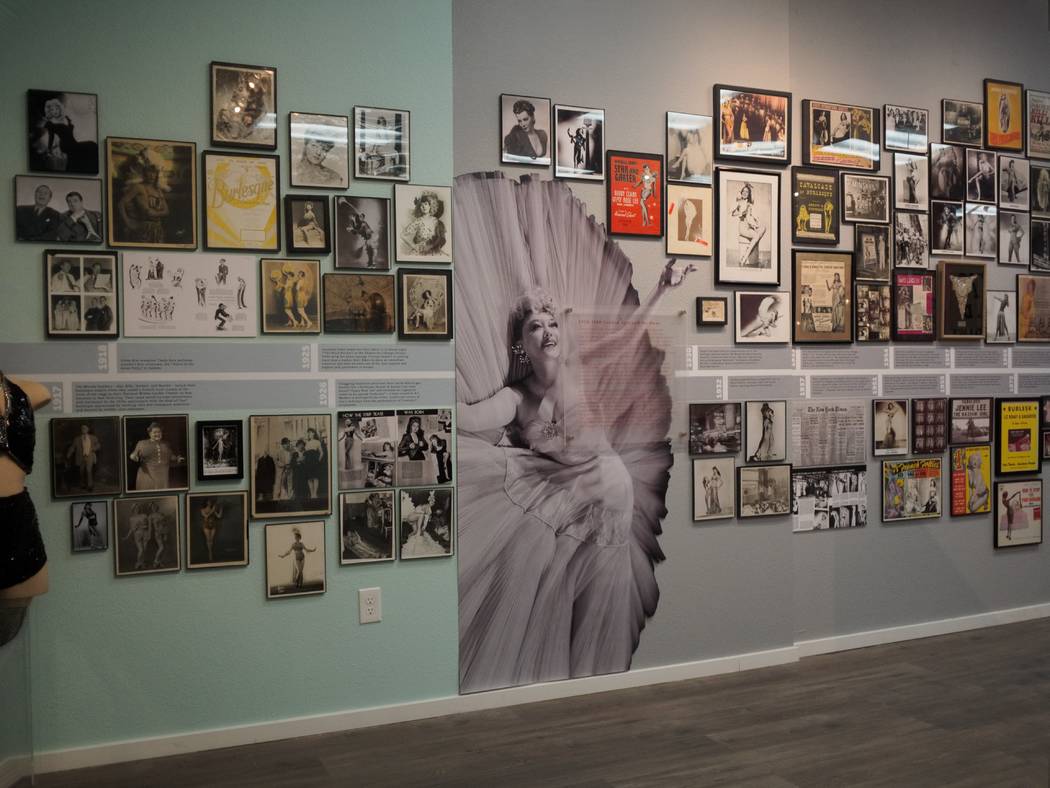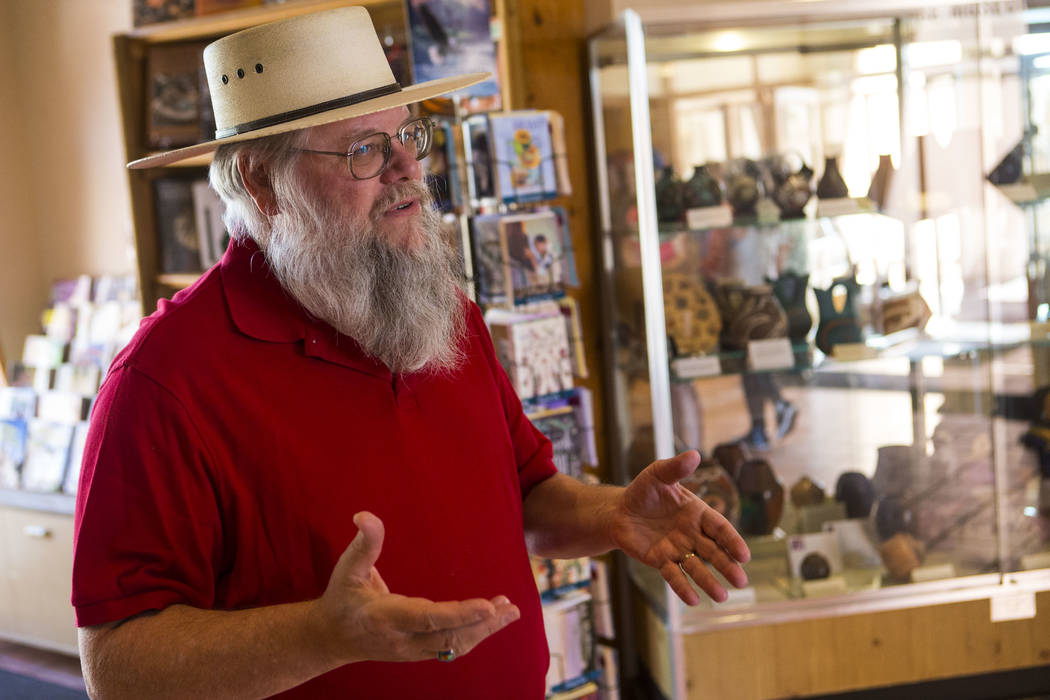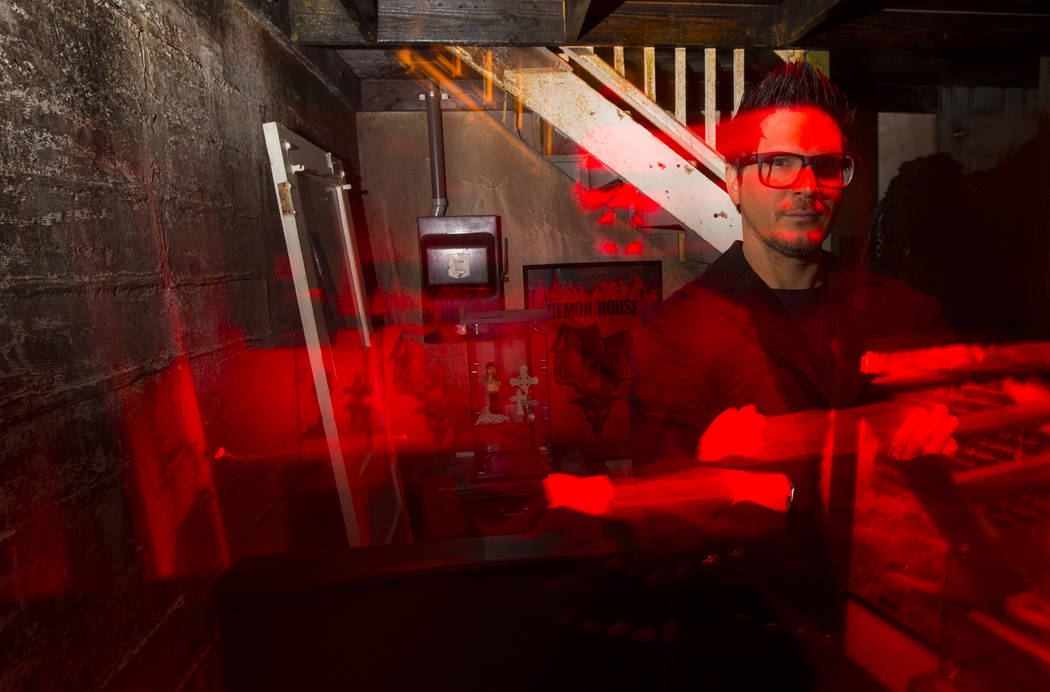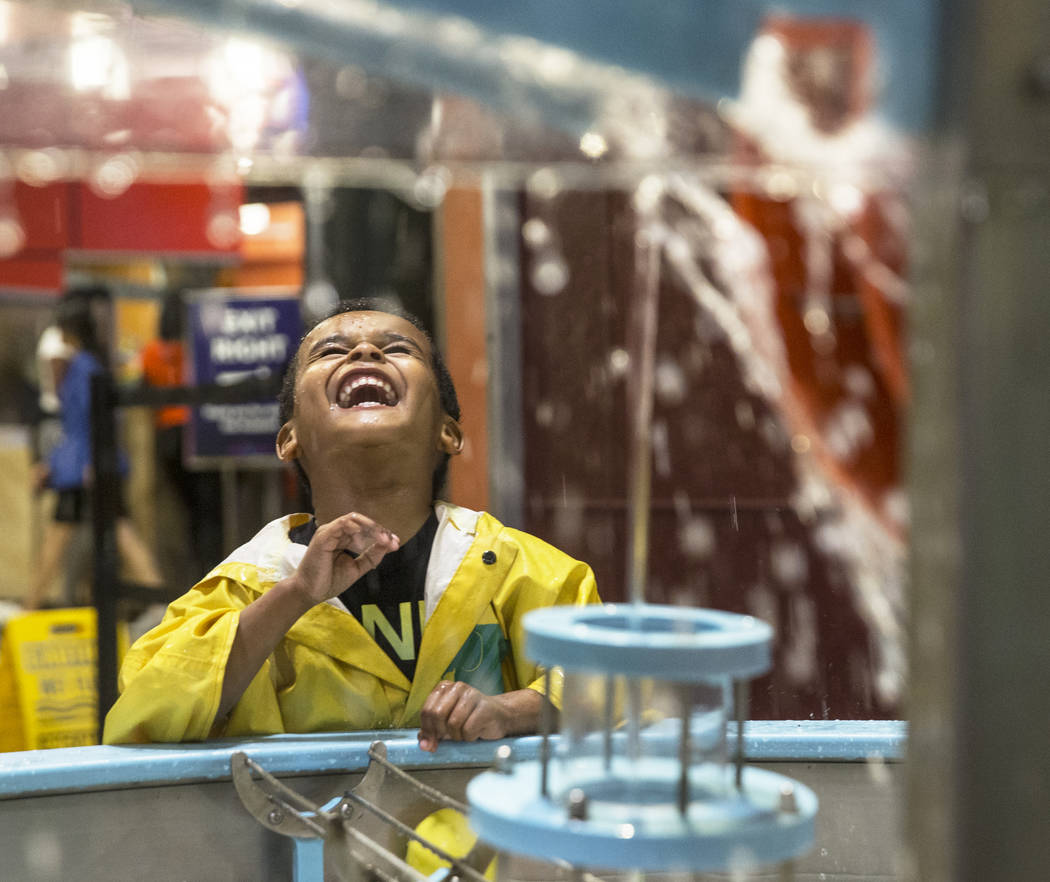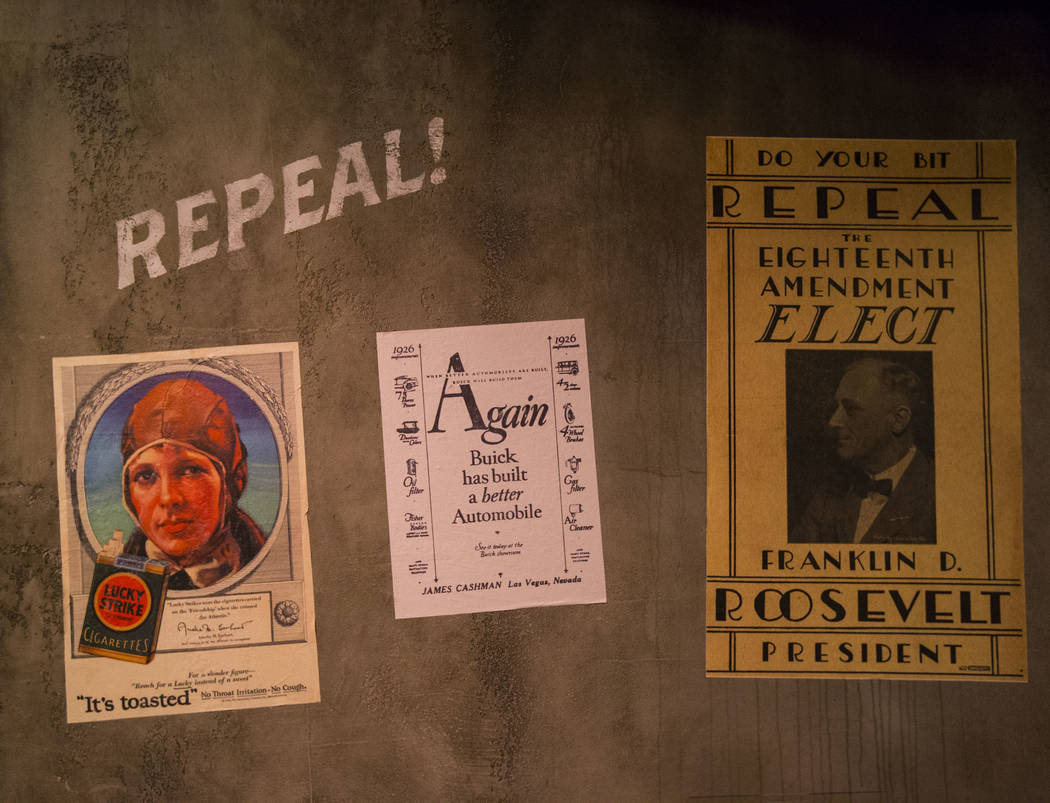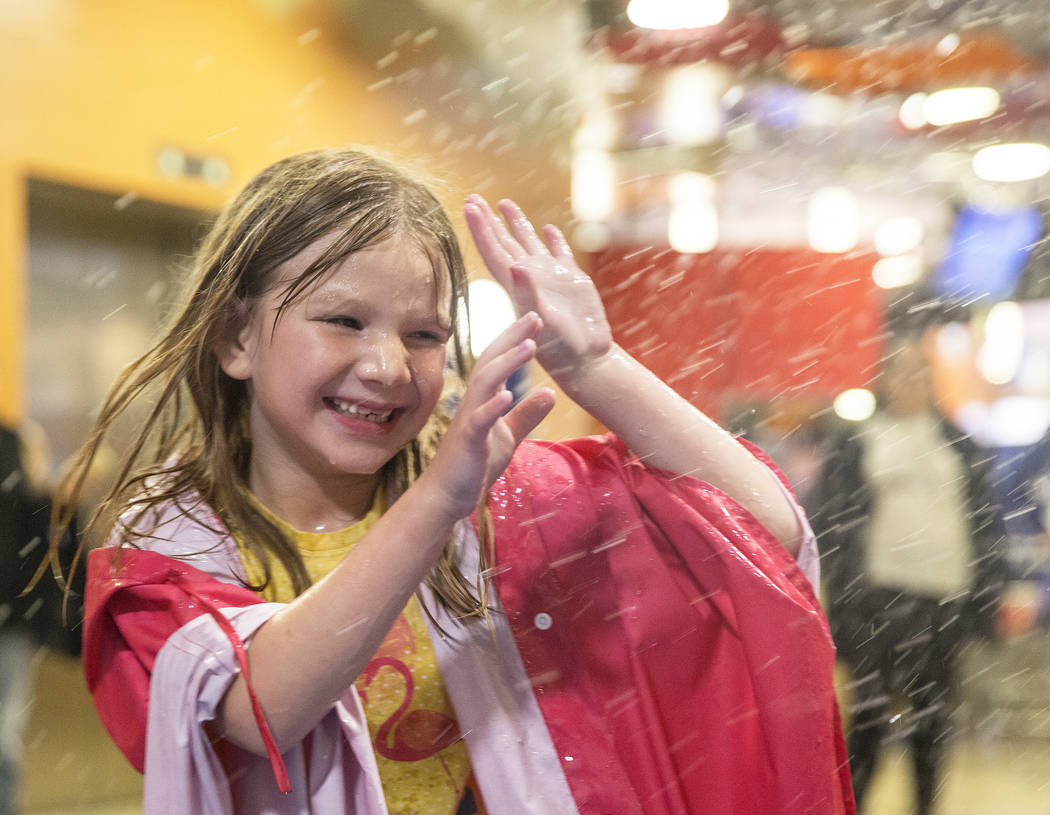 It's easy to take museums for granted. Or, worse, to think of them just as warehouses for stuff from the past.
But the best museums do more than display objects. They use exhibits, artifacts and interactive displays to tell a story, whether that story is about mobsters, prehistoric monsters or, even, spooky spirits.
In honor of National Museum Month, here's a tour of some of Southern Nevada's most intriguing museums.
Marjorie Barrick Museum of Art
■ Info: 4505 S. Maryland Parkway; 702-895-3381; 9 a.m-5 p.m. Mondays-Fridays, noon-5 p.m. Saturdays; admission: free (suggested donation of $2 for adults).
■ Features: The Las Vegas Art Museum collection and pre-Columbian ethnographic art.
■ Don't miss: "Estardas," a 2010 piece by Justin Favela. "Estardas" is " 'stardust,' but with a Spanish accent," says Alisha Kerlin, the Barrick's interim executive director. Las Vegas artist Favela used cardboard, glue and paint to transform the iconic sign of the late Stardust casino into a colorful nod to his Mexican and Guatemalan heritage. "I think the piece is about Las Vegas and the plurality of voices that make up Las Vegas," Kerlin says. "So it's iconic and expansive at the same time. It's unexpected and it's funny."
Boulder City/Hoover Dam Museum
■ Info: Boulder Dam Hotel, 1305 Arizona St., Boulder City; 702-294-1988; 10 a.m.-5 p.m. daily; admission: $2 for adults, $1 for persons younger than 18 and students.
■ Features: Historical artifacts and stories about the construction of Hoover Dam and the workers who built it.
■ Don't miss: The 20-minute film that includes archival footage of the dam's construction. "We don't really deal with the technical aspects of the dam," says Shirl Naegle, collections manager. "We really talk about the people who came here from all parts of the country to build the dam and what they faced in doing that — living conditions, working conditions, how they melded together into a community."
Burlesque Hall of Fame
■ Info: 1027 S. Main St., No. 110; 888-661-6465; 10 a.m.-6 p.m. Tuesdays-Saturdays; admission: $15.
■ Features: Expanded gift store and a timeline of burlesque history in America, along with an interactive display and a studio for physical learning.
■ Don't miss: The glass-beaded G-strings. "This museum shows a lot of different facets of the dance and entertainment industry," says Ray Hanley, a museum manager. "That's what I love about it. There's a lot more to the museum than what meets the eye."
Clark County Museum
■ Info: 1830 S. Boulder Highway, Henderson; 702-455-7955; 9 a.m. to 4:30 p.m. daily; admission: $2 for adults and $1 for seniors older than 55 and children younger than 17.
■ Features: Walking trails, exhibits and displays that explore the history and development of Southern Nevada and how Southern Nevadans lived.
■ Don't miss: Heritage Street, a collection of historic homes and buildings — including a print shop and a wedding chapel — that were moved to the site and painstakingly restored to match their historical eras.
Discovery Children's Museum
■ Info: 360 Promenade Place; 702-382-3445; 9 a.m.-4 p.m. Tuesdays-Fridays, 10 a.m.-5 p.m. Saturdays, noon-5 p.m. Sundays; admission: $14.50 ($12.50 for locals).
■ Features: Nine themed galleries and interactive exhibits exploring early childhood development, science and nature, art and culture and humanities.
■ Don't miss: The Water World Gallery. "It is truly a sensory experience," says Laura Christian, assistant director of learning experiences, where children not only can delight in the sensory spell of water but also learn about the unique scientific properties of water and study hydroelectricity through an interactive model of Hoover Dam.
Erotic Heritage Museum
■ Info: 3275 Sammy Davis Jr. Drive; 702-794-4000; 11 a.m.-7 p.m. Mondays-Wednesdays, 11 a.m.-10 p.m. Thursdays-Sundays; admission (must be 18 or older): $30 ($15 for locals), $10 for students, seniors and military.
■ Features: Exhibits, guided tours, workshops, lectures and other displays and activities, with a mission "to demystify and destigmatize human sexuality," says Victoria Hartmann, executive director.
■ Don't miss: The exhibit examining the evolution of human sexuality. "It's really comprehensive," Hartmann says, and looks at the topic from not just a behavioral perspective but an anthropological perspective, too.
Hollywood Cars Museum
■ Info: 5115 Dean Martin Drive, No. 905; 702-331-6400; 10 a.m.-5 p.m. daily; admission: $20, children younger than 16 free with paid adult.
■ Features: A selection of celebrity vehicles that includes the Batmobile and Liberace's blinged-out rides.
■ Don't miss: The Lotus Esprit that appeared in the 1977 James Bond film "The Spy Who Loved Me." Bond's beyond-street-legal model was amphibious and included cannons, a periscope and torpedoes.
Aviation Museum
■ Info: Main exhibits at McCarran International Airport, on the mezzanine level overlooking baggage claim in Terminal 1; other exhibits are located throughout McCarran, with additional exhibits at the North Las Vegas Airport and Henderson Executive Airport; 702-455-7968; 24 hours a day; admission: free.
■ Features: Exhibits about the history and development of aviation in Southern Nevada and how and why aviation is so important here.
■ Don't miss: The 1958 Cessna 172 hanging above the north end of the baggage claim area in Terminal 1. In 1958-59, the plane, piloted by Robert Timm and John Cook, flew for 64 days, 22 hours, 19 minutes and 5 seconds without touching the ground, setting a World Endurance Aloft flying record that still stands.
Natural History Museum
■ Info: 900 North Las Vegas Blvd.; 702-384-3466; 9 a.m.-4 p.m. daily; admission: $12 for adults; $10 for seniors, military and students; $6 for children ages 3 to 11, free for children 2 and younger.
■ Features: Exhibits about Southern Nevada's natural history, including a geology gallery, Treasures of Egypt exhibit, galleries and models about prehistoric life (dinosaurs!); a marine life gallery with live sharks and stingrays; live animals that include scorpions, snakes and lizards, and interactive science exhibits.
■ Don't miss: The paleontology lab, where guests can watch as real scientists work with real fossils of real creatures that really lived here long ago. Researchers aren't working in the lab every day, says Marilyn Gillespie, the museum's executive director. "But when it is open, people can watch science happen."
Mob Museum
■ Info: 300 Stewart Ave.; 702-229-2734; 9 a.m.-10 p.m. Sundays-Wednesdays, 9 a.m.-midnight Thursdays-Saturdays; admission: general admission $26.95 (or $16.95 locals); all-access passes that include full museum admission and enhanced experiences $41.95.
■ Features: More than 900 artifacts, interactive exhibits and theater presentations on organized crime.
■ Don't miss: The Underground, the new speakeasy/distillery/Prohibition exhibition in the museum's basement.
Atomic Testing Museum
■ Info: 755 E. Flamingo Road; 702-794-5151; 10 a.m.-5 p.m. Mondays-Saturdays, noon-5 p.m. Sundays; admission: $20-$22, children 6 and younger free.
■ Features: Exhibits and artifacts chronicling the development of the former Nevada Test Site, the evolution of the Cold War, and the history of nuclear testing in Nevada.
■ Don't miss: Archival films in the Ground Zero theater.
Neon Museum
■ Info: 770 Las Vegas Blvd. North; 702-387-6366; 9:30 a.m.-around 10:40 p.m. or midnight, depending on the season and the tour; admission: day tours starting at $19; night tours $28, "Brilliant!" is $23, ages 6 and younger free. Daytime tours are $12-$18 and evening tours are $22-$25; ages 6 and younger are free. Sunset photo tours 5-6 p.m. Fridays and Tuesdays, $75 ($60 for locals).
■ Features: Tours of more than 150 classic neon signs.
■ Don't miss: New audio-visual light show "Brilliant!" which reanimates 40 of the museum's classic signs through the use of technology.
Nevada State Museum
■ Info: 309 S. Valley View Blvd.; 702-486-5205; 9 a.m.-5 p.m Tuesdays-Sundays; admission: adult admission of $9.95 includes access to Springs Preserve; children 17 and younger free.
■ Features: Exhibits about regional and natural history.
■ Don't miss: The 13-foot articulated mammoth skeleton.
Pinball Hall of Fame
■ Info: 1610 E. Tropicana Ave.; 702-597-2627; 11 a.m.-10 p.m. Sundays-Thursday, 11 a.m.-midnight Fridays-Saturdays; admission: free. Just bring lots of quarters for the pinball games and video games.
■ Features: A warehouseful of pinball machines and arcade games ranging in era from "way back" to "I know that one!"
■ Don't miss: That favorite game from your youth, because it's probably here.
Origen Museum
■ Info: Springs Preserve, 333 S. Valley View Blvd.; 702-822-7700; 9 a.m.-5 p.m. daily; admission: $9.95-$18.95.
■ Features: Panoramic-styled theater, interactive exhibits.
■ Don't miss: Live animal exhibits that include Mojave native animals.
Zak Bagans' Haunted Museum
■ Info: 600 E. Charleston Blvd.; 702-444-0744; 1-9 p.m. Mondays, Wednesdays-Saturdays, noon-8 p.m. Sunday; admission: starting at $44.
■ Features: A collection of creepy, macabre, fascinating, allegedly haunted and seriously cool items from the personal collection of Bagans, host of Travel Channel's "Ghost Adventures."
■ Don't miss: The Dybbuk Box, said to hold a malevolent spirit.
Contact John Przybys at jprzybys@reviewjournal.com or 702-383-0280. Follow @JJPrzybys on Twitter.
Review-Journal staff writer Mia Sims contributed to this report. Contact Mia Sims at msims@reviewjournal.com. Follow @miasims___ on Twitter.