Brad Garrett's 'Fargo' role required an unusual 'stunt'
September 18, 2015 - 11:49 pm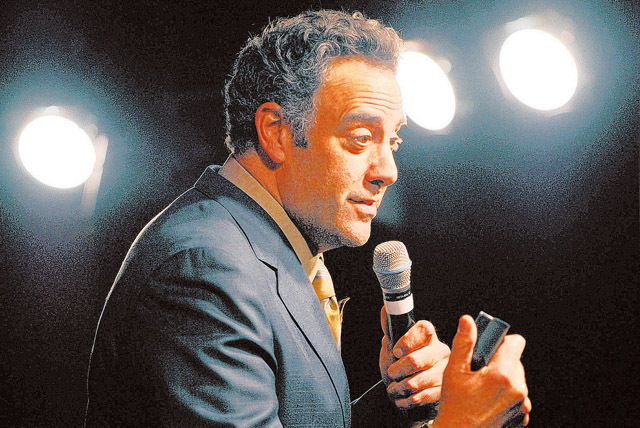 Las Vegas star Brad Garrett soon will appear in FX's show "Fargo" as a mob boss. During one day of filming, he was scripted to sprint through forest snow, but here's a fun fact: Brad Garrett sucks at running.
The director told Garrett he was waving his arms in the air while galloping.
"They said, 'You know, we're filming. Don't save it.' I said, 'Save it? I can't feel my left arm.'"
So "Fargo" execs hired a stuntman who usually gets thrown through windows or hangs off of helicopters, to run from one tree to another as a fitter Brad Garrett.
The stuntman thanked Garrett.
"He goes, 'I gotta tell you man, I've done a lot of stunt work in my day — never been hired to run,'" he says. "'I can't thank you enough, this is like a vacation to me.'"
Every week, Garrett brings funny comedians to Las Vegas, to headline the MGM Grand's Brad Garrett's Comedy Club, where Garrett kills as the intro host.
At noon Saturday, Garrett will host a celebrity poker tourney near MGM's Ka Theatre, to raise money for his Maximum Hope Foundation, a low-overhead charity providing necessities such as groceries and mortgage payments for 74 families caring for gravely ill children.
If you want to play cards with Garrett, entry is $250, first prize is $10,000, and prizes come for top-five finishers.
The charity is run by Garrett's pescatarian girlfriend of seven years, Izzy Quella, and old friend and assistant Kimberly Evans.
Izzy and Garrett's twisted colon talked the comedian/actor into giving up meat most days of the year.
"She said, 'Have you ever seen the eyelashes on a cow? … It's like they're looking through you.'
"I said, 'So it's like stripper eyelashes. I would never eat a stripper.'"
The "Everybody Loves Raymond" co-star says he is aging into Dracula.
"Listen, I won't pass by a mirror without a shirt," he said. "Sometimes, I'll get a reflection in the toaster, and I'll have to run to the therapist."
Garrett told me a lot during an hour conversation, which was like a stand-up gig in his Strip condo living room.
He shared thoughts on saving water, by converting bathrooms to sand-toilet systems.
"Our toilets are going to have to become litter boxes."
And he had jokes about Donald Trump's hair:
"If you're gonna wear something like that, at least take the eyes out of it. Be humane. I looked at his hair, it's like, 'Oh, it's gonna be a long winter.'"
And President Obama:
"I wanted James Brown. I got Lionel Richie. That's who I ended up voting in. I got 'Penny Lover' when I needed 'Papa's Got A Brand New Bag.'"
Doug Elfman can be reached at delfman@reviewjournal.com. He blogs at reviewjournal.com/elfman. On Twitter: @VegasAnonymous