Actress Kaley Cuoco learns about romantic tattoos the painful way
November 30, 2015 - 12:27 pm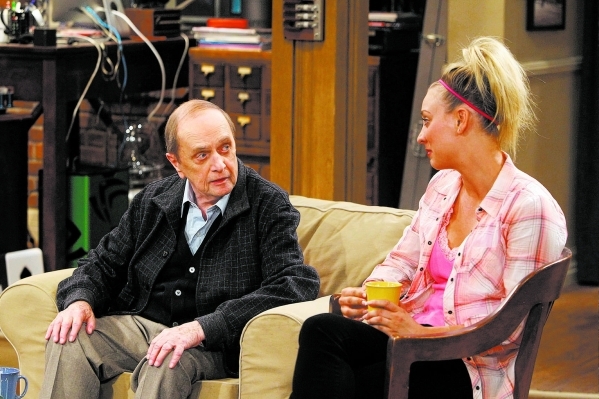 Romantic breakups always are emotionally painful. Sometimes, they can be pretty painful physically, too.
Take actress Kaley Cuoco, who announced in September that she was ending her marriage to professional tennis player Ryan Sweeting. The couple were married Dec. 31, 2013 and Cuoco marked the nuptials by having the date tattooed on her upper back in Roman numerals.
With the marriage ending, the tattoo apparently seemed, well, awkward. Then, Cuoco shared on social media a photograph of herself — in what seems to be sincere mid-grimace — having the tattoo altered to something less matrimonially significant.
The revamp saw the Roman numerals covered up by a tattoo of a winged, butterflyish/mothlike insect. In her caption to the photo, Cuoco thanks the tattoo artist for "helping me right my wrongs" and adds, "note to self — do not mark your body with any future wedding dates" with a smiley face and the hashtag "under30mistakes."
And that insect? In the caption of a photo showing off the new design, Cuoco writes: "The deep, meaningful, larger than life meaning behind this beautiful piece of ink, is … It covered the last one."
Being stuck with epidermal evidence of a romance gone wrong is nothing new. Actor Johnny Depp once famously had a tattoo reading "Winona Forever" — obtained in honor of his then-relationship with actress Winona Ryder — altered into the more timeless "Wino Forever" after their breakup.
But it's a safe bet that even the less-famous among us aren't strangers to having to alter a mushy tattoo after the breakup of a relationship.
"We get a question like this at least every other day," says Aaron Neiman of Heritage Tattoo Las Vegas, 3827 E. Sunset Road. "Everybody makes mistakes in marriage and life and (in their) decisions, and we're just giving them a second chance, I guess."
Laser tattoo removal is an option to having an existing tattoo covered or altered. But, Neiman says, laser removal is "a lot more traumatic and takes a lot longer to heal, and it takes multiple times. So, sometimes, people like to go the art way out and just cover it with a piece of art instead of going through all the pain of removal."
Still, creating a new piece of art over an existing one, or disguising elements of an old tattoo by incorporating them into a new design, can be "really difficult," Neiman says. "You have to come up with a design that's going to work for that piece that you're trying to cover. Not everything can be covered at one time, so you try to figure out what we can do to approach the cover-up, like how big it's going to be and where it's going to go."
Still, Neiman says prospective customers — the more romantically optimistic among us, perhaps — do come in seeking romance-based tattoos. And, in such cases, "we try to steer them away," Neiman says, or "at least let them know that it's not the best decision to make."
Contact reporter John Przybys at jprzybys@reviewjournal.com or 702-383-0280 or follow @JJPrzybys on Twitter.