Clooney-Crawford tequila commercial sequel in works
April 11, 2014 - 10:20 am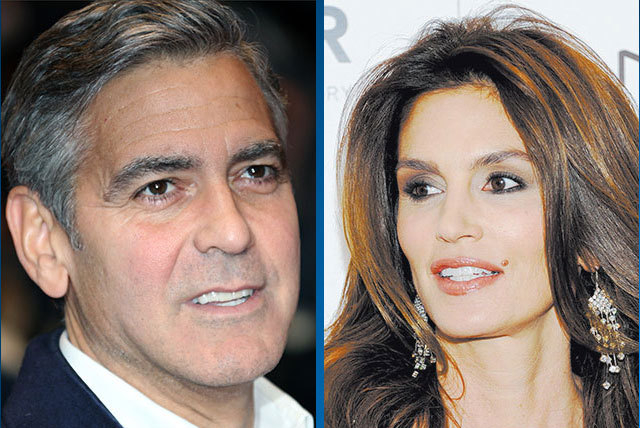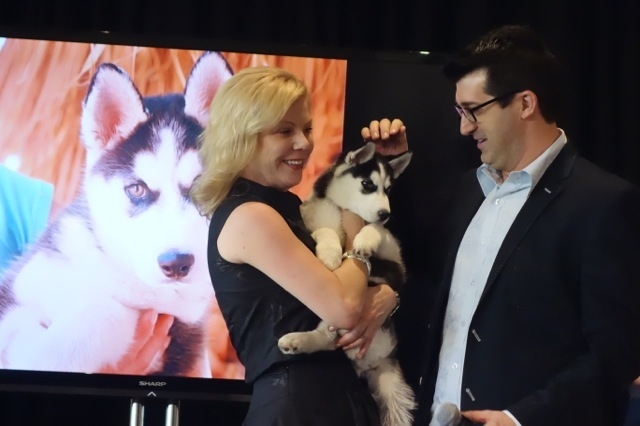 If you caught the steamy Casamigos tequila commercial that included George Clooney in bed with Cindy Crawford, there's an encore.
"Wait until you see the new one," said Rande Gerber, Crawford's husband and Clooney's business partner (video below).
Clooney, Gerber and partner Michael Meldman were in Las Vegas this week, taking a shot at drumming up more business at the Wine & Spirits Wholesalers of America convention.
Gerber filled me in on how the racy first commercial transpired. In it, Gerber finds Crawford and Clooney in bed. In the next scene, Clooney finds Crawford in bed with his then-girlfriend Stacey Keibler. Then Crawford discovers her husband and Clooney in bed.
The commercial, shot at the Gerber's Malibu beach home, is titled: "It could happen. Drink responsibly."
"It's loosely based on a true story," Gerber said by phone.
Clooney and Gerber were riding motorcycles in Malibu in June and stopped to take a drinking break.
"We drank a bottle of Casamigos and caught a ride home," Gerber said.
When they arrived at the Gerber's home, Clooney "stumbled into the guestroom" and crawled in bed, instead of going to the guest house, Gerber said.
Crawford, thinking her tipsy husband was in the guest room, joined him. Or so she thought. To her horror, or eternal delight, she quickly discovered it was Clooney.
The next morning, Clooney found it so hilarious he decided to turn it into a commercial for Casamigos, Gerber said. The brand name comes from their twin beach homes in Cabo San Lucas, Mexico, where they spent several years researching tequilas.
The first distributor deal was with Larry Ruvo's Southern Wines & Spirits. Once the commercial debuted and "we won a bunch of awards, everybody's drinking it," Gerber said.
PUPDADDY OF THE YEAR
Las Vegas hypnotist Marc Savard on Thursday cemented his hero status at home with his four under-10 daughters.
Savard, a headliner for seven years at V Theater at Planet Hollywood Resort, shared emcee duties for Thursday's Animals in Wonderland fundraiser for the Nevada Society for the Prevention of Cruelty to Animals.
As models displayed dogs with abused backgrounds, a 3-month-old Siberian husky caught Savard's attention, and he claimed it on the spot. The dog was rescued after the family "tried to make it meaner by abusing it," Savard said.
He named it Merlin, and he will join the family menagerie of two cats (Magic and Trance) and a Doberman pinscher named Morpheus.
"We're one animal away from charging admission to our zoo," he said.
When he arrived home, Morpheus immediately accepted Merlin and they romped in the yard in front of his daughters, Isabel, 9; Renee, 7; Genevieve, 5; and Lorelle, 7½ months.
"Isabel came to me with tears in her eyes and said, 'This might be the happiest day of my life,' " Savard said.
Last summer he won a radio contest that paid $5,000 to the winner's charity of choice. Savard earmarked the $5,000 for the Nevada SPCA and donated another $5,000.
He supports children's and animal charities "because they don't get to choose their parents or owners."
UNLVINO TURNS 40
UNLvino wraps up the final two nights of the 40th edition with Bubble-Licious tonight and the Founder's Grand Tasting on Saturday.
Tonight's honoree is artist Romero Britto, who will have a popup art shop at The Venetian in the Doge's Palace Plaza.
Ruvo and Dr. Jerry Vallen, the UNLvino founders, will be the toasts of the town on Saturday at the Lou Ruvo Center for Brain Health.
In 1974, the inaugural event was in the warehouse of Southern Wines & Spirits on Wynn Road. Less than 200 attended the $25-a-ticket event which now attracts 6,000 over four days. Both events run from 7-10 p.m. Wolfgang Puck was honored Wednesday at Spago and Nectaly Mendoza of Herb's & Rye on Thursday at the Garden of the Gods Pool at Caesars Palace.
SIGHTINGS
Clooney and Gerber, dining at Piero's Italian Cuisine on Wednesday. Buddy V's at the Palazzo, operated by "Cake Boss" Buddy Valastro, received a telephone order on Wednesday for 40 cannoli "for George Clooney." A butler later picked up the dessert. … "Bar Rescue" reality TV host Jon Taffer, with friends at Nove Italiano (Palms) on Wednesday.
THE PUNCH LINE
"Happy birthday to Hugh Hefner. He turned 88 years old today (Wednesday). His friends threw him a big party. They had a naked woman jump out of a giant bran muffin." — Jimmy Fallon
Norm Clarke's column appears Sunday, Monday, Wednesday and Friday. He can be reached at 702-383-0244 or email him at norm@reviewjournal.com. Find more online at www.normclarke.com. Follow Norm on Twitter @Norm_Clarke. "Norm Clarke's Vegas," airs Thursdays on the "Morning Blend" on KTNV-TV, Channel 13.