Illness turns deadly for former Channel 13 meteorologist Mike Tsolinas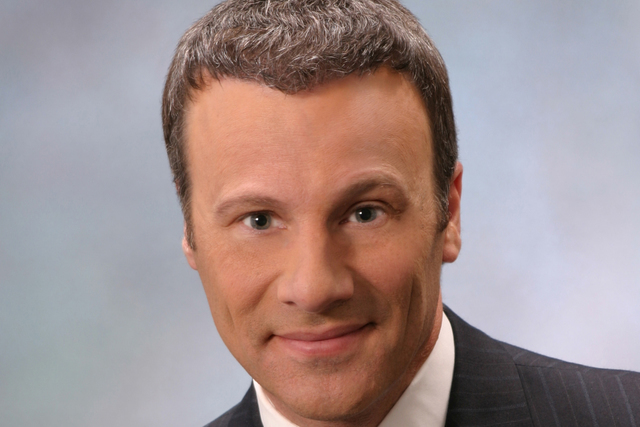 Local meteorologist Mike Tsolinas has died at 57 just three weeks after coming down with flulike symptoms, leaving behind young daughter Gabi.
At first, doctors suspected the former "Good Morning Las Vegas" star had Guillain Barre syndrome.
But they discovered Tsolinas had "hairy cell leukemia" and West Nile virus, leading to kidney failure and internal bleeding, his brother Christopher Tsolinas said Monday on Facebook.
"We have talked to his doctors and have decided to take him off of life support this afternoon because there is nothing left that they can do for him due to his weakened immune system and blood counts," his brother wrote.
"I love my brother with all my heart and will miss him for the rest of my life," his brother added.
"All of us here at 13 Action News will miss Mike very much," KTNV-TV, Channel 13, reported online.
His Facebook page is like a memorial now, with friends and comrades' outpourings of being heartbroken for this "kind, sweet," "good man" and "role model" who "really loved his daughter."
A month ago, Tsolinas publicly asked people to donate to his GoFundMe page to launch an education nonprofit.
He'd become politically outspoken. On Facebook, he was "disgusted" that "TV News is a complete joke," because of media running premature rumors about Prince's death. After the Orlando shootings, he posted an essay about how America "WILL BE GREAT AGAIN!"
Politics aside, he was trying to grow his YouTube channel about weather and fun, with loving help from Gabi in videos such as "Gabi's Easter Peeps Taste Test" and "Crazy Chipmunks of The Valley of Fire."
Back in December, Tsolinas Facebooked what is now a devastating message to the daughter at the core of his existence: "While I remain a faithful follower of what is the lexicon of the English language, the words I most long to hear are very simple 'I love you Daddy.' I love you more than I can say Gabi, because you ARE my life!"
OUR ROBOT OVERLORDS
Elon Musk worries about robots killing us all in a tweet to a Vegas hackerconvention.
To be honest, Musk has been worried for years artificial intelligence will lead to Skynet, the AI death machine that kills all humans in the "Terminator" entertainment industrial complex.
So anyway, on Aug. 4, teams of hackers will play "Capture the Flag" in a high-stakes Cyber Grand Challenge in the Paris hotel.
The game is billed as the "ultimate test of wits in computer security." You can see it free from 3:30 to 8 p.m. Aug. 4, although if you want to go to the hacker convention, you'll need to register at defcon.org, which is legendary, no joke.
When Musk saw news of the hacker convention on Twitter, he replied, "It's all fun & games until …"
And then he inserted a link to the Wikipedia page for Skynet.
For the uninformed: Musk is trying to save humanity/make money by popularizing electric cars (he started Tesla), solar homes (he started Solar City), fast-clean transit (he launched Hyperloop development in Vegas), space travel (he started SpaceX), and he's building the world's second-largest building by footprint, the electric-car battery gigafactory, which has its opening party on Friday near Sparks.
Speaking of artifical intelligence, TMZ says Musk has been "spending a lot of time" at home and hotels with aspiring actress Amber Heard, who accused ex Johnny Depp of assault.
GOSS AT DNC
Performers on the Strip generally keep politics to themselves, to appeal to a broad swath of ticket-buyers.
But Steve Aoki and other DJs with younger-skewing fans have supported Bernie Sanders and Hillary Clinton, while Terry Fator has endorsed Donald Trump.
On Monday, Caesars heartthrob headliner Matt Goss sang one of a few songs during the Democratic National Convention in Philadelphia and tweeted a selfie with Bill Clinton.
"A real privilege to be part of the #dnc," Goss tweeted.
His brother Luke wrote, "Proud of you Matty!"
Of 37 people (mostly women) who commented on the photo, 36 showed support; only one was bummed by Goss' politics.
SIGHTINGS
Dave Chappelle and eight friends dined Sunday at STK Steakhouse on Japanese-whiskey-and-kale salad, oysters, and lamb chops, chasing it with tequila.
Sunday, Chappelle and actor Terrence J joined Fabolous in a VIP booth after Fabolous rapped at Drai's onstage with help from the Houston Rockets' James Harden.
"Pretty Little Liars" actress Ashley Benson ate at Lavo Sunday with friends and family.
METAL MATRIMONY
Metal singer Sebastian Bach, known for Skid Row, DJ'd at the Hard Rock Hotel Center Bar Saturday, then was meeting fans when a fan dropped on a knee and proposed to his lady.
Bach paused the proposal, pulled the couple to a microphone and had the man resume getting on one knee, ring box in hand, and the bride-to-be said, "Yes."
"That's a nice ring, man," Bach said on microphone to an enthusiastic crowd. "Let's get (expletive) wasted!"
Doug Elfman can be reached at delfman@reviewjournal.com. He blogs at reviewjournal.com/elfman. On Twitter: @VegasAnonymous.