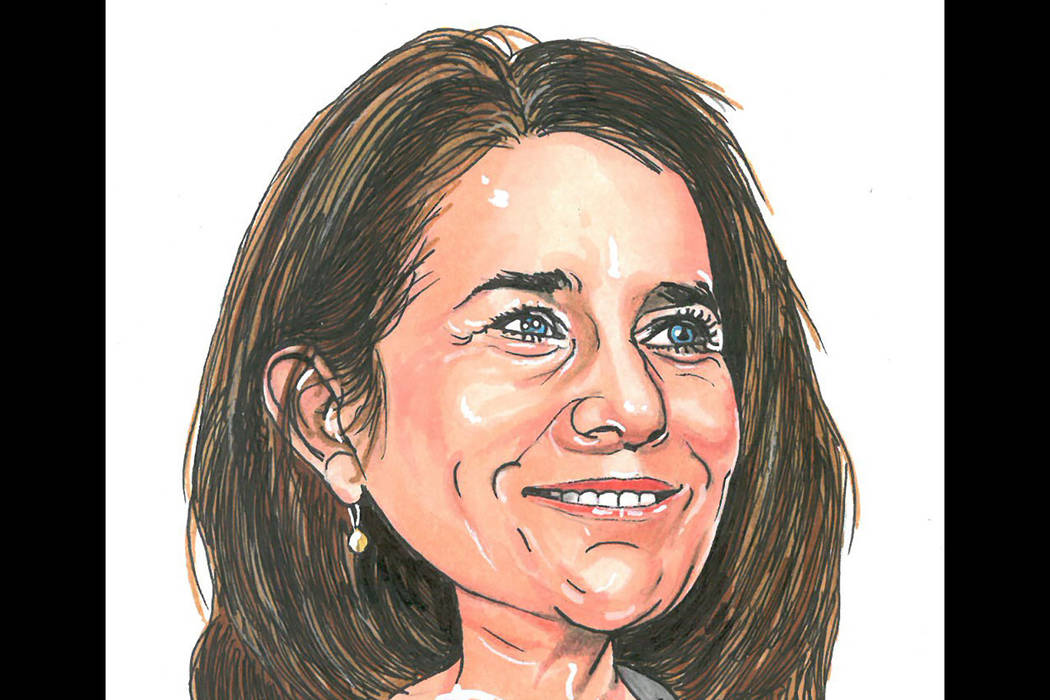 Debra Winger says even at 62, she is still coming to terms with Hollywood.
The star of movie classics including "Urban Cowboy," "Terms of Endearment" and "An Officer and a Gentleman" takes her time making film choices for a reason. "I'm still looking to get my hands on something that feels like I'm flying," she said in her hallmark scratchy voice. "In a play, you can feel that in the moment. In a movie, you can still feel it between action and cut."
She's already winning raves for her performance in the film "The Lovers," which opens Friday in Las Vegas. She plays Mary, who is bored with husband Michael. Both are having affairs and mulling over major life changes. When not working on movies and her Netflix series "The Ranch," Winger can be found on her working farm in Sullivan County, New York, with husband and actor Arliss Howard and sons Emmanuel Noah, 30, and Babe, 19. "There's a lot of living that needs to be done," Winger said.
R-J: What is your typical Sunday on the farm?
Winger: Sundays on the farm mean I'm hands-on in my garden. I'm planting, watering, working in the dirt. I love it. We're also solarizing our property, so there's a whole lot that goes into that transition. I also do a lot of reading. I spent seven years fighting fracking with success. I get interested in things that are nonpartisan public health issues … . And, of course, I love to spend time with my husband and sons.
Did you ever take your sons to Vegas?
I never shot any of my movies in Vegas, but I really wanted to go to the Strip when my boys were younger. There was a short window when everyone had the time and I said, "It might be fun to go to Vegas with them."
So I called my then travel agent and told her about my plan. There was this long silence. My travel agent said, "So you're on an elevator at one of the kid-friendly hotels and then three, um, women step onto the elevator with your sons." I said, "Okay, we're going to Henderson!"
Tell us a bit about "The Lovers," where you play Mary, a woman having an affair whose husband, Michael (Tracy Letts of HBO's "The Divorce"), is also having an affair.
The film explores this idea that there is so much we marry for. We marry with so much hope. But we might fall into habitual behavior or let ourselves go physically. We think it's the job of the husband or wife to pull us back when it's not. In this case that translates to Mary and Michael getting lit by seeing someone else. These affairs become the life nudge that they need in this moment.
There is so much chatter about aging as an actress as if being 62 is illegal in Hollywood. What's your take?
Aging is precious for all of us. I wish our society would give more power to the wisdom of aging rather than this race to keep physical things in tact. Yet, I don't begrudge anyone's choices.
You've always followed your own path, which is why so many women consider you a role model. Was that difficult in an industry that expects women to act a certain way?
I'll tell you an inside story, but I will never reveal the person who said it. A few years ago when I was in the middle of doing obscure things like teaching and writing books, I was invited to a Hollywood party. So, I go and I'm doing well. I see people who don't recognize me because I've actually aged.
Was it awful?
(My companion and I) were walking out and this actress who shall remain nameless saddles up next to me. She'd had a few drinks. I said, "Hi. I haven't seen you in a really long time." She said, "Well, don't you just do whatever you want!" I think in her mind, it was supposed to come out like a compliment. But it didn't come out that way. It remains one of my favorite Hollywood moments in the last decades. Believe me when I say that she was not an unfortunate person.
And the moral of the story?
My question remains: Why would she begrudge me my choices? I don't begrudge anyone their choices.