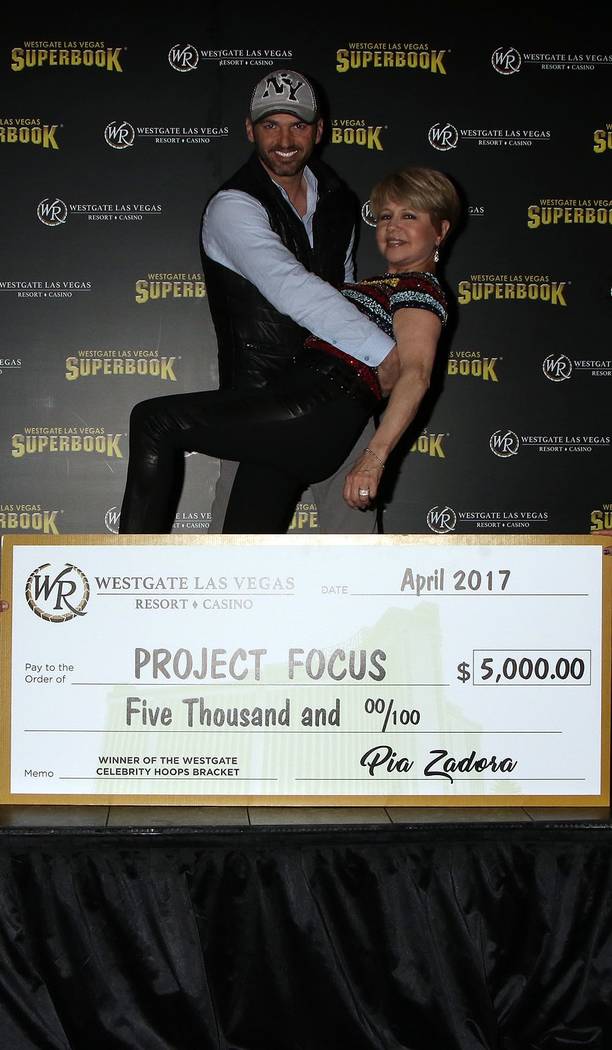 In a fitting bit of fate, a celebration of late gaming pioneer J.K. Houssels' life will be held at 11 a.m. May 6 at Reynolds Hall at The Smith Center — the same day as the Kentucky Derby.
"He loved the horses, it was his great pastime," Houssels' widow, Nancy Houssels, said this week. "He would have liked that we're honoring him on Derby Day."
Renowned for racing and breeding champion horses, Houssels died comfortably at home April 9, after a 12-year battle with dementia, Nancy said.
Houssels is a member of the UNLV Gaming Hall of Fame and was president of several hotel-casinos in Las Vegas, including Tropicana, El Cortez, the original Showboat (later Castaways) and Union Plaza (later the Plaza). His father, J.K. Houssels Sr., owned the Tropicana when the younger Houssels was an executive. Among his more noteworthy deals: Bringing "Folies Bergère" to the Tiffany Theater at the Tropicana. The show, which became a Las Vegas institution, ran for 49 years.
"He was very proud of his work in Las Vegas, of course," said Nancy Houssels, who is co-founder of Nevada Ballet Theatre and remains an executive with the company. "But he was most proud of his family … "He had such a great life, and I was lucky enough to share 46 years with him."
Flowers to uproot
The recent listing of Brandon Flowers' estate in the John S. Park Historic District for $5 million has raised questions about his future in Vegas. The front man for The Killers is a native Las Vegan who has a strong affiliation with the city. But band manager Robert Reynolds has not disputed reports that Flowers and his family plan to move out of state upon the sale of the famous property.
Amid this news, The Killers are recording their upcoming album in Las Vegas. A Twitter post from Monday shows the band lounging in a studio familiar to those who hang downtown.
Dice is back
Andrew Dice Clay is set for a return to Las Vegas to film segments of his Showtime series "Dice" on May 8, leading into his his May 13 return to Laugh Factory at Tropicana.. The Trop will serve as the backdrop for the TV show for the first time, which is set to air seven episodes in its upcoming second season.
Clay is also cast in the remake of "A Star Is Born," co-starring Bradley Cooper as Jackson Maine and Lady Gaga as Ally. Clay plays Ally's father, Lorenzo. Filming starts in mid-May, with the film set for release next spring. After all that work, Clay is to announce more dates at the Laugh Factory.
Huey's news
Tuscany Resorts Casino performer Kenny Davidsen celebrated his 41st birthday Tuesday night by hosting a tribute to Huey Lewis and The News. The show was the latest installment of Davidsen's "Playlist" showcases at the Copa Room, which routinely spotlight a single artist. Davidsen is a big fan of Lewis, and invited a couple dozen singers to take part in the show, which stretched far past midnight.
What Davidsen had not anticipated was a birthday wish from Lewis himself. But Vegas rocker Michael Shapiro of Reckless in Vegas set up the surprise message on Davidsen's Facebook page. Shapiro is originally from Las Vegas, but spent several years toiling in the Bay Area with his Vegas-inspired rock band. For a time, Shapiro's bassist was Mario Cipollina of The News, and Shapiro has known the San Francisco-based Lewis through that connection.
Lewis' message to Davidsen: "Your fellow entertainers tell me, not only is it your birthday, but you have excellent musical tastes. I compliment you on that. Have a great day, and many more."
Dancing with the Tony
Tony Dovolani of "Dancing With the Stars" sashayed across VegasVille on Tuesday. He appeared onstage with Human Nature at Sands Showroom at the Venetian during the show's "Dancing With Human Nature" segment. Dovolani also swept into Westgate Las Vegas to present sudden column fave Pia Zadora with her $5,000 check for winning the Superbook's NCAA Tournament Celebrity Bracket Challenge.
Zadora, who was aided in her selections by her sports-minded son, Jordan Kaufer, donated her winnings to the autism awareness charity Project Focus. Dovolani earned the honor of presenting her the check by finishing second in the contest.
John Katsilometes' column runs daily in the A section. Follow @johnnykats on Twitter, @JohnnyKats1 on Instagram.