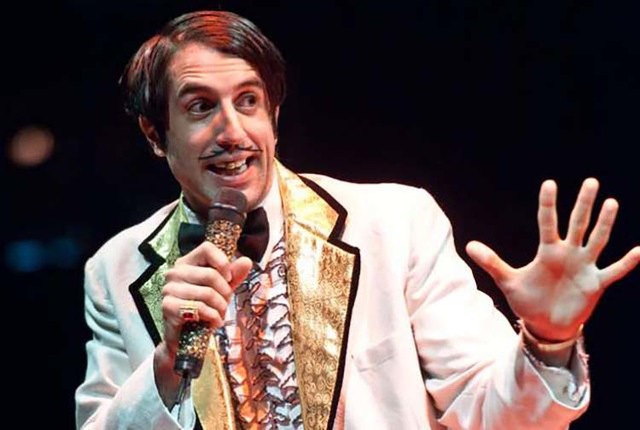 Nearly a year after announcing it was moving to the Cosmopolitan, the hit production "Absinthe'" is staying at Caesars Palace.
A statement today issued by the show's original production partners, Base Entertainment and Spiegelworld, said the two sides "have settled the litigation that related to Absinthe and the show will remain at Caesars Palace for the foreseeable future."
Reached today for comment from his home in New York, Spiegelworld founder and its flamboyant "Improssario," Ross Mollison, who authorized the language of the statement, declined to say how long "foreseeable" would be (he did offer that the dictionary could furnish a definition of the word). Tickets for the show are for sale through December on the Caesars website.
Also unclear in the wake of the announcement is if Base is still even a partner in the production; an educated assessment of this dispute is the company is no longer involved in the show. However, neither side is commenting beyond the statement.
But it is apparent that the production, which had been under lease to perform at the Spiegeltent at Caesars through November 2018, has halted plans to move to the Rose. Rabbit. Lie. theater at the Cosmopolitan.
The litigation between Base and Spiegelworld dates to May 2015, stemming from a dispute over ticket rebates paid by Ticketmaster to the show's co-producers. In court, Spiegelworld had moved to end its partnership with Base by the fall of 2016 — a provision in the lease at Caesars stated that agreement was set to expire last October. A federal court actually ruled in Spiegelworld's favor last summer, leading to the announcement that "Absinthe" would relocate to the Cosmo.
But the case was then kicked back to state court, and construction on the Rose. Rabbit. Lie. venue, and plans for the show to move there, were put on hold. The theater is among the more choice pieces of entertainment real estate on the Strip, but has been devoid of any resident show since "Vegas Nocturne" — another Spiegelworld vehicle — closed in June 2014.
Base and Spiegelworld were actually due back in Clark County District Court this month, with a June 19 date set. Instead, the out-of-court settlement ends a long saga of crisscrossing lawsuits. In the balance was the future of one of the Strip's genuine success stories, a consistent sellout that celebrated its sixth anniversary at Caesars in April.
Without Base's participation, "Absinthe" concluded a successful run at the Event Deck at L.A. Live in May. There is now talk of touring the show, while keeping the original production running at Caesars.
The epilogue of this lengthy dispute is Base and Spiegelworld can finally leave the courtroom for the showroom. Without question, the Gazillionaire, "Absinthe's" smarmy, wealthy host, is happy to have stopped paying attorneys.
John Katsilometes' column runs daily in the A section. Contact him at jkatsilometes@reviewjournal.com. Follow @johnnykats on Twitter, @JohnnyKats1 on Instagram.