Adam Ant's 'Ant-thems' sweeps into Pearl Theater in Las Vegas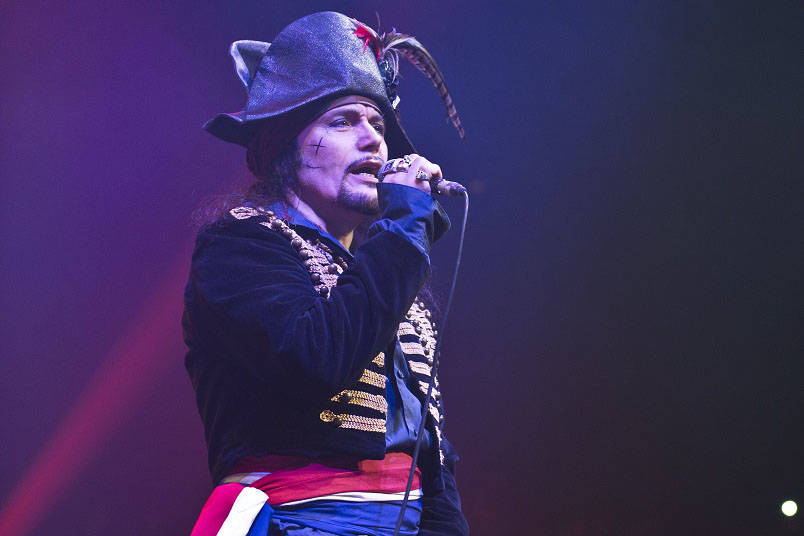 The name was fun to play with, in the days when Adam Ant was a star of Top 40 and MTV. "I'd rather be Adam Ant than adamant," for instance.
The new-wave artist whose birth name is Stuart Leslie Goddard is still at it. The show he's bringing to the refurbished Pearl Concert Theater tonight at 8 is titled "Anthems — The Singles Tour."
"Of course, 'Anthems' is a play off the word 'Ant,' " Ant says. "I love it. The fans love it, too."
At his peak, Ant had three No. 1 singles in the U.K. ("Stand and Deliver" and "Prince Charming" with his band The Ants and "Goodie Too Shoes" as a solo artist) and was a big enough star to have played Live Aid at Wembley Stadium in 1985. He also performed on the legendary "Motown 25" TV special in 1983, best known for Michael Jackson's moonwalk performance of "Billie Jean."
And, Phil Collins, himself a superstar of the era, played drums on the single "Strip."
An artist man known to sweep into the scene just before the starts, fully stage ready, the 63-year-old Ant still loves bringing the party. Highlights of our recent phone conversation:
When he first visited the city, he saw "the last vestiges" of Las Vegas: "It was after 'Friend or Foe' album (in 1982). It was the old Vegas there, a lot of '70s-looking effects with the casinos," Ant said. "I felt as if we didn't quite belong, like we were going into a different era, a different time zone. It was a rather peculiar experience, to be in a 24-hour environment where the sun never seems to go down. It is still that way for me. I don't gamble, either, so that is lost on me."
His Vegas audiences are all-encompassing: "It's a unique audience, not a regional place, made up of any nationality, culturally," said Ant, who most recently played The Joint at the Hard Rock Hotel in February 2017. "We've played for British people who are visiting, people from all over the United States. When you go to New York, it's a New York audience. L.A. is L.A. Las Vegas is very international."
He was nearly hit in the head with a butcher knife during the filming of the "Artmusic" video in 1980: "There was a jukebox prop, and I had the idea, at the one of the verses a knife could be thrown past me into the wooden wall and get stuck," Ant said. "I thought it would be a nice visual effect for it to be sticking out as I was singing. We tried it, and I heard this clanging behind me, and it had hit the jukebox. I didn't realize this, but it came about an inch from my head. The second time we got it right."
He and his backing band dedicated their most recent Vegas show to the late guitarist Tom Edwards: Ant's longtime friend and collaborator died at age 41 of heart failure less than a month before the February 2017 show at Hard Rock Hotel.
"Obviously, it's the biggest tragedy I've had, ever. It's inexplicable to find yourself talking about this with Tom's family and with the band," Ant said." Tom would have wanted us to finish the tour, his parents were very much of that opinion, too. We did that tour with Tom in mind, we just did what I think he would have wanted us to do, because he was a really amazing guy. We are still paying tribute to him by playing an exciting show and honoring his spirit. That's how we respect the family's feelings."
The set list for "Anthems" is not just hits: "It's a combination of A sides and B sides, singles that were brought out later on during a period when I wasn't so commercial that I've never really performed before," Ant said. "It's got something for the A-side people, and something the B-side people.
"By the time we've played through the end of the set, you'll feel like you've experienced something that's really Ant-them like."
Contact John Katsilometes at jkatsilometes@reviewjournal.com. Follow @johnnykats on Twitter, @JohnnyKats1 on Instagram.