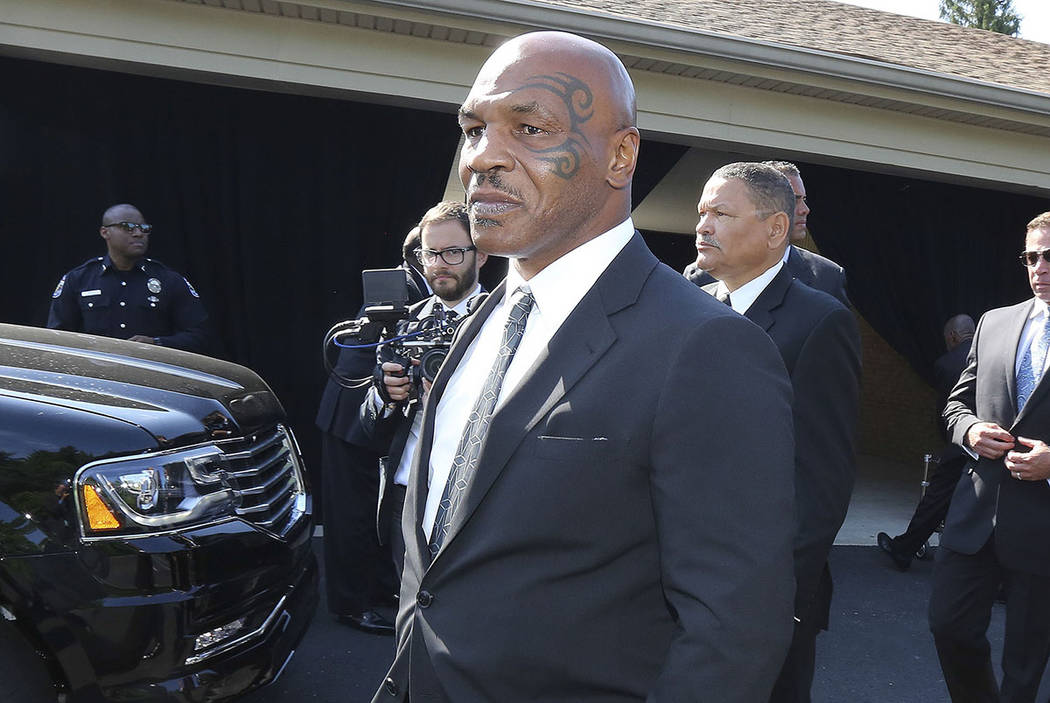 Mike Tyson once told me the most fun he had in the ring wasn't as a fighter, but when providing punch to WWE events. The boxing legend and Las Vegas resident is actually a member of the WWE Hall of Fame, largely because of his participation in Wrestlemania XIV, when he leveled Shawn Michaels in his role as "guest enforcer."
Tyson's fascination with wrestling dates to his childhood, when he idolized such ring stars as Bruno Sammartino and Killer Kowalski.
In the new book, "Iron Ambition: My Life With Cus D'Amato," co-written by Larry "Ratso" Sloman, Tyson says his life changed after watching the movie "The Greatest." Muhammad Ali, who died a year ago today, played himself in the 1977 film. An 11-year-old Tyson watched that movie after being admitted to Bridges Juvenile Center, which he recalled as "a rat-infested hellhole" in the Bronx.
"Watching his biopic in a room filled with hundreds of kids was great. And when the movie was over, the lights came on, and, all of a sudden, Ali walked out on the stage and the place just exploded," Tyson recounts. "Whoa. Ali started talking to us about being in detention and he was saying how he had been in jail and he had lost his mind. He was saying just beautiful, inspirational stuff. That speech was a game changer for me.
"It's not that I wanted to become a boxer after hearing him. I just knew that I wanted to be famous. I wanted the feeling that when I walk in a room, people bow down and lose their (expletive) minds"
Published by Penguin Random House, the new book focuses on Tyson's relationship with his trainer and surrogate father, Cus D'Amato. Tyson also collaborated with Sloman on 2013's "Undisputed Truth," also the title of Tyson's original stage show.
As noted a month ago, Tyson and his wife, Kiki Tyson, are working on a sequel to that show, likely tagging "Round 2" to its title. Tyson is expected to return to Brad Garrett's Comedy Club at MGM Grand in September or October, but Garrett and SPI Entertainment's Adam Steck, whose company produces the show, say nothing is yet confirmed.
"Undisputed Truth" sold out its previous at Garrett's club in 2016. The show is not just OK it's (wait for it) … a KO! (Boom!)
John Katsilometes' column runs daily in the A section. Follow @johnnykats on Twitter, @JohnnyKats1 on Instagram.