Art takes on many forms, including yule logs, on Idaho adventure
Updated December 22, 2018 - 4:19 pm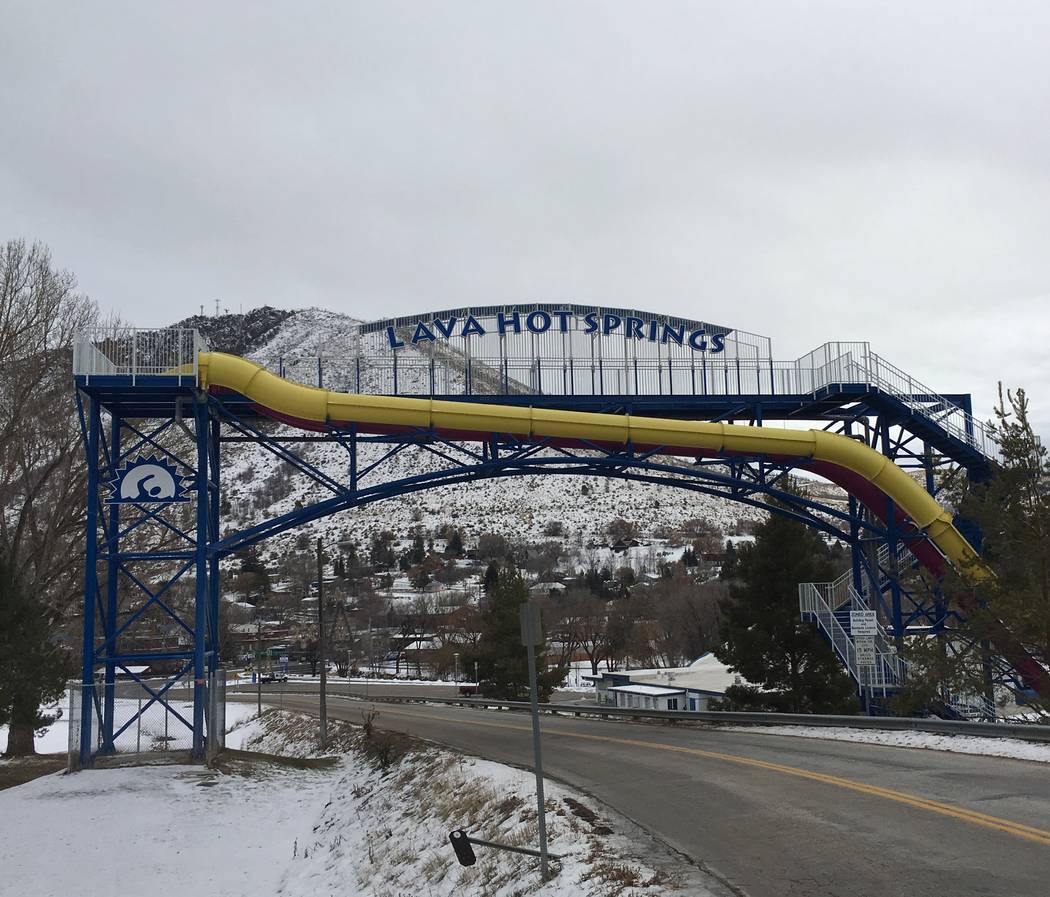 LAVA HOT SPRINGS, Idaho — The Kats! Bureau at this writing is the sitting room at Lava Hot Springs Inn, on my annual holiday trip to the little town of the same name. My dad, George "Daddy Kats" Katsilometes, has owned and operated the Inn for about 30 years.
You'll usually find my dad soaking in one of the natural hot baths, or scurrying around the property looking for stuff to fix. The Inn's sitting room was originally the brick building's surgical theater, when it was open as a hospital in 1925. A couple of original, whimsical paintings from area artists are displayed on these walls.
As readers over the years know, every holiday season is highlighted by an Idaho adventure in Lava Hot Springs, Pocatello and Boise. On this trip, Daddy Kats and I have learned to make yule logs, purchased some fine local art, met some dignitaries and cruised the scene in a 1967 Buick LeSabre convertible — all in one day.
Even in Idaho, I keep up that kinetic Las Vegas pace.
Local art-gallery proprietor Susan Thomas led the yule-log tutorial at her Dragonfly Gallery, which is a little white cottage this town of 407 inhabitants. I had never had experience with yule logs, which I heretofore thought were holiday desserts.
Susan first explained that the "Y" in "yule' is traditionally silent. "No Y!" I said, succumbing to holiday shtick. "Y not?"
The Nordic tradition of the yule log varies, but it dates to even before Medieval times. Yule is the name of the old winter solstice festivals, and often celebrants decorate a yule log on the day of winter solstice — Dec. 21 — then burn the log on Christmas Eve. Some collect their logs at the start of the 12 days of Christmas, and burn them at the end. Others set them aflame on June 21, date of the summer solstice.
As my new friend Kathryn DeMott, a self-described "artist of living" I met at the gallery, reminded, "You can make your own yule log tradition."
Like everything else in Lava Hot Springs, whatever works, works.
So, armed with this new education and a pair of glue guns, we made art with these logs and such materials as pine cones, sage, juniper and what I called Ill-Gotten Berries. "Those are off of a tree in my neighbor's yard!" Susan said. All of this stuff came from within two blocks of the gallery.
And something novice crafters need to know about hot glue from a glue gun: It stings your fingers, but not very long and peels right off.
We also came away with two paintings from the Dragonfly Gallery collection, the real purpose of our visit, spending a considerable amount to support the area arts community. The larger of the two pieces is a wonderful, tall-timber landscape in acrylic epoxy inlaid with real gold leaf. It's called "Momma's Cookin'," for its ambiguous comforting effects. The other is a Van Gogh-flavored, watercolor scene of multicolored flowers, called "Daisy Garden."
Both were created by artists from the region — waitress and married mother of three Shannon Leavitt with the tree piece, and a Lava retiree Patty Healy with the floral painting. These artists paint for the love of art, and they are great.
We packed these pieces into the trunk of the Buick. The car is a dazzling work of art itself that is 17 feet long, weighs 5,000 pounds and gets 8-10 miles per gallon. In its day it was considered a midsize car, though it can seat seven adults, eight if they are skinny-ish.
But our art haul didn't quite fit into the trunk. We tied it all together with twine, which seemed a good idea at the time. Our handiwork didn't survive the drive from Lava back to Daddy Kats' house in Pocatello. The trunk flew open, our knotted string coming undone, the beautiful painting suddenly in peril.
We pulled over at the Pilot Flying J near McCammon (veteran truckers are well-familiar with this fortress of fuel and sundries), and attempted to again tie down the trunk. Then I said, "Bungee!" If you know anything about Flying J, the place has everything — including bungee cords to secure the trunks of old cars.
I bought a set of cords for three bucks, and we secured these paintings of great sentimental and monetary value. We have our own work, too. But those yule logs aren't for sale.
John Katsilometes' column runs daily in the A section. His PodKats podcast can be found at reviewjournal.com/podcasts. Contact him at jkatsilometes@reviewjournal.com. Follow @johnnykats on Twitter, @JohnnyKats1 on Instagram.