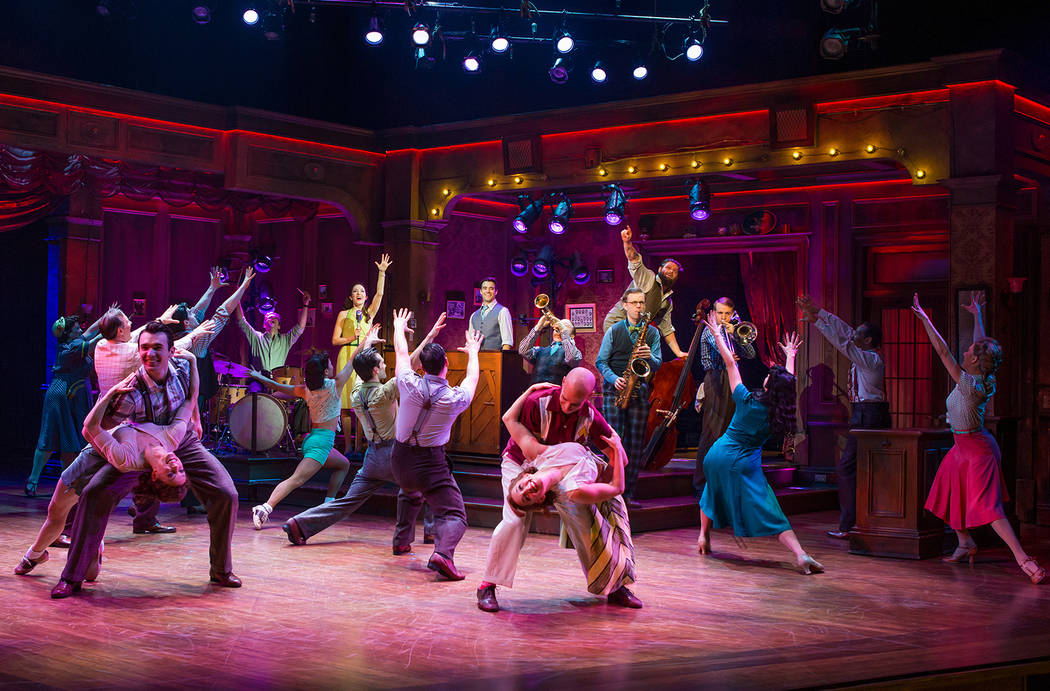 NEW YORK — This is where it lands for the boys in the Donny Nova Band. Fiery front man Pfc. Donny Novitzki, is singing – and at times, spraying – the song "Nobody." His backing musicians of fellow World War II vets are stomping, spinning, and most impressively, playing their instruments live all the while.
"You know who tells me 'No?'"asks lead actor Corey Cott, playing Novitzki, as he tugs his suspenders. "You know who tells me, 'I don't think so?'
"Nooooobody!"
The song closes the first act of "Bandstand" at Bernard B. Jacobs Theater on Broadway, and serves as the upstart musical's mantra. More than four years after its first showcases in Las Vegas, the musical conceived by Vegas residents (and Broadway newcomers) Richard Oberacker and Rob Taylor has won a Tony Award; just released its big-band cast recording, and business is blooming.
The show's appeal was evident the night of June 16, with a standing-room-only crowd that roared at the end of each number. Sales have crept skyward since the cast performed "Nobody" on the June 11 Tony Awards telecast on CBS , when it was announced that director Andy Blankenbuehler had won the Tony for Best Choreography (he's also won for "Hamilton," lending further artistic credence).
"The show is 'frozen' now," says Oberacker, the music director of "Ka" at MGM Grand and wrote the show's music and teamed with Taylor (the violinist from "Disney's The Lion King" and "Steve Wynn's Showstoppers," among others) on the book and lyrics. "You're always putting thought to changes, cuts, but to do that, you need rehearsals and that is costly. Right now, our money is better spent on advertising and PR."
"Bandstand" is a World War II musical, but over coffee in Times Square one recent afternoon,Oberacker and Taylor emphasize that the production is not exclusively about veterans.
"We wanted to make a statement in this period and do a musical that had meaning and style," Oberacker says. "It's very much like the old MGM musicals of that time, and the Rodgers & Hammerstein musicals, with working-class Americans in the center. World War II was happening in that time line, but we do not want the only message to be about war – we have been at war for about 15 years now. There is war fatigue in this country."
The musical touches on themes not discussed in the era of World War II, particularly Post-Traumatic Stress Disorder and alcoholism. The connection has led to a charity partnership with the Got Your 6 organization (military slang for "I've got your back," a reference to 6 o'clock being a pilot's rear position).
Got Your 6 spokeswoman and former Second Lady Jill Biden received a standing ovation when introducing the cast at the Tony Awards, further strengthening the bond between the musical's story and real-life veterans. The show's marketing uses the Got Your 6 logo on its merchandise, and the portrayal of these conflicted, affected former servicemen hits home. A few vets in the audience wiped tears from their faces at the end of performance I attended June 16 .
"We are telling their story, and we have also heard their stories after they have seen the show," Oberacker says. "But we do not want to be pigeon-holed, either.
Oberacker and Taylor both emphasized that "Bandstand" was not in line with the flood ofwar-centered films such as "Deer Hunter," "Apocalypse Now," or "Born on the 4th of July." "What we wanted to do was say this is going on in World War II, with issues that could change people's lives," Oberacker said. "These issues have been there forever, since one caveman hit another caveman with a stick."
The show's sales have pitched enough that the show should have a strong summer and last at least through the end of the year. Broadway is slammed with great musicals at the moment, especially "Dear Evan Hansen," the rock production centered on a teenage with a social anxiety disorder. The show won the Tony for Best Musical; its story skews to a younger audience.
"Bandstand's" appeal to older theater-goers makes it "the answer to 'Dear Evan Hansen,' a complement to it," Oberacker says. "It's fresh and new, and we feel we are that, too. We have an American story with emotional impact, and you can lose yourself in a different period." But the appeal of live talent, and a sharp and smartly conceived story, defies time. So does "Bandstand."
As they say around here, set it to music.
John Katsilometes' column runs daily in the A section. Contact him at jkatsilometes@reviewjournal.com. Follow @johnnykats on Twitter, @JohnnyKats1 on Instagram.