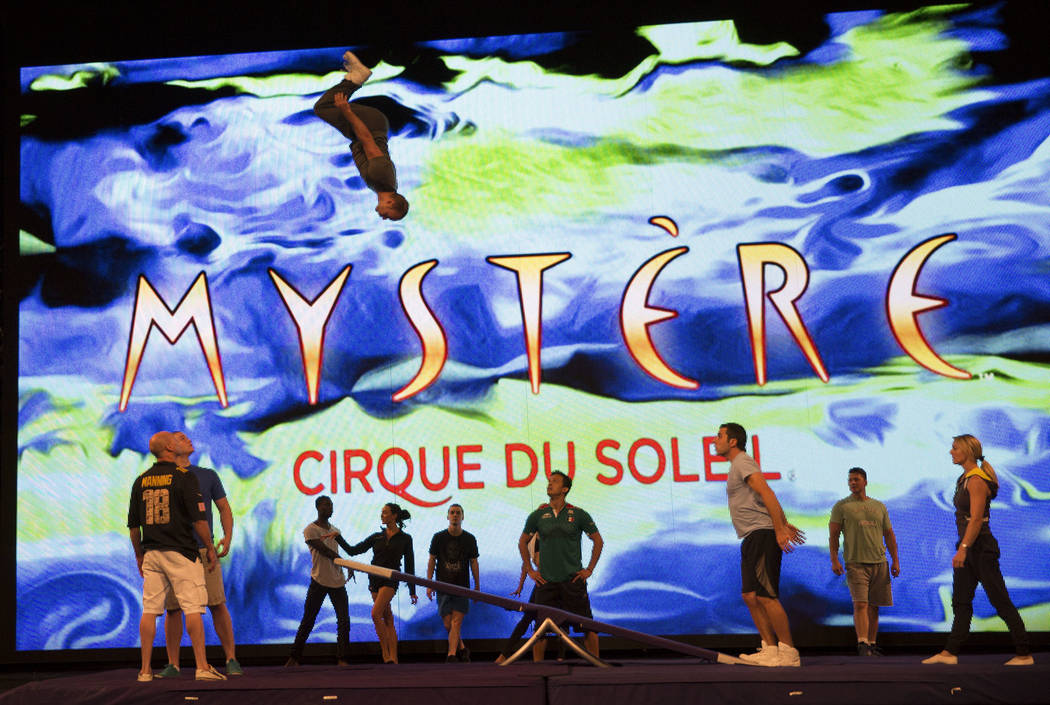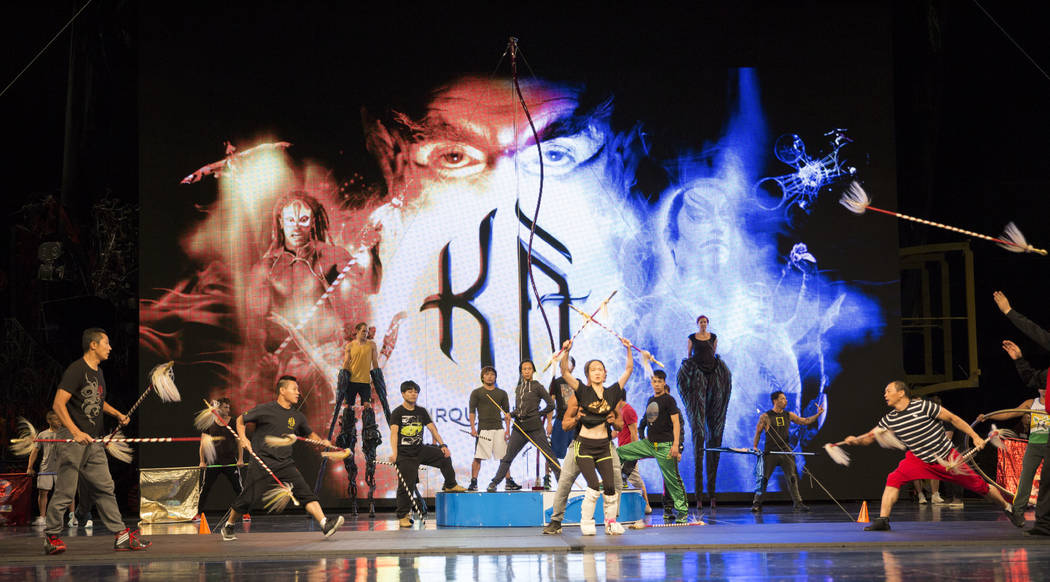 The fifth Life is Beautiful marks a first for Cirque du Soleil and Blue Man Group.
The two artistic companies that have long held sway on the Strip (metaphorically and in fact) are teaming for the first time this weekend at Life is Beautiful. A custom twinbill from these two artistic forces is set for 4:50 p.m. Sunday on LiB's main stage.
The event is the initial pairing of BMG and Cirque du Soleil after Cirque acquired the Blue Men in July. But before you think you'll see members of Blue Man Group hoisted by bungees as the Spearmatos from "Mystere" scramble across the stage, think again: The Blue Men do their thing first, to be followed by an all-star troupe of Cirque artists from the Strip's seven productions.
The segment's creative director, David Gomez of Cirque's "MJ One" at Mandalay Bay, says his company is excited to include Blue Man Group in the performance, noting the production has enlisted 66 artists performing in five segments. Development for the performance began just this month.
"Bringing different artists together is always fun, even if it can be logistically challenging with all the shows running all the time," Gomez says, as neither Cirque nor BMG adjusted its performance schedules for the LiB production." We focused on holding two rehearsals."
Considering what is onstage, the company made the most of its time. Gomez and Cirque swiftly assembled acts that include Wushu and acrobatic tumbling and flags from "MJ One," the baton from "Ka," LED stick manipulation from "O," the Cyr Wheel from "Mindfreak Live" and "MJ One," stilt walkers from "Mystere" and "Ka's" familiar opera sticks.
Cirque is also infusing the curved pole from "Dirty Diana" in "MJ One" for the first time outside its Mandalay Bay theater. Edie and the Botero Sisters from "Zumanity" introduce the teeterboard act from "Mystere," and "Love" performers perform a trapeze duet to "Yesterday." The finale is a full-scale rendition of the "Sgt. Pepper" finale from "Love."
A popular Strip production since 2000, the Blue Men open with a segment inspired by their show at Luxor. Jack Kenn, vice president and general manager of Blue Man Group Las Vegas, says BMG fits ideally into the Cirque/LiB format.
"Life is Beautiful is the ultimate annual celebration where people from all walks of life come together to create a fully immersive audiovisual experience," Kenn says. "An event of this nature is so much a part of Blue Man Group's DNA, there really is no better place for us to be."
John Katsilometes' column runs daily in the A section. Contact him at jkatsilometes@reviewjournal.com. Follow @johnnykats on Twitter, @JohnnyKats1 on Instagram.