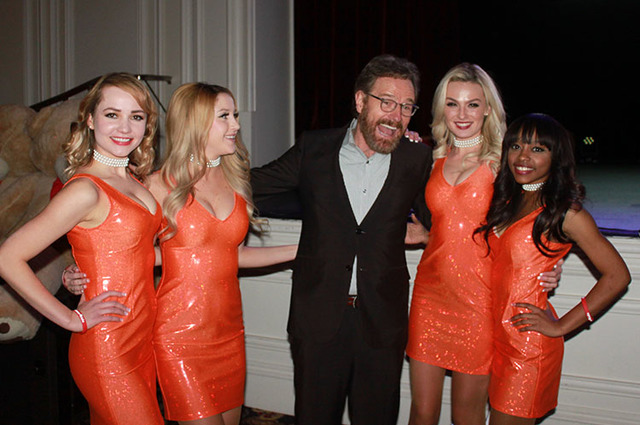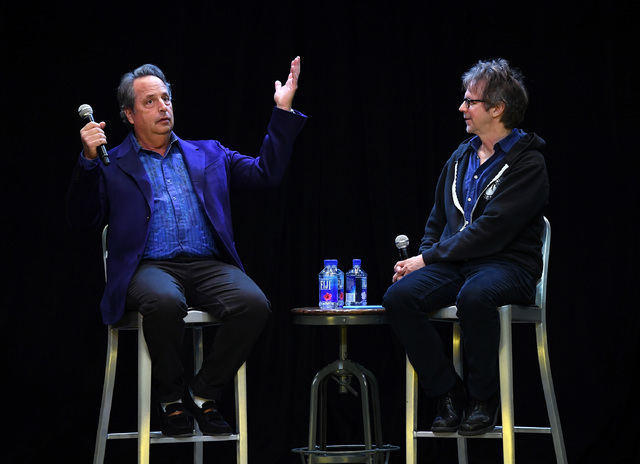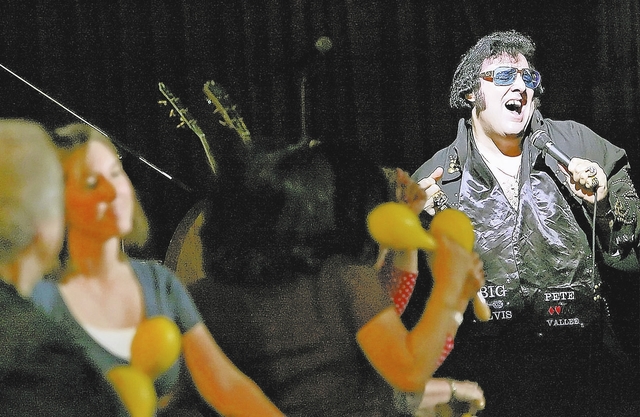 Bryan Cranston, in town Friday night to support his friend John Walsh and the Canon USA National Center for Missing & Exploited Children gala at Bellagio, is a bold man and a bold actor.
During our one-on-one conversation before the formal shindig, talk inevitably turned to Cranston's craft. Having portrayed such disparate personalities as the addled dad Hal on "Malcolm in the Middle," methamphetamine mastermind Walter White on "Breaking Bad," and Lyndon B. Johnson, I wondered if there were any other characters he's itching to pursue.
"Well, Donald Trump is a wonderful character. I've been playing around a little with it and have worked on a portrayal," said Cranston, who did not support Trump's presidential campaign but remains fascinated by him as a cultural phenomenon. "There will be a story done on him, obviously. I think it would be something I would be very interested in exploring, for the serio-tragic nature of it. His story is very Shakespearean in so many ways."
Cranston is a longtime attendee of the NCMEC event, which is supported by Canon and celebrated its 20th anniversary at this year's auction and dinner. (The affair was organized once again by veteran Vegas entertainment manager Jaki Baskow).
Cranston's wife, the actress and child-safety advocate Robin Dearden, is on the organization's board of directors.
Cranston met Walsh while starring in "Malcolm" and Walsh was hosting "America's Most Wanted." The two happened to be standing side by side at the annual "up-front" television events, where TV shows are pitched to advertisers.
During the event, Cranston asked Walsh about his personal story. Walsh told him of the tragic events leading to the abduction and murder of his 6-year-old son, Adam, who was taken from a shopping mall in Hollywood, Florida, in 1981.
" He said he needed something to direct his anger and sadness into something positive," Cranston said. "He and his wife created this organization more than 30 years ago, from his garage, stuffing envelopes. … It made me realize that the purpose of celebrity is to put it toward some good use, not some hedonistic, bacchanal purpose (chuckles)."
Approximately 1,000 guests filled the Bellagio's Tower Ballroom, raising more than $357,600 for the center (and bringing the 20-year total to more than $8 million). Canon USA consultant John Arnos, a member of the NCMEC board, has led the effort since its inception.
"As I told him, we created this after Adam's murder, and this is what we do," Walsh said. "Bryan has always been our biggest celebrity fundraiser, no matter what he is doing, all the way through 'Breaking Bad,' he was there for us … he has been a godsend for the center. He is such a great man, a great asset for us, and of course one of the premier actors in the world."
CARVEY & LOVITZ OPEN AT FOUNDRY
Dana Carvey and Jon Lovitz premiered their stand-up series "Reunited," and one quick review: It was a tough night for Bob Saget.
Returning to a song medley he's performed over the years, Lovitz spent an inordinate amount of time focusing on Saget, himself a popular stand-up and also a cast member on "Full House." Lovitz routinely joked, and sang, about Saget as if Saget were gay (Saget has been married and divorced, has three kids and often jokes in his own stand-up act that people think he's gay). It's an often-surreal stretch of comedy. Even Carvey seemed taken aback at the amount of time Lovitz spent focused on Saget.
Carvey is very funny in an expected way, with a series of impressions (President-elect Trump, President Barack Obama, Katharine Hepburn, Jimmy Carter, Bill Clinton, the ubiquitous Robin Leach and many of his famous characters from "Saturday Night Live.") Lovitz is the wild card, taking on all cultures, ethnicities and sexual orientations with equal veracity (he even manages a graphic description of a sex-change operation, which actually builds to an effectively delivered punch line).
But be forewarned: Anyone expecting the tenor of such inspired, and largely inoffensive, Lovitz characters like Master Thespian and Tommy Flanagan are in for a jolt. As Steve Martin once said: "Comedy is not pretty."
A BIG STAR
Heading into Elvis Presley's birthday (No. 82 would have been today) it's fitting that Pete "Big Elvis" Vallee is back at the Piano Bar at Harrah's playing sets at 2, 3:30 and 5 p.m. The room was renovated in December, with 100 seats added.
Up next for Vallee: "Big Elvis" is to be honored by the Las Vegas Walk of Stars at the hotel on Feb. 27. The King, at least in this super-sized form, remains a star in Vegas …
John Katsilometes' column runs daily in the A section, and Fridays in Neon. He also hosts "Kats! On The Radio" Wednesdays at 8 p.m. on KUNV-FM 91.5 and appears Wednesdays at 11 a.m. with Dayna Roselli on KTNV Channel 13. Contact him at jkatsilometes@reviewjournal.com. Follow @johnnykats on Twitter, @JohnnyKats1 on Instagram.
Note: This column corrects the age Elvis Presley if he had lived to see his birthday today.