Carrot Top, Pitbull boost Power of Love gala in Las Vegas
Updated April 28, 2018 - 11:00 pm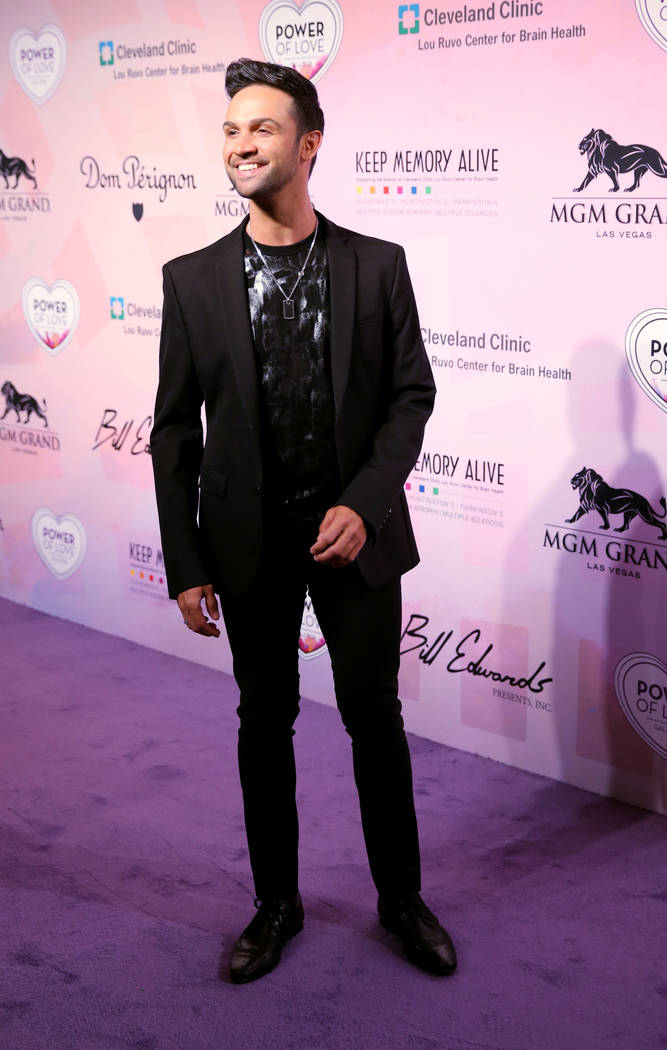 The Kats! Bureau at this writing is the 22nd annual Keep Memory Alive Power of Love gala at MGM Grand Garden. This has also been the venue for so many great concerts and memorable fights.
Tonight, the fight is against the diseases of an aging brain. As always, the event raises operating funds for the Cleveland Clinic Lou Ruvo Center for Brain Health. Michael Buble is the star entertainer, and Dr. Tom Mihaljevic star health-care professional. Mihaljevic replaces outgoing Cleveland Clinic Chief Executive Officer Dr. Jeffrey Cummings, who is leaving his post as of Monday morning.
Highlights from around the room, and from the red (or, rather, lavender) carpet event:
Talker for Taffer
"Bar Rescue" star and creator Jon Taffer said he's just wrapped filming a new TV project for Paramount Network.
Brace yourselves for "Speakeasy With Jon Taffer," and the entire series is to be set in VegasVille.
"We're pretty excited about it," said Taffer, who moved to Las Vegas a couple of years ago and has become close with the Ruvos. "I'm going to bring a guest on, each week, and show them the city I love so much. I'll take them to the back of the house, front of the house, show them something old — go downtown, off the Strip. "A lot of it will be filmed at MGM Resorts properties."
Look for "Speakeasy" to premiere in eight to 10 weeks. "It will be fun," Taffer said. "I promise you that."
Gotta go Gossy
Matt Goss is performing a major music fest in his native England on Sept.. He's set to perform at Hyde Park in BBC's "Proms at the Park" special, along with Gladys Knight and Josh Groban.
"There will be about 50,000 people there, a very big deal," Goss said. "It will be some fun stuff."
Also on the Goss front, "When the Screaming Stops," the documentary centered on Matt and his twin brother, Luke Goss and the Bros reunion tour through Great Britain, is due for November release.
Pitbull's vodka
Planet Hollywood headliner Pitbull (he'll answer to "Mr. Worldwide," BTW), back in action at Zappos Theater, posed with Larry and Camille Ruvo — and a bottle of Voli 305 vodka.
Pitbull (real name Armado Christian Perez) distributes the liquor through Southern Glazers of Las Vegas. Larry Ruvo is a top executive in the company, hence the business connection.
'Marilyn' taking shape
Ruby Lewis, star of "Marilyn: A New Musical" at Paris Theater, is immersed in the character.
Maybe too immersed, actually.
"I'm having a lot of fun doing her, jumping in, and I've started having a difficult time separating myself from her," Lewis said. "It's actually starting to effect me, emotionally … there are some really heavy scenes, and I find myself feeling for her."
Lewis, late of "Baz" at Palazzo Theater, has been rehearsing the role for a week. The show opens June 1, the 92nd anniversary of Monroe's birth.
Top of the pop
The city's most famous, red-headed prop comic has been a busy man — on and off the stage.
"I think I've been in a charity thing every day this week," said Luxor headliner Carrot Top, who participated in the Ronald McDonald House 5K run earlier Saturday. "People don't realize what a charitable city this is. We're always giving back, somehow, in Las Vegas."
I asked Topper about his longevity at the Luxor. He stopped, as if not to remember.
"What, 13 years?" he said, turning to his personal assistant, Jeff Molitz, who called out, "November 2005!"
Topper said, "See? My mathematician. Thirteen years."
Neil opts for gala
Motley Crue front man and gala frequenter Vince Neil had a shot to sing at Toshiba Square at T-Mobile Arena on Saturday night prior to the Golden Knights-San Jose Sharks NHL Stanley Cup playoff game.
He opted for the charity.
"They wanted me to sing three songs, and I thought about it," Neil said. "But this is a little more important than a hockey game."
Chadwick's 'Love Letter'
Vegas singer Chadwick Johnson has performed and recorded the song "Remember Love." Johnson, who performs monthly at Red Rock Resort's Rocks Lounge, has donated all proceeds from the song to the Ruvo Center.
"It was inspired by my grandfather and his mother," Johnson said. "It's a love letter to someone who has lost memory." His next performance at Rocks Lounge is May 10.
Leach missed
Robin Leach missed the Ruvo spectacle for the first time in the event's 22-year history. As part of the event's lore, Leach seized the mic at the first fundraiser in 1992 — a dinner at Spago at Forum Shops at Caesars Palace to celebrate the memory of Lou Ruvo, who died that year from Alzheimer's. The event raised $35,000 in on-site donations to fight the disease, sparking the ongoing event that became Power of Love.
Leach has served as the "VOG" (Voice of God) for every gala since, and has been instrumental in raising millions for the Ruvo Center.
But Leach was forced to miss this year as he continues rehabilitation in Cleveland from a stroke he suffered in November. Robin's son, Steve, says he continues to recover and expects to return to Las Vegas in the next couple of weeks for further rehab work. Ex-"Rock of Ages" co-star and "Brunch to Broadway" creator Bob Torti ably filled in for Leach on Saturday night, with Mark Shunock as the arena emcee.
John Katsilometes' column runs daily in the A section. Contact him at jkatsilometes@reviewjournal.com. Follow @johnnykats on Twitter, @JohnnyKats1 on Instagram.