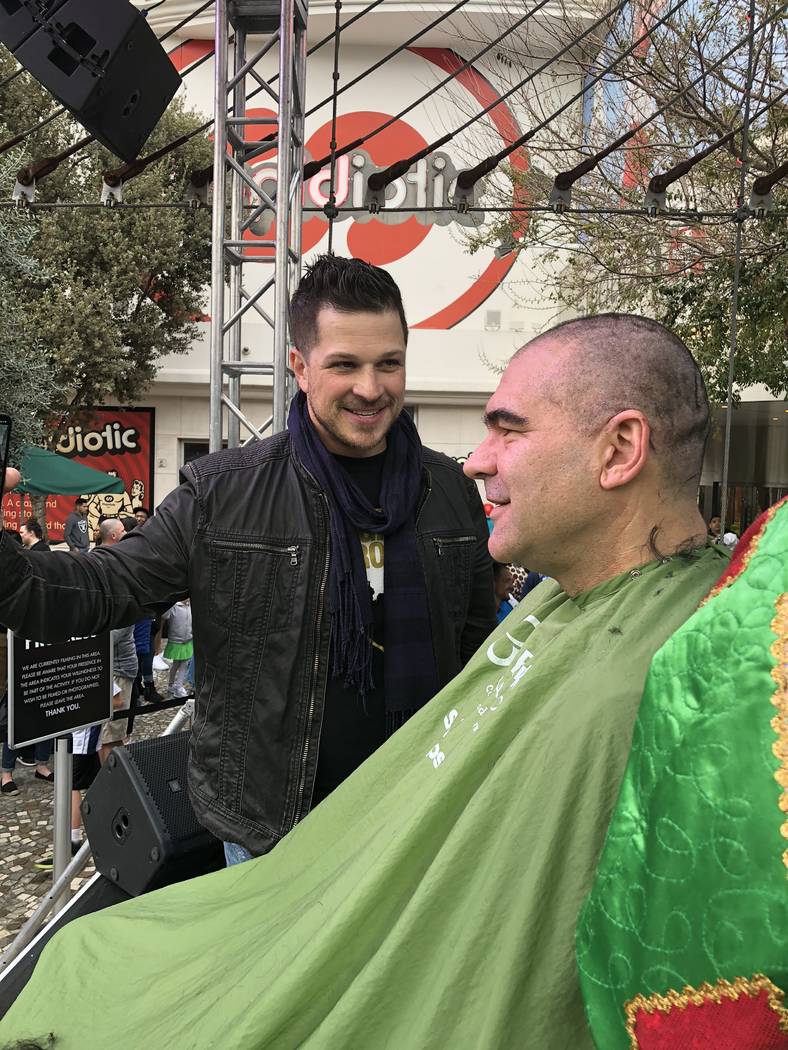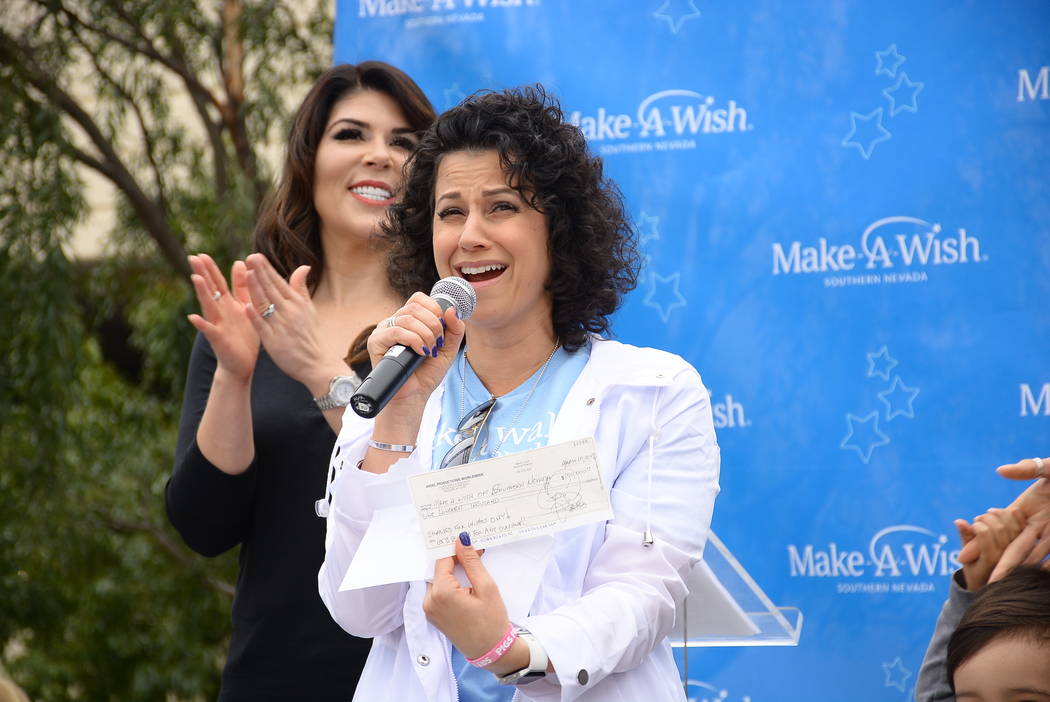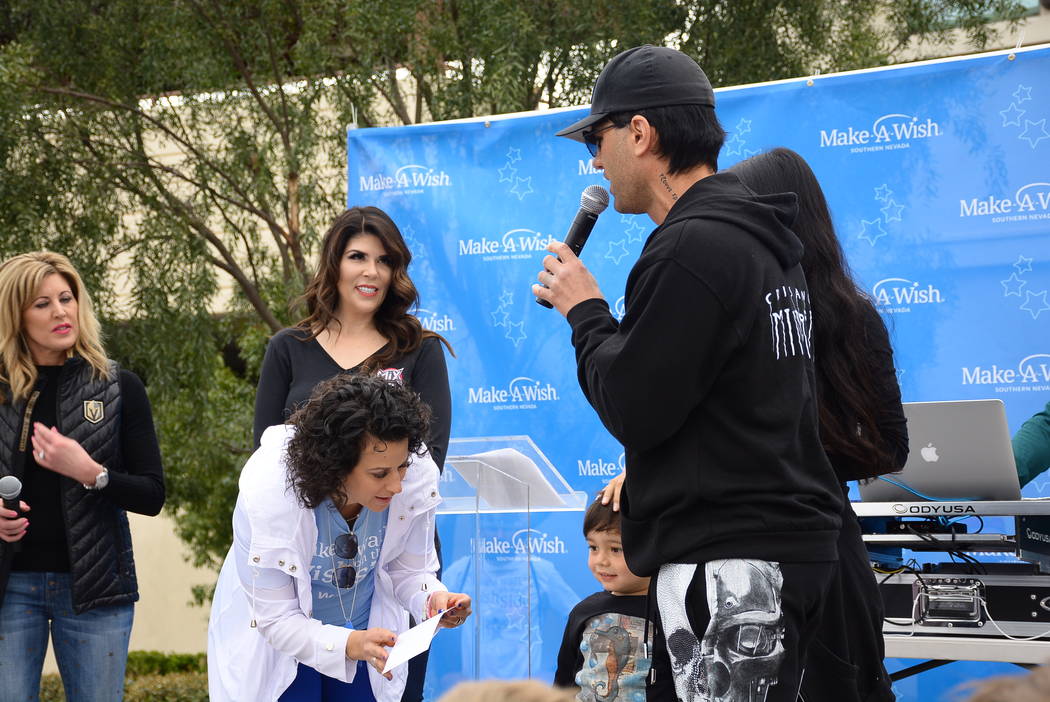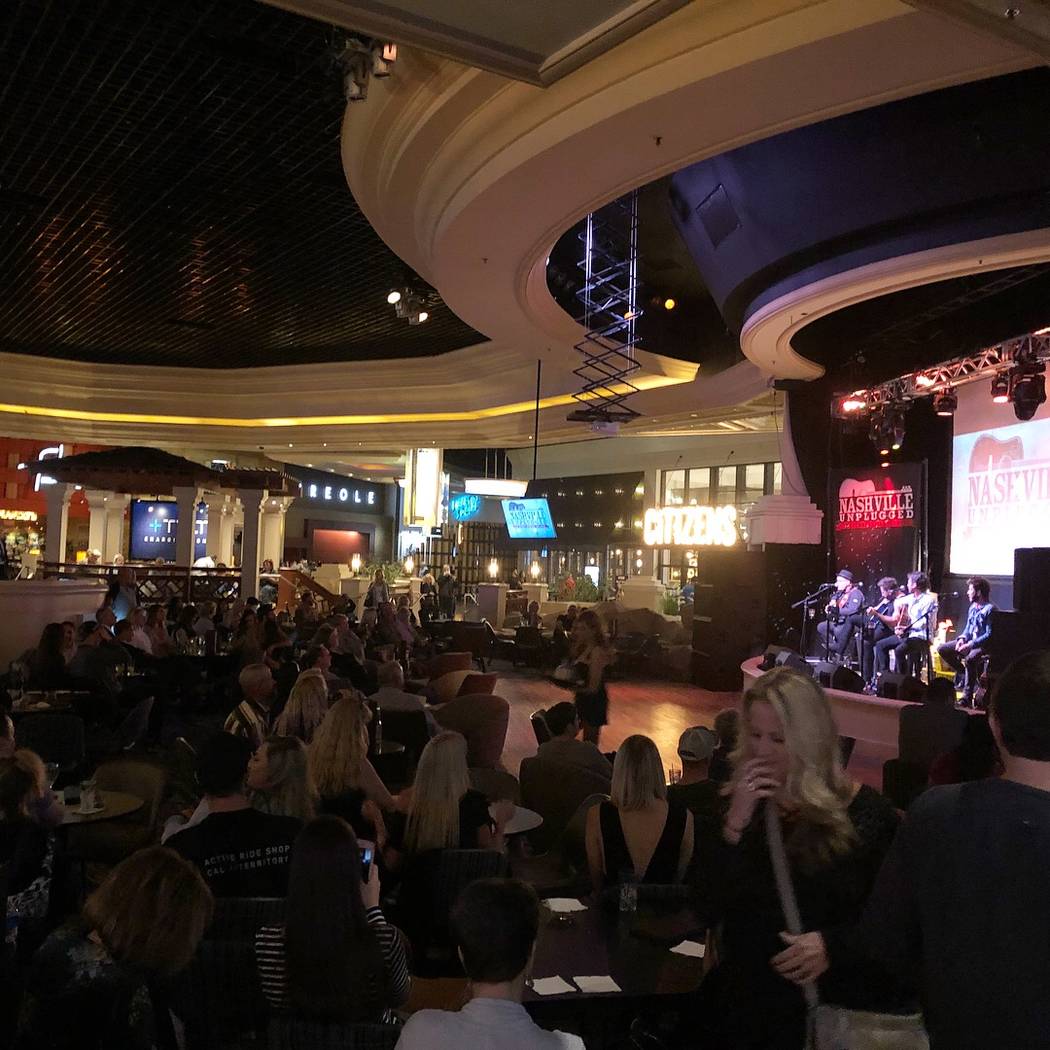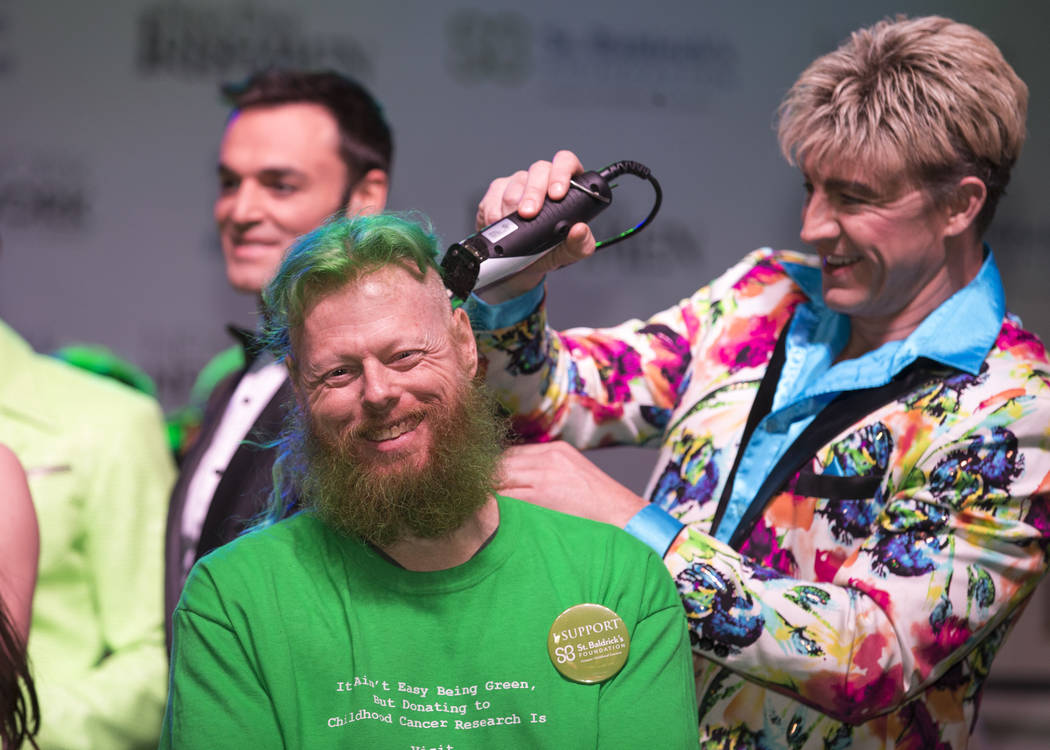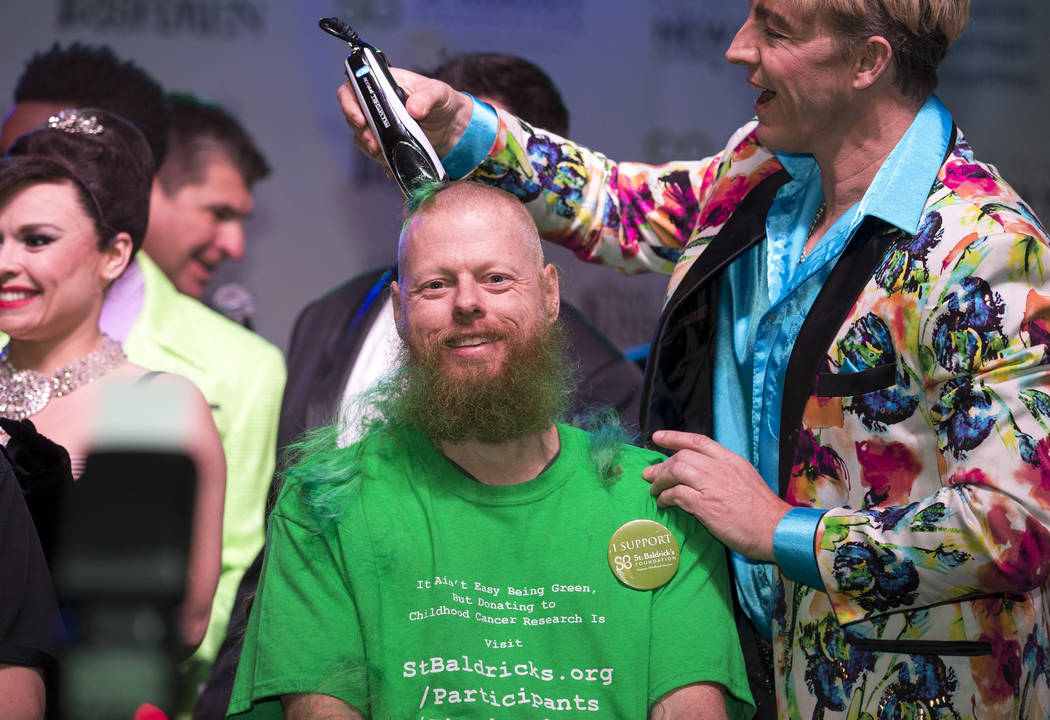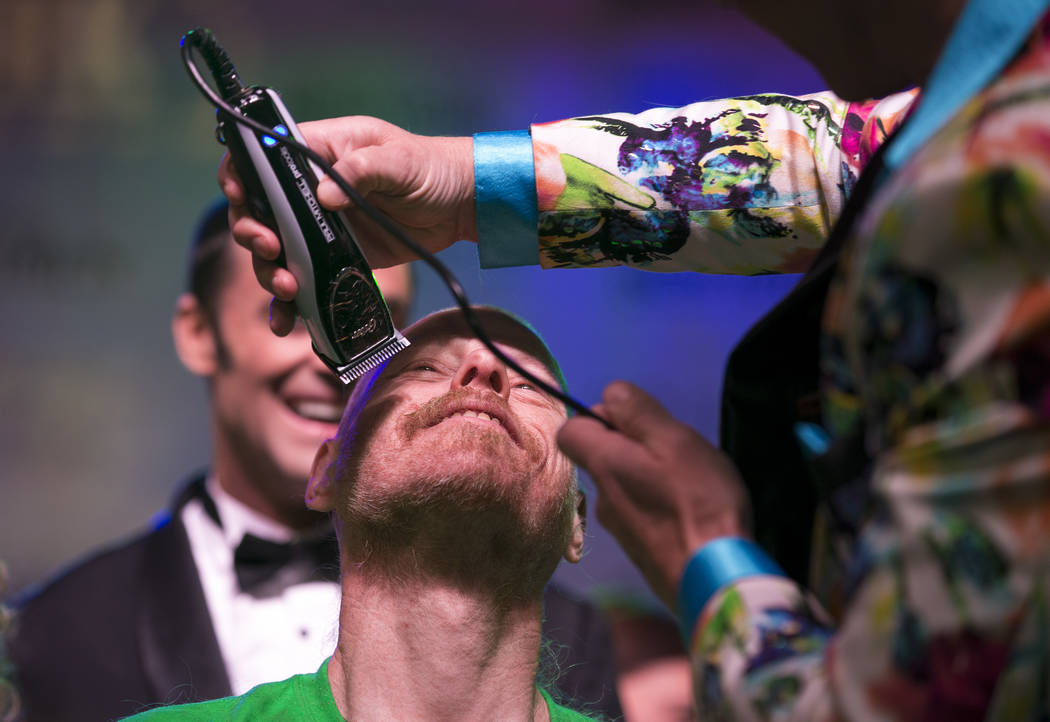 The KATS! Bureau at this writing is the St. Baldrick's Foundation shave-a-thon at New York-New York's Brooklyn Bridge to help fight pediatric cancer. It's drizzling, and I'll tell you, when a single raindrop hits your freshly shaved dome, it brings the chills.
I was originally to be shaved by Harry M. Howie, the producer-character of "Opium," opening Tuesday night at The Cosmopolitan of Las Vegas. But because of a late-breaking interview with Roger Daltrey of The Who, closing his two-run series at The Joint at the Hard Rock Hotel, I could not match my schedule with Harry's. He's in rehearsals at Opium Theatre at the moment.
Instead, Piff the Magic Dragon, the costumed comic-magician headliner at Flamingo Las Vegas, is handling my annual shearing.
Thus, a fictional character can't shave me and has been replaced by a different fictional character, so I could interview a rock legend. In VegasVille, it all makes sense.
The target for today's St. Baldrick's event at Brooklyn Bridge is $400,000, surpassing last year's total of $380,000, to help fight pediatric cancer. Mark Shunock is hosting at the moment (he put up a $20,000 offer earlier to shave his head, with no takers). You'll be seeing a bunch of us baldies in the community over next few weeks. Ask us why. Delivering the St. Baldrick's message is the point.
More from this scene, and elsewhere:
Angel's gift
Luxor headliner Criss Angel presented a surprise $100,000 donation to Make-A-Wish of Southern Nevada at the annual Walk for Wishes event at Town Square Las Vegas.
Angel made the donation Saturday on behalf of the late Avery Driscoll, a Make-A-Wish child and also "St. Baldrick's Kid" who died of a brain tumor in 2016. Angel also honored also his son, Johnny Crisstopher, whose rare form of leukemia is in remission. Angel was joined at the event by Johnny's mother, Shaunyl Benson.
Angel, you might recall, was unable to attend last year's Make-A-Wish fundraiser after he passed out onstage during a straitjacket act at "Mindfreak Live" at Luxor the night before the event. His gift Saturday pushed the total raised at Town Square to $500,000.
Angel is also a friend of St. Baldrick's from 2016, when he made a $100,000 donation to shave my head at McMullan's Irish Pub, and by my loose calculations has donated more than $1 million in the past five years. "I wish it was more," he says. For charity, Angel walks the walk.
Dodgeball crossfire
On the topic of philanthropic activity, the dodgeball-charity rivalry between Red Mercury Entertainment and The Siegel Group intensified last week. The sides have issued what they say are final offers in their ongoing attempt to set a wager for next year's battle in the After School All-Stars charity event at Bill and Lillie Heinrich YMCA. Red Mercury beat Siegel Group at this year's event on Feb. 25, notching its third straight victory.
That outcome prompted Siegel Group Senior Vice President Michael Crandall to challenge Red Mercury Entertainment owner and managing partner Darin Feinstein to a $100,000 match in 2019.
Feinstein has a standing $50,000 offer — conditional on The Siegel Group founder Steven Siegel taking part himself. This is where it's gotten prickly: Siegel doesn't play because of a lingering shoulder injury, but Feinstein's pestering this month has prompted Siegel to say he would indeed play — for $125,000.
So Feinstein is saying he'll offer $50,000, with Siegel playing. The Siegel Group is offering $100,000 with no Siegel, or $125,000, with Siegel in uniform (or whatever one wears during dodgeball). Significantly, both sides stress that the After School All-Stars will somehow benefit from a significant, shared donation, regardless of the outcome of this negotiation.
As a side note, Crandall said if this grudge match does come off, I should officiate the match. If they can come to terms, we have a deal. I'm down for some dodgeball action.
Stefani update
When I first heard Gwen Stefani was in line to be the next resident headliner at Zappos Theater at Planet Hollywood, my first question was, "Gwen Stefani solo, or with No Doubt?" Published reports indicate Stefani will reunite No Doubt for a "Gwen Stefani With No Doubt" run on the Strip, which is to begin this summer. But there is no independent verification of No Doubt joining the show.
In either case, expect Stefani to sing from the deep No Doubt catalogue, which is loaded with hits spanning more than two decades.
Dizzy scene at SLS
"Dizzy With a Dame" is a show to watch for. The dance troupe performed a showcase at The Sayers Club, and the place was packed. The cabaret, burlesque-themed show was created by Jaimee Hossack and Summer Soltis of Las Vegas-based Girl Boss Productions. The performance troupe is loaded with artists familiar in Las Vegas: Jessie Aweau, Miki Catherine, Tina Cookson, Brandy Leviner, Elaine Hoxy, Sheila Joy Buford, Nadia Albulet, Emily Calloway and Kenny Harlow. Added to the mix are specialty acts Anthony Russo and Duo Ronin, with singing from "Zombie Burlesque" seductress Sophia Monica.
And, hanging in a VIP booth in the back corner, was Alex Meruelo of the Meruelo Group, the company taking over the hotel. The new team is looking for ways to animate the former Sahara — and maybe future Grand Sahara, a new name being tossed around.
Similar to the hotel itself, The Sayers Club has long been an appealing, intelligently designed destination that has yet to reach its maximum potential.
Cool hang alert
I attended the formal launch of the redesigned Rhythm & Riffs Lounge at Mandalay Bay on Friday night. This is the former Mizuya lounge, long a favored rock-and-roll and country music venue oddly connected to a sushi restaurant. The open lounge is home to the no-cover-charge "Nashville Unplugged" series at 8 p.m. Fridays. Nashville songwriter Aaron Benward founded the series in 2009 at the since-closed Ovation Showroom at Green Valley Ranch (bingo!) and usually co-hosts with jocular country artist Travis Howard.
The lounge is now appointed with padded chairs and is very casual and comfortable. Mandalay Bay President Chuck Bowling seemed to agree, as he sidled up during Friday's set while sipping a Heineken.
While watching the performance with the commoners, the hotel executive said, "For Las Vegas to be the entertainment capital of the world, we need shows like this. We have the George Straits, the big stars playing at our arenas, but we also need to see artists in an intimate setting. That's our vision here."
At the very least, Rhythm & Riffs is a far more music-centric brand than Mizuya, which specializes in California rolls, not rock 'n' roll.
John Katsilometes' column runs daily in the A section. Contact him at jkatsilometes@reviewjournal.com. Follow @johnnykats on Twitter, @JohnnyKats1 on Instagram.