Criss Angel's H.E.L.P. arrives in waves
September 13, 2016 - 9:02 pm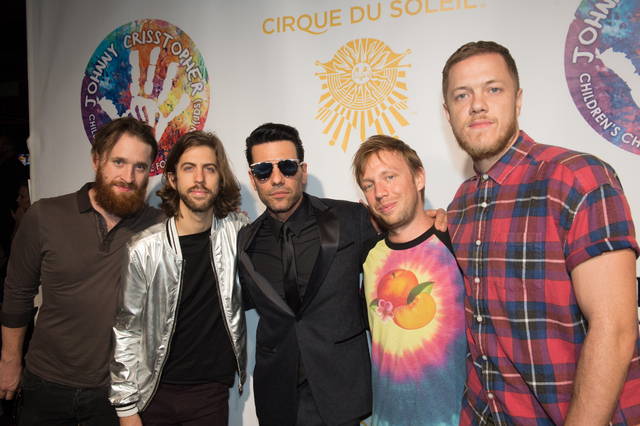 In the run-up to his first Johnny Crisstopher H.E.L.P. (Heal Every Life Possible) organization charity event, Criss Angel said he was concerned his celebrity friends might not turn out.
In the opening minutes of Monday night's show, host Tony Orlando introduced Jerry Lewis and Siegfried & Roy.
Concerns alleviated.
Almost every star Angel summoned to his "Mindfreak Live" theater at Luxor turned out for the live auction helmed by KLUV 98.5-FM personality and ace charity event host Chet Buchanan, followed by a variety show of entertainers all recruited by Angel. It all made for an entertaining, if lengthy, night of fund-raising on behalf of the new foundation supporting pediatric cancer research.
"All I can feel tonight is love," Angel said just before the start of the show. "That's the word and the emotion I can share with you. I feel love, but this is not about me. It's about children who are suffering and who need help, and we are feeling that love now."
Angel's passion for the cause is palpable. In October, his son, Johnny Crisstopher, was diagnosed with a rare form of leukemia. Now age 2, "J.C." is in remission, having undergone chemotherapy treatments in Australia, where he lives with his mother, Shaunyl Benson, in the city of Queensland.
Tireless in all facets of his life, Angel used the devastating news as the springboard to the new fund-raising event and organization, and at the end of the night appeared onstage with his son and the mother.
"Shaunyl has been an amazing, amazing mother," Angel said from the stage, his voice halting. "She has been through it all with Johnny."
Angel had set a pre-event goal of raising $1 million; it's not yet certain that was hit until all of the money from the live and silent auction, ticket sales and online donations is tabulated. But the caliber of those in attendance made the night a success, certainly, and gave Angel momentum to continue his philanthropic efforts.
A man familiar with raising money – more than $2 billion for the Muscular Dystrophy Association – Lewis said to Angel, "Tonight is a very meaningful night, and you don't even realize it yet. You're going to walk down the street one day, and people will applaud you not just for being a wonderful entertainer but as a man who cares deeply about children."
Lewis also caused the night's longest laugh, when an audience member called out, "I love you, Jerry!" His response. "What's your room number?" Flanked by Orlando and Angel, he added, "Can you take all three of us?"
Celebs who appeared onstage, on the carpet or performed during the night included Mike Tyson, Lance Burton, Gary Oldman, Terry Fator, Debbie Gibson, Dee Snider, Richie Sambora, Sebastian Bach, Imagine Dragons, Vince Neil, Cory Feldman, Blue Man Group, Tom Green, members of Cirque du Soleil, the great guitarist Orianthi, Andrew Dice Clay, Carrot Top, Flavor Flav and the cast of "Mindfreak Live."
Highlighted in the series of performances was Snider performing his acoustic version of "We're Not Gonna Take It" while joined by Sambora, Bach, Orianthi and Angel's longtime friend and collaborator Klayton from the heavy-metal band Celldweller. As the song played out, Randi Heisler, known as the "Warrior Mama" had her head shaved onstage to support her young son, Aspen, suffering from cancer.
Some segments were also powerful, but dis-similarly so. Flavor Flav took the stage with Blue Man Group while wearing a white jump suit and goggles, and was strapped to a target while the Blue Men peppered him with paint pistols. A colorful individual, Flav came out of the scene looking like an art piece ready for display at the silent auction.
More lighthearted moments were provided by Siegfried & Roy, as Siegfried began to thank Angel with, "You have done so much, and we are so happy to be here …" Roy cut by repeating the sentence. "Can I finish, now, my speech?" Siegfried said, turning and glowering at his longtime stage and life partner.
The night ended with Angel performing the levitation act that closes his show each night in "Mindfreak" and invited everyone who had taken to the stage for a final bow. It might have been the end of this event, but it felt like the start of a crusade for the man who has faced a life challenge that is no illusion.
John Katsilometes' column runs Saturday, Sunday, Tuesday and Thursday in the A section, and Fridays in Neon. He also hosts "Kats! On The Radio" Wednesdays at 8 p.m. on KUNV 91.5-FM and appears Wednesdays at 11 a.m. with Dayna Roselli on KTNV Channel 13. Contact him at jkatsilometes@reviewjournal.com. Follow @johnnykats on Twitter, @JohnnyKats1 on Instagram.