Dana White throws $1M party for son's 16th on Las Vegas Strip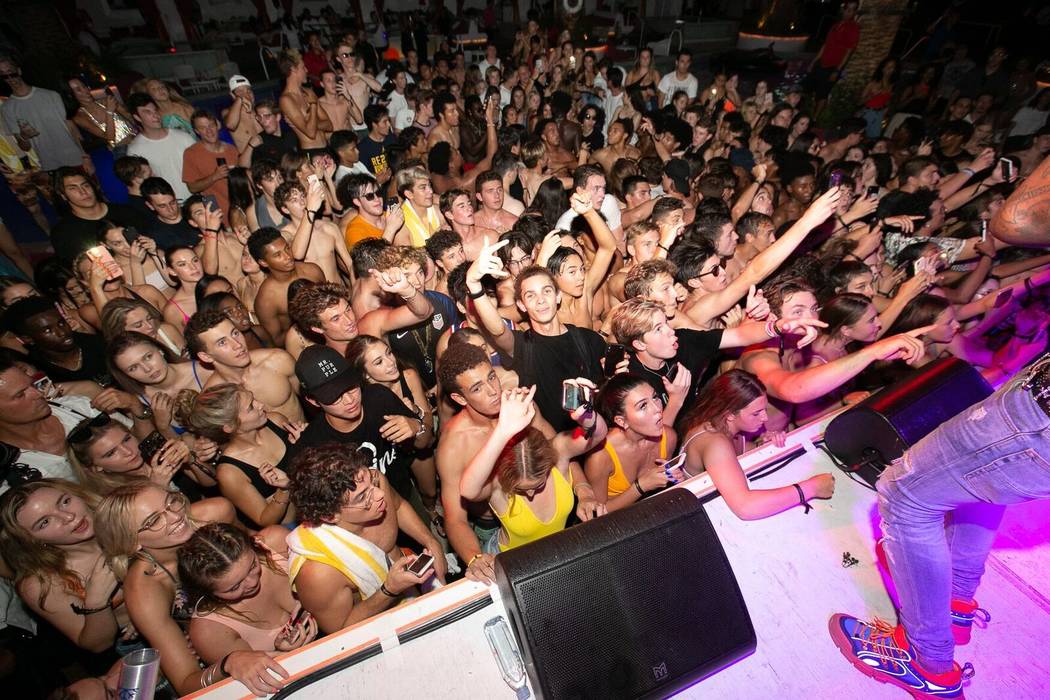 Dana White called it, "The best party I have ever been to in my life."
This, from a man who once hosted a circus-themed party complete with real elephants (they ate a couple of trees, cops were called, etc.). And, White staged a pirate-themed party years ago at his former Tournament Hills at TPC Summerlin estate. That event was highlighted by a performance from the cast of the now-closed pirate show at Treasure Island.
But Wednesday, the president of the Ultimate Fighting Championship topped himself in a Vegas-scaled exercise in decadence by renting Drai's Nightclub at The Cromwell for his son Aidan's 16th birthday party.
White's hyperbole aside, we can quantify the scope of this event: The pricetag to rent the venue and the artists exceeded $1 million. That outlay does not include White's birthday gift to his son, a customized Land Rover Defender. Fewer than a dozen exist in the U.S.
"We've done nothing like this," White said Friday. "Not even close."
When asked what he did for his own 16th birthday, White said, "Nothing like this."
A Las Vegas native, White is good friends with Drai's founder Victor Drai, and sought a club with an indoor-outdoor design. Drai's is such a place. The club also presented Aidan with a UFC-style championship belt.
Dubbed "Aidan's 16th Day-Night Party," the spectacle ran from 5:30 p.m. to 11:30 p.m., starting at the Drais/Cromwell rooftop pool overlooking the corner of Flamingo Road and the Las Vegas Strip. The nighttime show featured resident headliners Migos along with Everlast, DJ Carnage and A$AP Rocky as the main event.
"They brought out the big red button and we hit that, and a bunch of those high-pressure steam cannons went off," White said. "That brought the crowd from the pool inside. It was awesome."
At the party's peak, Aidan threw himself into the crowd, a moment happily captured and posted on TMZ.
In June 2017, White booked Brooklyn Bowl for his son Dana II's 16th birthday party. Kendrick Lamar was the hired gun headlining that night.
"We were wondering how we were going to top Dana's party," White said, "but we did it."
Turnover at Sin City Theater
Caesars Entertainment has finally taken over operations at Sin City Theater at Planet Hollywood. This move has been anticipated for months.
Iconic producer Norbert Aleman of "Crazy Girls" had previously run that venue, which was home to the long-running adult revue and also magic headliners Murray Sawchuck and Xavier Mortimer.
Caesars Entertainment will now make final decisions on all productions in the space across from Planet Hollywood Showroom, where Criss Angel is bringing his own magic production after he closes at Luxor on Oct. 27.
Caesars Entertainment plans no immediate changes in the current Sin City Theater lineup. But expect some shuffling — especially among magic productions — at Planet Hollywood, and subsequently throughout Caesars, by the end of the year. Angel has always demanded his production be the only magic show at his host resort, and Caesars has a lot of venues — and a lot of magicians — to work with.
Oscar's new noshes
Thursday night, former Las Vegas Mayor Oscar Goodman hosted an unveiling and tasting of the new menu at the steakhouse named for him at the Plaza. The new dishes are named for figures in the Nevada Black Book (which Goodman famously hates), and also for some of Goodman's notorious clients and favorite Vegas personalities over the years.
So, you can now order the Spicy Flame Charred Spilotro Steak, Jay Sarno's Surf & Turf and Fat Herbie's Wild Mushroom Soup. Goodman has honored reformed mob overlord and author/motivational speaker Michael Franzese (a point man for "A Mob Story" opening Aug. 8 at Plaza Showroom) with a 14-ounce bone-in filet.
Oscar's infinitely patient wife, Mayor Carolyn Goodman, still has a prime-rib dish named for her. That dish is a holdover from the previous menu. So is Carolyn, actually.
Tease this …
Some news to come this week from Vegas rocker Frankie Sidoris, guitarist for Slash's band, The Conspirators. How you know you are a great guitarist: Slash recruits you to play guitar in his band. The stellar Vegas bassist Todd Kerns is also in The Conspirators' lineup.
Bird in flight at Rampart
Count magician Jason Bird as one of the many illusionists inspired by the retired Lance Burton.
"I saw Lance at the Hacienda when I was 15," says Bird, who performs 3 p.m. Sunday at Rampart Casino. "That was it."
Bird wants to stage his storytelling show, titled "Fable," in residency in Las Vegas. The city remains comparatively friendly to magic — unless you want to bring a show to Sin City Theater. But as the magician says, "I definitely think we're in kind of a golden era of magic in Las Vegas."
Contact John Katsilometes at jkatsilometes@reviewjournal.com. Follow @johnnykats on Twitter, @JohnnyKats1 on Instagram.