David Blaine, after stage injury: 'I'm lucky'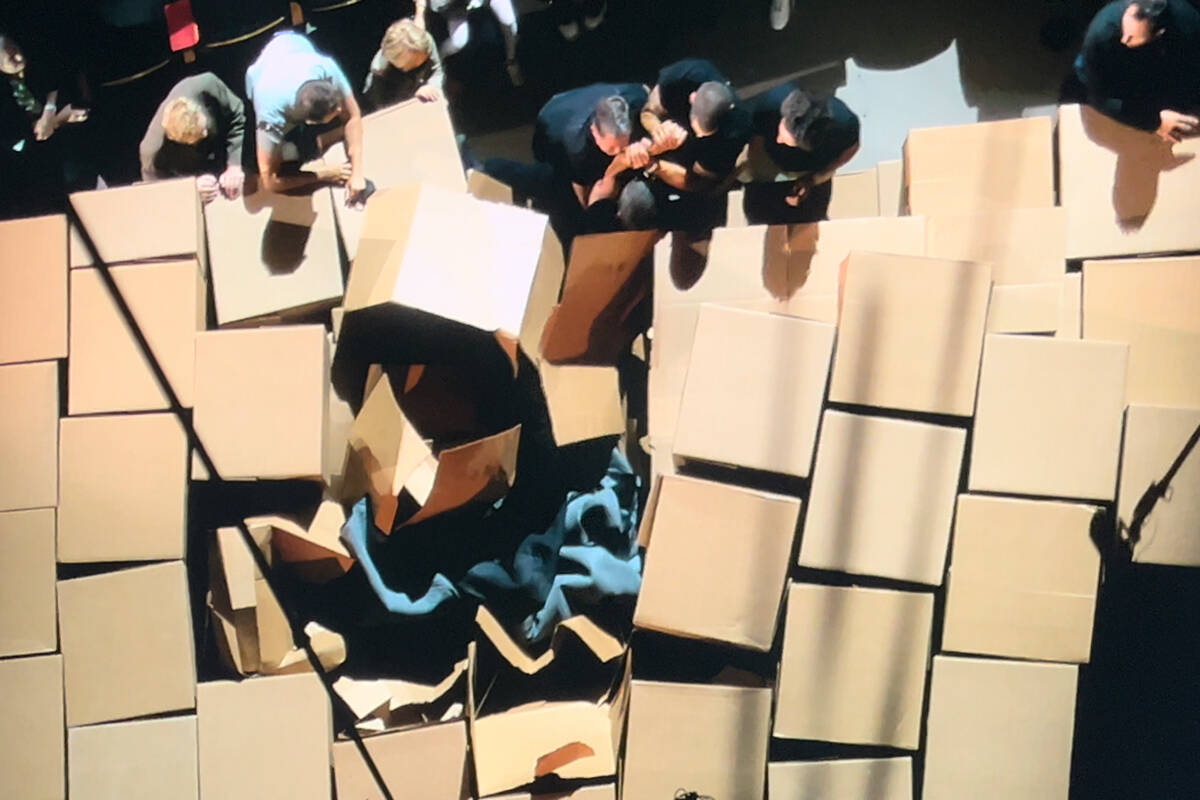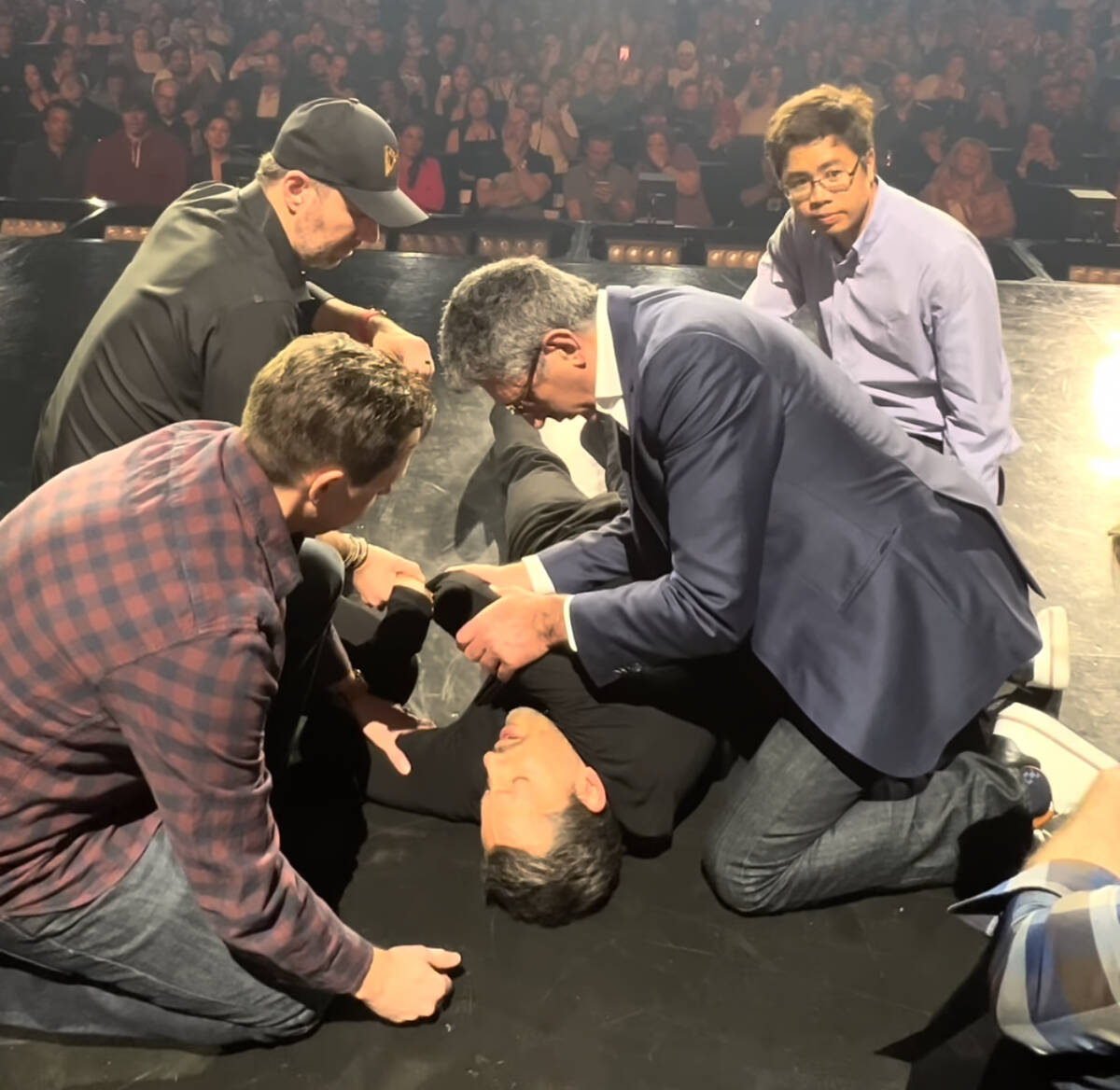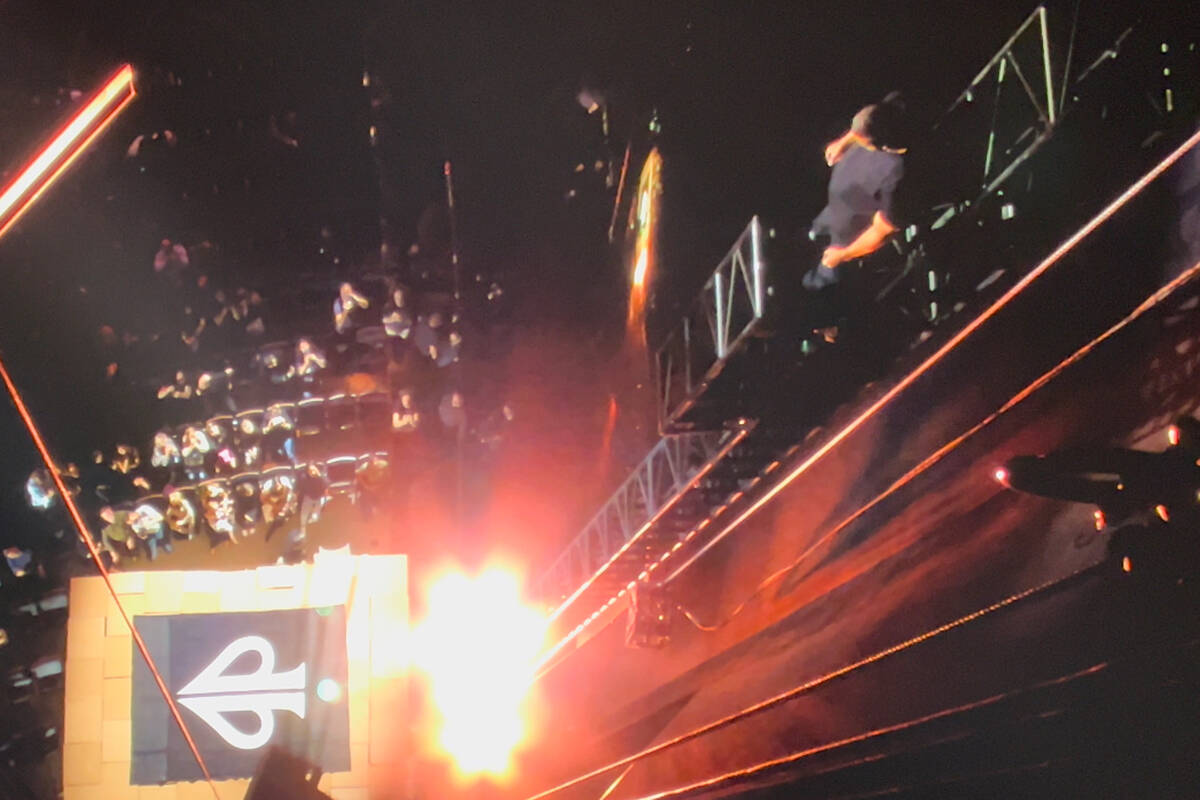 It's a hard trick, not a card trick. And odds were that David Blaine would be hurt in his opening number at Resorts World Theatre.
His number was up Saturday night. The daredevil (as defined by the late Evel Knievel) stunt performer and magician missed his mark while falling 80 feet from a platform on house left/stage right into a stack of cardboard moving boxes.
Blaine suffered a dislocated right shoulder, treated by doctors "in the house" to borrow an old movie term, and finished the show.
Blaine isn't missing any other shows in his "In Spades" production, nor is he taking the act out of the show.
"Luckily, we have six weeks until by April shows, right?" Blaine said Monday, referring to his next appearance at Resorts World on April 29-30. "I'm back in early May (5-6), so I don't get a big break between those. But I feel like, if I did this show once a once a month, it would be much more doable. Friday night messes me up for the Saturday, you know what I mean?"
Blaine took a vitamin IV after Friday's show, common procedure after he taxes his body through a nightly breath-hold number covering about 10 minutes, sometimes longer.
On Saturday, Blaine said he missed the middle of the "In Spades" logo and plunged awkwardly into the cardboard fortress.
"When I looked at the footage, I saw that I was just completely off the target," Blaine said. "I'm lucky something much worse didn't happen."
Blaine knew he was hurt when he landed, and asked his assistants to pull him out of the pile by his feet, rather than his hands. As they worked him free, he slipped off the top of a box and onto the floor. "Then I reached into my armpit, and felt the bone coming down into my armpit."
Blaine was taken backstage, where he, his trainer and stage crew attempted to "pop the thing back in," as Blaine said.
"We were literally Googling, 'How to pop a shoulder back into place' backstage," Blaine said. "Then I just walk out like, 'OK, I'm gonna do the show no matter what, with one arm or not."
Blaine then called out for medical professionals (doctors), and four made their way to him onstage. Here, the magician was lucky.
"Somehow, there was an orthopedic convention going on in town," Blaine said. This was the annual meeting of the American Academy of Orthopedic Surgeons, which closed Saturday. "My doctor said, 'Thank God they did that, because if you would have done the show and not popped it in, then it would be a nightmare to pop it back later.'"
Blaine said he is still feeling the tingle and numbness in his arm. But he's not deterred. The headliner is still working on perfecting his first Las Vegas residency.
"We're going to keep adding more magic and making it better," Blaine said. "The whole show is a constant work in progress. My theory is, if the show makes it to the till the end of the run and I don't get beat up too badly by the final show, it'll be good (laughs) And I'm excited about that."
Nicks of time
In October 2011, a little more than a year after winning "America's Got Talent," Vegas singer-songwriter Michael Grimm opened for Stevie Nicks at The Joint at the Hard Rock Hotel (The Theater at Virgin Hotel today).
Nicks, headlining T-Mobile Arena on Saturday, has known Grimm even further back than that show.
In the late-1990s, Grimm was invited to a Fleetwood Mac rehearsal in L.A. His manager in those days, Tony Dimitriades was also managing Fleetwood Mac's Lindsey Buckingham. Grimm sang Otis Redding's "(Sittin' On) The Dock of the Bay" during the session.
The rendition impressed the band, especially Nick, who asked Grimm where he was performing. Grimm said he was gigging at L.A.'s Genghis Cohen music club.
Nicks said, "I'll come see you." Grimm grinned, thinking, "Yeah, right."
"And that night, she shows up!" Grimm said years ago, remembering that night. "This place seats about 50 people, and in walks Stevie Nicks."
The two share a musical bond and long-running dialogue, which led to Grimm headlining Nicks' 2011 solo tour. Grimm is paying tribute to the rock icon with "A Tribute to Stevie Nicks" at June 7 at Myron's. As with everything Grimm creates, this will be worth a look-see.
Marino's no drag at Westgate
You might remember, or not, the cabaret drag production that "Divas Las Vegas" icon Frank Marino had planned for the renovated concierge lounge at Westgate. The show co-produced by Alan and Kathi Glist had been lined up for a Feb. 13 opening.
But the distinct lack of coverage of this production is directly related to the fact that it never came off.
Hotel officials report the project didn't reach the singed-contract plateau, and without that document, there is no show, mon. The space is being rented out for private events.
The Glists, of course, still pilot the city's longest-running musical, "Menopause The Musical" (where we are hosting a St. Baldrick's Foundation shaving event at 7:30 p.m. Wednesday).
Marino is continuing to front his "Divas" production at Anthem Center Ballroom on April 14, his brunch shows at DW Bistro on April 30 and May 27-28, and at Riverside in Laughlin from July 13-16. Tickets for the Anthem Center are at 702-614-5822). The others are to be announced.
Trumpeting this visit
We are reminded during President Joe Biden's visit to VegasVille that his campaign was launched in Las Vegas at NoMad Restaurant (NoMad Library, today) on May 7, 2019. Newman played a fundraiser for Biden that night. He liked the room so much he soon opened his "After Dark" series, which is on the tarmac (similar to Air Force One) for its next flight.
Biden joins Lady Gaga, Ashanti, David Copperfield, Brad Garrett, Shaun White and Ronnie Foster as those who have partied with Newman in the Library.
Cool Hang Alert
A triple-pack of column faves at Easy's Cocktail Lounge on the Aria's promenade level. Thursday night it's emerging artist Justin Cander. Friday night it's Anne Martinez and Red Penny Arcade. Saturday it's Skye Dee Miles. Easy's is open 7 p.m. to 2 a.m. Thursdays through Mondays. Reservations are "strongly encouraged." Go to Easysvegas.com for info.
John Katsilometes' column runs daily in the A section. His "PodKats!" podcast can be found at reviewjournal.com/podcasts. Contact him at jkatsilometes@reviewjournal.com. Follow @johnnykats on Twitter, @JohnnyKats1 on Instagram.