David Blaine breaks ground (and skin) at Resorts World
Updated January 14, 2023 - 8:46 am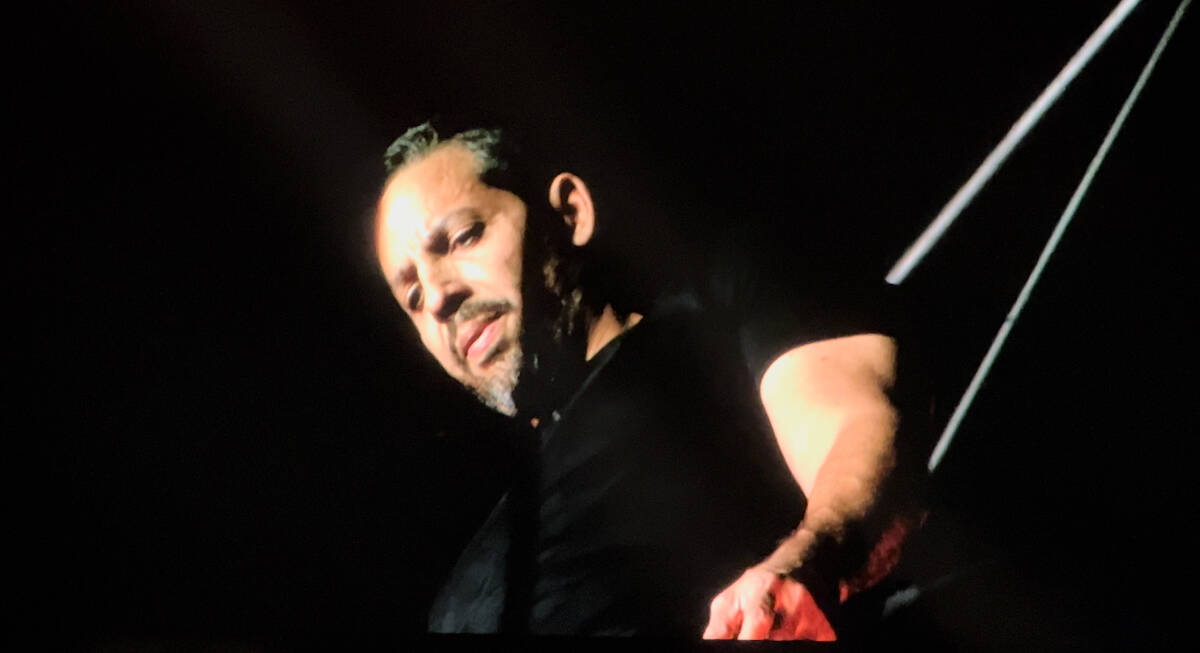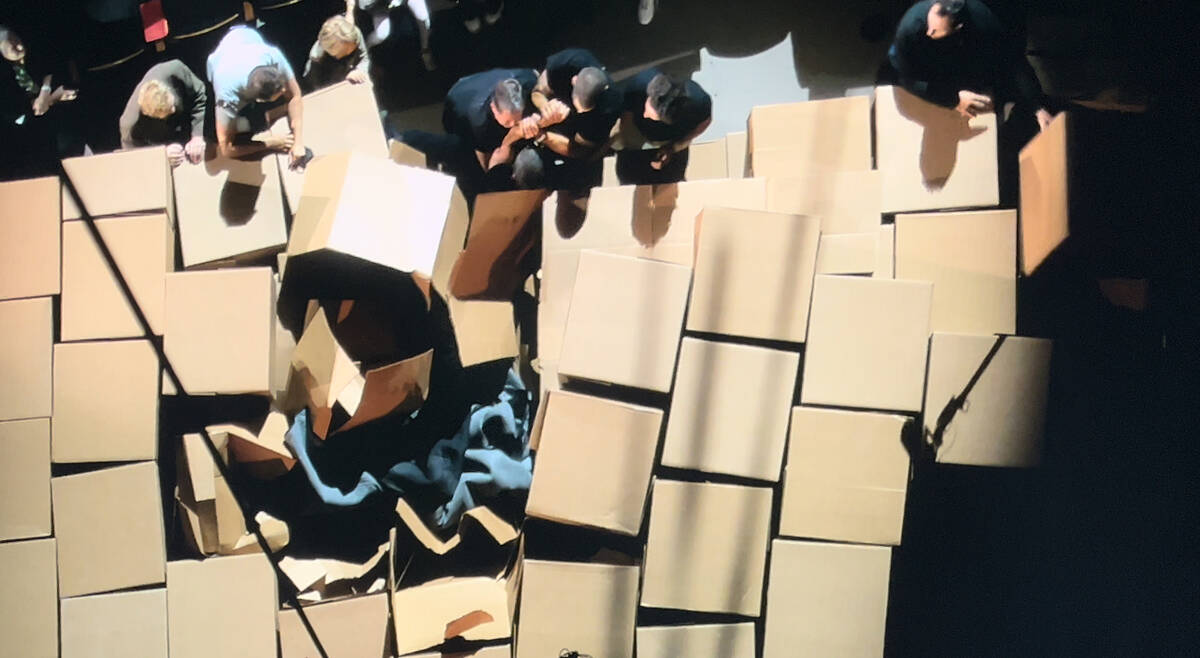 You wonder if David Blaine ever uses an ice pick to actually pick ice.
The superstar stunt performer owns an ice pick, but it is prop in his production at Resorts World Theatre, where his "In Spades" show is back Saturday and Sunday night. This is a real ice pick, which we know because Blaine pierced his hand (also real) in his Dec. 17 performance.
In the routine, Blaine invites two audience members to the stage. The guests pick which paper cups lined up on a table are not concealing an ice pick. Blaine is blindfolded (or, Blaine-Folded, as we say). He slams his hand on the cups selected by the audience members. Those guests assist Blaine by pushing his arms down during the routine, to add suspense an — on this occasion — to gasp in fright.
Of course, there is a method to figuring out which cups Blaine crushes without stabbing his hand. That system failed him in this show, when he wound up with a bloody left palm.
"That was not good," Blaine said, while peeling off the Blaine-Fold and stalking off stage. "That wasn't the best moment." An assistant arrived with black towel to wipe off the Blaine blood. But the headliner is proud he came back quickly.
"We timed it, and I walked off-stage for 53 seconds, then came back and continued the show," Blaine said in an interview Thursday. He added that this had never happened before that night.
Once again, Las Vegas proves its shows are a cut above.
Piercing moment. This happened to @DavidBlaine @ResortsWorldLV on Dec. 17. Took 48 seconds to recover, then returned to the act. He's back Saturday and Sunday. Column upcoming … #RJNow @reviewjournal pic.twitter.com/O0aiz4pFKf

— John Katsilometes (@johnnykats) January 12, 2023
The acts that follow the ice-pick bit are Blaine eating an audience member's ring and pulling it out with a hanger, swallowing and spitting up frogs, holding his breath underwater in a glass box for several minutes, and a single card trick involving everyone in the theater.
There seem there no safe routines in Blaine's show. He opens by plummeting 80 feet into dozens of cardboard boxes (U-Haul, specifically, and don't try this at home, even if you are moving out). This tension-filled segment is the reason he wanted to perform at Resorts World Theater rather than, as one genuine example, Encore Theater. He needed that dramatic height.
"People say, 'How do you do that?' I really do it," Blaine said. "That's the one thing I think people don't understand that the guys I've always liked were guys doing things that were real, that you couldn't go see every night."
He has the medical evidence to prove it. Just before our chat, Blaine underwent a medical exam.
"I was getting a CT scan, with contrast, to make sure that the opening of my show isn't rattling the vessels to the heart," Blaine said. "This is to make sure that I'm not going to die in front of my audience."
He chuckled at that, but the show's danger is no joke. Blaine has also suffered a badly bruised right elbow after plummeting at 20Gs into his stack o' magic boxes. A nail was caught in his sinuses on opening night, causing a lengthy delay as he worked the implement free.
Blaine could add an an emergency room to his dressing room at Resorts World. As it is, he's routinely evaluated by doctors between performances.
"The one thing I wish is that I did have the ability to do the show more than once or twice a month, but it's physically unsafe and impossible," Blaine said. "Because of the nature of these shows, according to the doctors, it really should be once every six months, or once a year. Then they wouldn't be concerned, but they are concerned with me doing two shows per month."
If Blaine were a more frequent performer, he could host his magician contemporaries in Vegas.
"The big names are all working at night, David Copperfield and all those guys are doing so many shows, they haven't even been able to come in," Blaine said. "I'm excited for them to come, because Las Vegas is amazing. Just the energy in the room has been incredible."
Blaine has added dates this year, but "In Spades" to his Vegas residency is not entirely open-ended. The 49-year-old performer says he's packing up the boxes, at least for large-scale productions, after he turns 52. That's how old Houdini was when he died.
But Blaine says he will perform variations of the street stunts for which he became famous in New York.
"I am going to start doing that, for sure. What I've been doing at Resorts World for anybody that stops me, I'm always with a deck of cards and doing magic," Blaine said. "I want everybody just to get in the mindset of, 'Let's go.' But yeah, I am going to be running around doing some fun viral videos around Vegas in the next couple of months. They will be pretty good."
So watch for him on the Strip, and maybe on the Fremont Street Experience. He's the one with the cups and ice pick, courting danger and winning fans.
Tease this …
We are confident Madonna is planning a tour stop in Las Vegas in late summer or early fall. Billboard has reported a hit-laden world tour pegged 40th anniversary of "Like A Virgin." The 64-year-old superstar is reportedly set for a multi-night series at O2 Arena in London. Arenas and stadiums are being booked for what's expected to be her biggest tour ever.
And this …
Teller returned to the Penn & Teller show at the Rio on Thursday night. It was his first appearance since Sept. 25, as he underwent open heart surgery four days later. Fantastic to see him back, and also chat with him afterward. A column is forthcoming.
Cool Hang Alert
Elyzabeth Diaga, the belter who fronted "Queens of Rock" at Mosaic on the Strip, plays the first Sunday brunch show at Coops Cabaret & Hot Spot at Commercial Center. Diaga's "Velvet Variations" show time is 1:45 p.m. Sunday, doors at 12:30 with guitarist Alex D. We can plug the club now that its plumbing problems have been dealt with. Those who held tickets for Kelly Vohnn's canceled show can use their tickets for this one. Bring your own roller skates, and go to coopscabaret.com for info.
John Katsilometes' column runs daily in the A section. His "PodKats!" podcast can be found at reviewjournal.com/podcasts. Contact him at jkatsilometes@reviewjournal.com. Follow @johnnykats on Twitter, @JohnnyKats1 on Instagram.