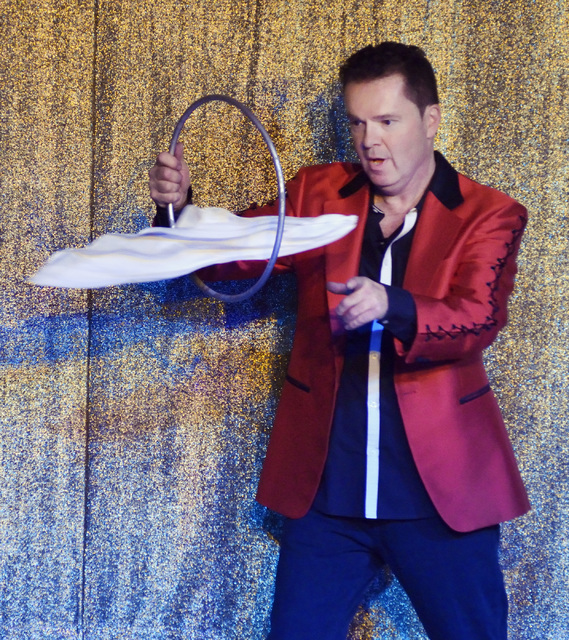 The Kats! Bureau at this writing is the 25,000-square-foot Westgate Las Vegas SuperBook, with 400+ seats (I am in one) and 240-foot-wide LED wall. I'm watching the ponies, and also highlights of the Falcons' victory over the Seahawks on Monday night. Great place to make sentences.
Across from the casino is Westgate Cabaret, where we are able to quantify showman Dirk Arthur's challenges in performing without his exotic cats. The numbers from Friday were four (tickets sold) and 12 (individuals in the room) for Arthur's new "Wild Magic" showcase.
Well-known for productions featuring big cats, Arthur had planned to return to action at the Cabaret with a snow leopard and bobcat, along with a few birds and a white duck named Afflack. All were dropped from the show less than two weeks before the Nov. 15 opening. Arthur's reps contended the room was too small for such acts, though the dimensions of Westgate Cabaret space have not changed in about two decades, and Arthur has used animals in smaller showrooms over his 20-year Las Vegas stage career.
In that time, Arthur's use of those creatures has rankled animal-rights groups, who were already mobilizing to protest his "Wild Magic" show at Westgate. But the hotel did not mention those protests as the reason Arthur ditched the animals.
Thus, Arthur is forging ahead without the very element — exotic cats — that helped set him apart from other magicians, similar to a juggler who has his bowling pins confiscated. But similar to those cats, Arthur has always landed on his feet, and hotel reps say the low ticket sales are to be expected before the Thanksgiving holiday.
"There is a bigger picture marketing strategy tied into the show beyond the retail sales," according to a statement from a Westgate officials. Tickets to Arthur's show are likely to be given out to timeshare unit buyers and hotel guests.
There is no plan to return the cats to "Wild Magic," regardless of marketing strategy or box-office performance. Arthur's own entertainment guile will have to carry the day.
Miss U on the mezz
It is not often a major international event is held on an open, and often unused, hotel space. But Miss Universe's costume parade Saturday and preliminary round Monday night were held on the mezzanine level at Planet Hollywood. That area is usually held aside for poker tournaments, but was animated as the hotel's more suitable venues — Axis theater (where preliminaries for Miss America were held for several years) and Planet Hollywood Showroom — were unavailable.
How could that be? As it has been explained to me, Backstreet Boys played Axis on Saturday night and their crew unloaded the band's equipment out of Axis by Sunday. The Miss Universe team began to move into the theater on Monday, while also setting up the staging for the preliminaries on the mezzanine.
The production for Hong Kong pop act The Wynners, performing a one-off show Saturday on their "Never Say Goodbye," tour, loads in Friday and loads out after that show.
The Miss Universe load-in is to be finished early Sunday, in time for the national telecast.
It's a noble bit of scrambling for Miss Universe, an expansive event that was booked in a tight time frame at the hotel. The show is coming off through a three-sided partnership. Planet Hollywood founder Robert Earl is in a longtime business and personal partnership with officials from Miss Universe (especially president Paula Shugart). As owner of Planet Hollywood and Axis theater, Caesars Entertainment serves as the host resort company.
Cirque's twist
Performances by artists from "Mystere" at Treasure Island and Blue Man Group at Luxor are Cirque du Soleil's contributions to "The Vegas Strong Concert" on Dec. 1 at T-Mobile Arena. Those acts join The Killers, Imagine Dragons, Boyz II Men, David Copperfield and Penn & Teller in the announced lineup. Blue Man has been especially busy with such appearances ever since Cirque bought the production in July.
Not lit yet
The opening of "Inferno," the new production at Paris Las Vegas, has moved its planned opening to January. The show had hoped to open in December, but needs time to assemble its international cast.
"Inferno" will co-exist at Paris Theater with "Circus 1903."
Contact John Katsilometes at jkatsilometes@reviewjournal.com. Follow @johnnykats on Twitter, @JohnnyKats1 on Instagram.