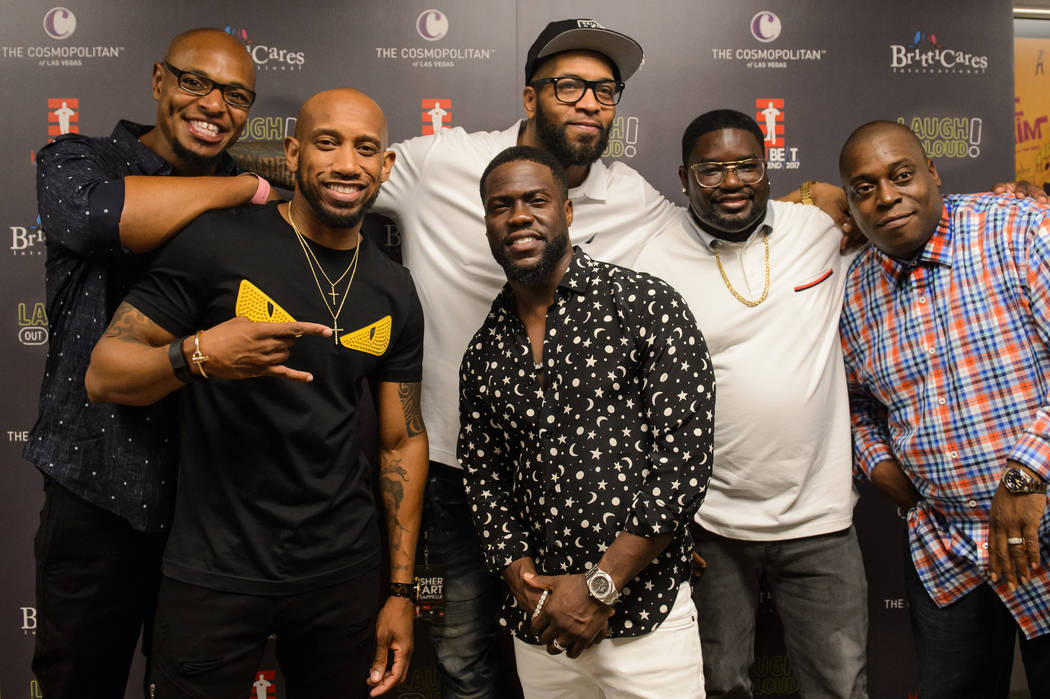 The Muppets are headlining the Hollywood Bowl next weekend, and 10 British entertainers are hitting Orleans Showroom in October for a variety show starring Strip icon Frank Marino.
Connecting these two unalike productions: Las Vegas set designer and producer Andy Walmsley.
Walmsley, who won an Emmy Award for his work on the set of "American Idol," has been working almost nonstop for the past six months on the set design of "The Muppets Take the Bowl." The musical runs Friday, Saturday and Sunday in the fabled L.A. entertainment venue. The plot follows the full Muppet cast, including Kermit the Frog, Miss Piggy, Fozzie Bear, The Great Gonzo, Animal, Sam Eagle and Pepé the King, from their meager underpinnings to Hollywood stardom.
The production is hosted by ex-"Saturday Night Live" cast member Bobby Moynihan, and is buoyed by 12 dancers, a 30-member choir and the 60-piece Hollywood Bowl Orchestra under the direction of Thomas Wilkins. This Disney-licensed, massive-scope project has an eye on a U.S. tour next year and a Broadway run in 2019.
"It's a very ambitious show technically as puppets are surprisingly complex in terms of scenery, audio lighting and the dozens of TV monitors required for the Muppeteers to see what they are doing," Walmsley says. "It's one of the most challenging shows I've ever done."
Walmsley has designed sets for several Las Vegas shows and productions, including Terry Fator's production at The Mirage and Marino's "Divas Las Vegas" at The Linq Hotel. He and Marino are teaming for the British-TV series "Last Laugh Vegas." Walmsley is co-producing the five-episode project with British network ITV, and Marino is the assigned Vegas star headliner preparing 10 British stage performers return to their former glory.
The series culminates with a stage show at Orleans Showroom on Oct. 7, and Marino has traveled to Britain to record the early episodes. The Vegas show a one-night-only event, to air next March, featuring a 12-piece band and an octet of dancers.
If the "Last Laugh Vegas" is a hit, Walmsley and Marino might be England's new royal couple, and it's easy to figure out who is king and queen.
Hart does the funny
"I am a fan of comedy," Kevin Hart said in taking the stage at The Chelsea at the Cosmopolitan of Las Vegas on Saturday night. "No matter what is happening in my career, I will always support stand-up comedy."
This was Hart's opening of the first of two "Kevin Hart & Friends" comedy shows at The Chelsea, in the midst of Hart's HartBeat Weekend at the Cosmopolitan. Riding a crest of success as a stand-up and film actor, Hart is true to his heart in these shows, which is the point of the event.
Hart performed an opening set and introduced a relentlessly funny lineup of stand-ups: Jimmy Martinez, Tony Baker, Malik Sanon, Howie Bell and Lil Rel. The night's headliner recited a classic bit about baby-sitting his friends' 2-year-old daughter, aptly dubbed, "Great Baby," for her advanced intelligence.
"We asked Great Baby if she wanted a sandwich and she said, 'Yes, please, but I am allergic to Havarti.' I went to Google — Havarti is a cheese!" Hart said. "I told my wife, 'Don't give Great Baby any Havarti! Which is a cheese!' "
The show was curtailed by the production's policy of not allowing any cell-phone use in the venue. Like, at all. Turn 'em off or get tossed, was the policy. So ushers paraded through the middle aisle, blocking the view of ticket-holders and even spinning glow-sticks to summon security while trying to bust offending fans.
Suggestion: If you're going to so strictly police cell-phone use in a comedy show, just "pouch" them for the full performance, as Dave Chappelle requires for his live shows — which he required again Sunday night at The Chelsea. It's far more effective, and far less annoying, than requiring ushers to play cat-and-mouse with the crowd.
Rick the Quick on VH1
"Ricky Martin: Behind the Vegas Residency," a chronicle of Martin's rehearsals and prep time for his series at The Park Theater, airs at 10 p.m. Monday on VH1. The hourlong show delves into Martin's days with Menudo and runs through his work with collaborators such as choreographer Jamie King. Something I'd not known about Martin: He auditioned four times for Menudo before finally being accepted into the band, which vaulted him to international fame.
Tyson's mug
New coffee mugs are offered for sale at "Mike Tyson Undisputed Truth, Round 2" at Brad Garrett's Comedy Club. No ordinary mug, this one is a "mug mug," displaying Tyson's mugshot from his arrest on Dec. 29, 2006.
On that night, Tyson had been taken into custody for suspicion of driving under the influence and possession of cocaine after police stopped him shortly after he left a Scottsdale, Ariz. nightclub. In his stage show, Tyson talks freely about shedding his troubled past, so,"Cheers!" I guess …
John Katsilometes' column runs daily in the A section. Contact him at jkatsilometes@reviewjournal.com. Follow @johnnykats on Twitter, @JohnnyKats1 on Instagram.