Fiery video inspired Styx keyboardist to step out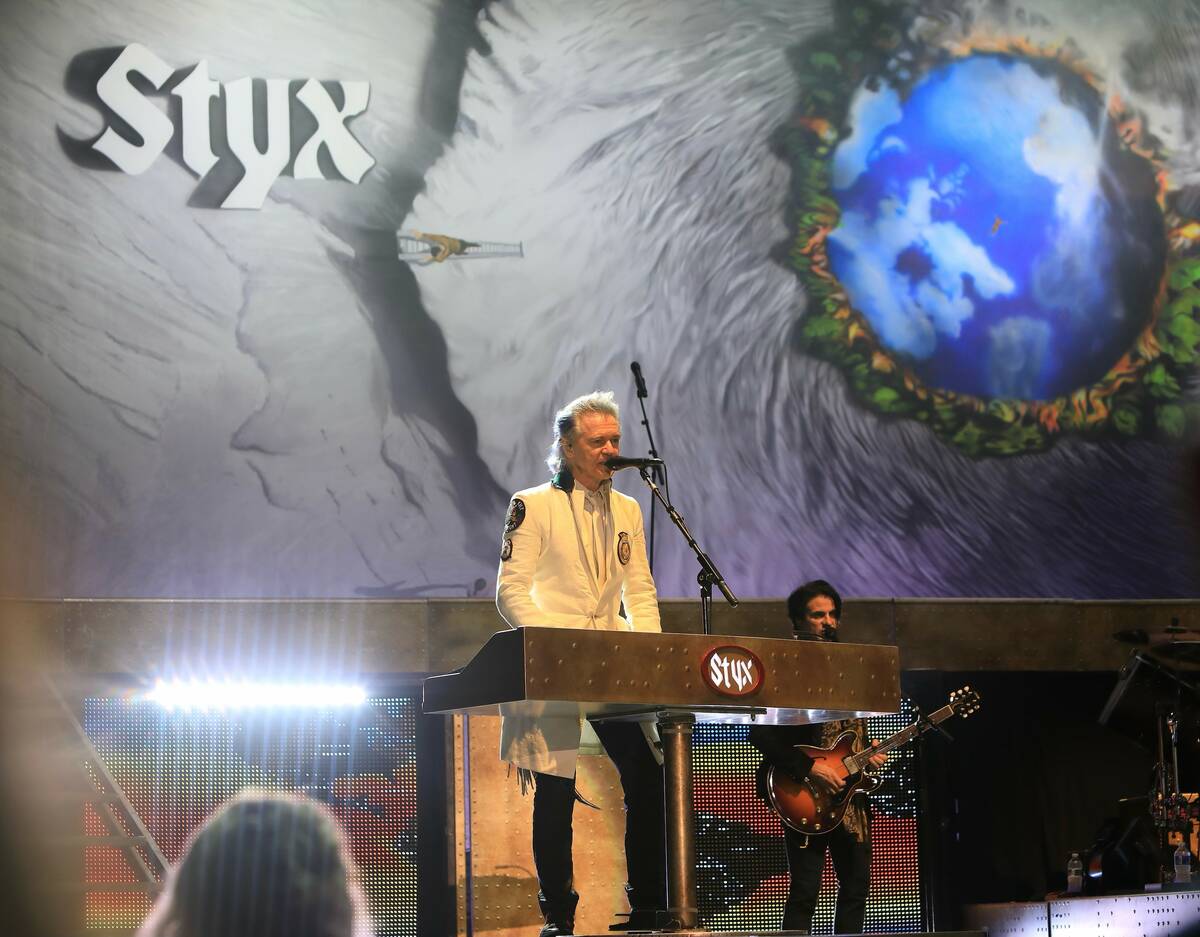 There was a time when a keyboardist would not be the front man in a rock band. Jerry Lee Lewis helped change that attitude. So did Little Richard, Elton John and Fats Domino, among myriad other prominent piano practitioners.
Today, Lawrence Gowan of Styx has put his own spin, spiritually and in fact, on keyboard showmanship.
Gowan and the band are in the middle of their extended engagement at The Venetian Theatre, running Wednesday, Friday and Saturday. Gowan has a Styx staple since 1999, integral to their studio work and a veritable whirling dervish onstage.
Gowan's signature effect is a keyboard that rotates 360 degrees, while he stands, grooves and spins himself. The stage piece actually dates to 1990, and oddly involves legendary Rush guitarist Alex Lifeson.
While using just his surname, Gowan had issued the album "Lost Brotherhood" during his solo days, recording the LP in Toronto.
The video for "Lost Brotherhood" was an homage to George Orwell's "Animal Farm." Lifeson emerged from a burning barn during his requisite guitar solo. Gowan had written the treatment for this video, and noticed he wasn't especially eye-catching among the barn, the burning, and Lifeson's raging guitar solo.
"I'm the most boring most boring thing in this video," Gowan said. "I'm sitting behind some pianos. Meanwhile, all this other mayhem is going on."
Gowan had an epiphany, appropriately while talking to the lighting crew on the shoot.
"It suddenly dawned on me, what if we made a stand that could spin, somehow, on my keyboard — my piano would actually spin!" Gowan said. "We looked at the one Keith Emerson (of the supergroup Emerson Lake & Palmer) had in the '70s, which went end-over-end. I said, 'Yeah, no, not that.' We wanted one that would horizontally spin, so that I can move around. Not as a guitar player, but kind of turn and address different parts of the barn, you know?"
Gowan is a naturally charismatic performer anyway, and one of Styx' lead singers. Who inspired him to branch out, originally, as a rock-keyboardist?
"This is going to sound weird, but the first piano player I ever saw onstage that was flamboyant was Liberace," Gowan said. "I was 14 years old. I took the afternoon off from school because he was doing a matinee at a place in Toronto called the O'Keefe Centre (now Meridian Hall). I was in the standing-room-only section and watched Liberace drive on stage in this crystal-encrusted Rolls Royce limousine … I was like, OK, I'm definitely going to on my piano playing properly, because I really dig this."
Crazy on him
Ann Wilson of Heart has been added to the free rock 'n' roll spectacular headlined by The Jim Irsay Band on March 4 at Downtown Las Vegas Event Center. The show runs from 6 p.m.-11 p.m., and is also a means to exhibit some of Irsay's famous rock memorabilia collection, and several other cultural pieces. Though the event is free and open to the public, a ticket is required for entrance. To reserve a ticket, go to jimirsaycollection.com or Eventbrite.com.
Irsay, who owns and operates the Indianapolis Colts in his spare time, is the band's front man. Billy F. Gibbons and Stephen Stills will join the fray, and a tribute to the late David Crosby is planned.
Around the horn we have Kenny Wayne Shepherd on guitar and vocals, Kenny Aronoff (Paul McCartney, John Mellencamp, the Rolling Stones, Sting and Bob Dylan), on drums, Tom Bukovac (who has played on more than 700 albums with major artists) on guitar, Mike Mills (co-founder of R.E.M.) on bass and vocals, Danny Nucci (musician and actor from "Titanic" and "The Rock") on guitar and sax, Michael Ramos (Mellencamp, Patti Griffin, Paul Simon) on keyboards, Carmella Ramsey (Reba McEntire, John Hiatt, Olivia Newton-John) on violin, mandolin, and Mike Wanchic (Mellencamp) on guitar.
Items in the traveling Jim Irsay Collection include instruments and personal items from Bob Dylan, The Beatles, Prince, Eric Clapton, Elton John, Jerry Garcia, Jimi Hendrix, Janis Joplin, Jim Morrison and Kurt Cobain. Irsay has spent about $5 million for Cobain's 1969 Fender Mustang electric guitar from Nirvana's 1991 music video "Smells Like Teen Spirit." Of his passion for music, Irsay says, "It elevates the spirit, and anything in the collection is from very powerful people that have changed the world."
Angel's wish list
Planet Hollywood headliner Criss Angel's $1 million donation highlighted a charity event and birthday party Dec. 19 at House of Blues at Mandalay Bay. Angel celebrated his 55th birthday that night; the results of the event and accompanying concert were announced just this week.
A total of $1.3 million was raised over the course of the event, supporting Make-A-Wish Southern Nevada, Cure 4 The Kids Foundation and Johnny Crisstopher Foundation. The latter is named for Angels's son, who was diagnosed with a rare form of leukemia shortly after birth and was treated at Cure 4 The Kids.'
Angel announced last year that Johnny rang the cancer-free bell, signaling his remission and the end of his treatment.
"Our family has a superhero," Angel said in a statement. "A boy who went through more than six years of fighting pediatric cancer with the amazing benefit of the medical team at Cure 4 The Kids who oversaw his treatment, and then the team at Make-A-Wish Southern Nevada who helped him emotionally and filled him with hope during an otherwise dark time."
Iconic rockers Paul Stanley of Kiss; Robin Zander of Cheap Trick; Stephen Pearcy, late of Ratt; Sebastian Bach, late of Skid Row; and '70s pop superstar Tony Orlando performed in a private concert and were among the stars and celebs taking part. All of the funds raised were donated directly to the local charities.
'Awakening' anew
The Wynn production spectacular has glided into its reopening after a two-weak pause to tweak its story line and make other revisions. The first show back was Tuesday, but we're told work on the show is ongoing. Remember, neither Rome nor "Le Reve" were built in a day. Or even three months.
Cool Hang Alert
Venerable Vegas vocalist and host Dennis Bono celebrates the 23rd anniversary of his eponymous simulcast variety show 2 p.m. Thursday at South Point Showroom. Legendary impressionist Rich Little, Frankie Scinta, Chris Phillips of Zowie Bowie, Vinny Adinolfi of Bronx Wanderers, Lorena Peril of "Fantasy," comic-songwriter Dennis Blair, ex-"Jersey Boys" and "Bat Out of Hell" cast member Travis Cloer, pop-opera vocalist Giada Valenti, and the great Lorraine Hunt Bono (who opened, and closed, the Landmark) are all on the bill. Corrie Sachs is the singing sidekick. Tickets available at South Point box office, call 702-797-8055 for intel. As we say, that's amore.
John Katsilometes' column runs daily in the A section. His "PodKats!" podcast can be found at reviewjournal.com/podcasts. Contact him at jkatsilometes@reviewjournal.com. Follow @johnnykats on Twitter, @JohnnyKats1 on Instagram.
Historic items in
An 1823 William J. Stone printing of the Declaration of Independence, one of the first exact "facsimiles" of the final signed document;
Handwritten documents and artifacts from women's suffrage pioneer Susan B. Anthony;
Renowned American author Jack Kerouac's original 119-foot On the Road scroll;
Artifacts and signed documents from numerous U.S. Presidents, including George Washington, Thomas Jefferson, Abraham Lincoln, Theodore Roosevelt, Franklin Roosevelt, and John Kennedy;
The original manuscript for Alcoholics Anonymous' Big Book,the organization's founding document including the origin of the "12 Step" Program;
A Jackie Robinson game-used bat from 1953 (the founding year of the Colts);
Muhammad Ali's championship belt from the 1974 "Rumble in the Jungle" vs. George Foremanand his boxing shoes from the 1975 "Thrilla' in Manilla" vs. Joe Frazier; and
Sylvester Stallone's original manuscript notes for the movie Rocky.