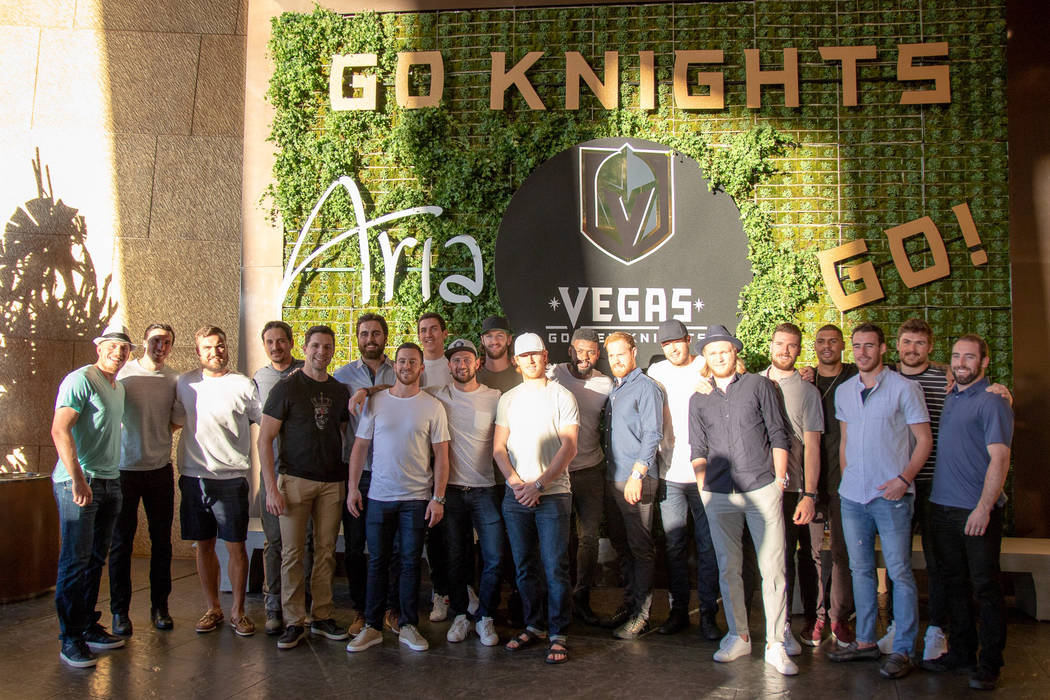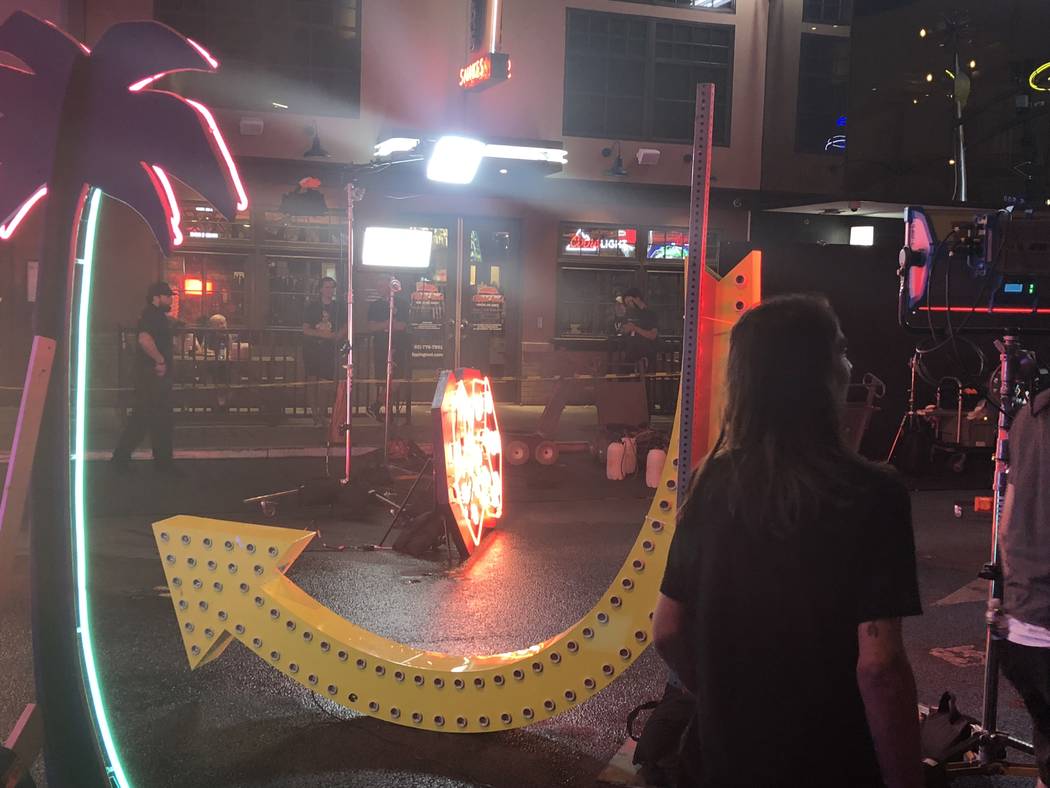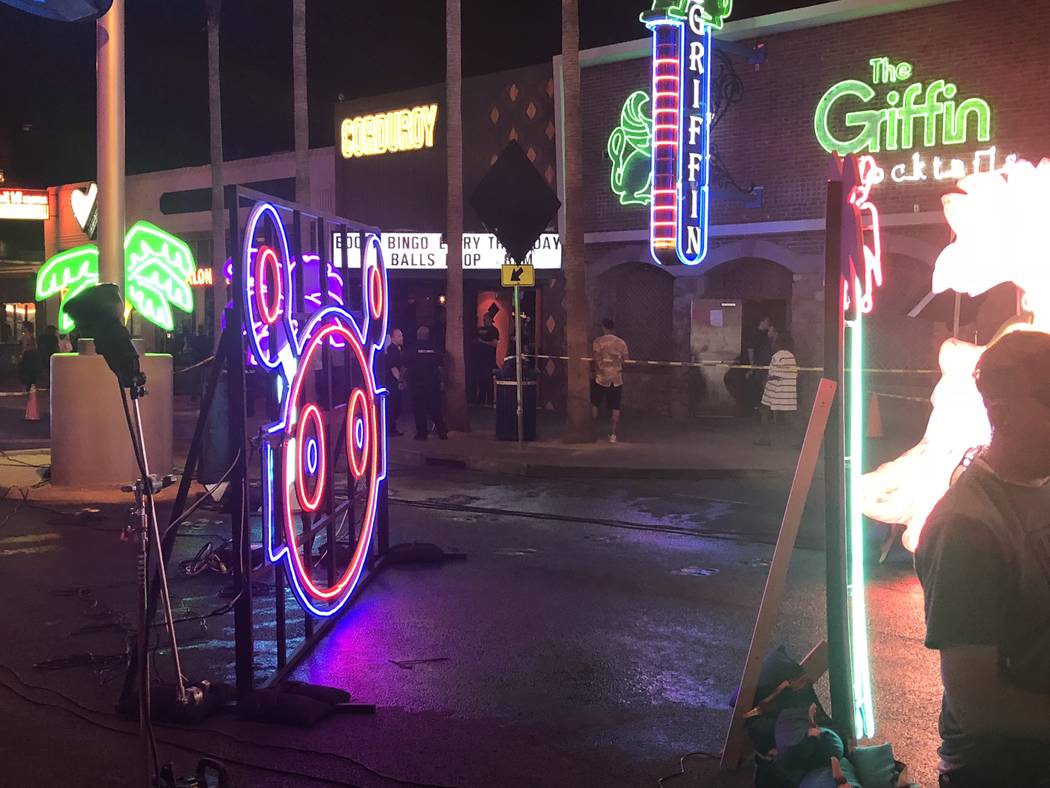 Well, that was a lotta pasta.
Partying as a team, the Vegas Golden Knights filed into Carbone at Aria on Wednesday night. Alex Tuch assembled this fete, as he celebrated his 22nd birthday (which is actually Thursday).
Carbone is the Italian restaurant brought to the Strip by Mario Carbone, Rich Torrisi and Jeff Zalaznick. The Golden Knights held forth in one of the two swanky, private dining rooms. En route to the restaurant, the team stopped for a group photo at the Aria Sky Suites Living Wall, designed with a big GO KNIGHTS GO! sign and team logo.
Something else about Tuch: His younger brother, Luke, is a member of the U.S. under-17 national team and has committed to play at Boston University. Alex was a collegiate star at rival Boston College.
As his brother announced his intention to play at BU, Alex tweeted, "Although it might cause a family feud at the Tuch household … I am very proud of my little brother @luketuch37 on his commitment to Boston University!"
The hubbub downtown
A production team shooting stills and video for Prada took over Fremont Street on Tuesday and Wednesday nights. There had been buzz on social media that Nicole Kidman has been on the scene, though a member of the production team said late Wednesday night she was never part of the filming.
Nonetheless, the production's set took over the middle of Fremont Street between Evel Pie and the Griffin, with the work finishing at about 3 a.m. Thursday.
The city of Las Vegas issued the Prada people a permit to shoot downtown throughout this week (the team is was also reportedly heading for some additional local scenery in Southern Highlands, which is in Clark County). The crew returns to downtown Las Vegas on Friday night to shoot inside Inspire Theater and at a Fremont Street resort, but no more road closures are scheduled.
Throwin' deep
So I ran into ex-Oakland Raider great Daryle Lamonica on Wednesday night.
Twice.
First, we were introduced at the Raider Foundation charity benefit at Topgolf at MGM Grand. The event was a fundraiser for Veterans Village of Las Vegas. The Raiders' strong-armed QB from 1967-'74, Lamonica was among a gaggle of ex-Raiders who participated in the event, a lineup that included Jim Plunkett, Cliff Branch, George Atkinson, Charles Woodson, Willie Brown, Ted Hendricks, Tim Brown, Mike Haynes and Napoleon McCallum. A quartet or Raiderettes was on the scene, too.
Lamonica, who lives in Fresno, Calif., said "I have mixed emotions, because I'm an original Raider who started and played in Oakland, but I understand the game," he said. "New stadiums are coming in, and Las Vegas is building one. It's an opportunity for Mark Davis to move here, it's exciting for them, and I'm happy for them."
Less than an hour after that chat, I ventured to the Piazza lounge at Tuscany Suites to check in on Kelly Clinton-Holmes as she hosted her husband, Clint's, 72nd birthday party. Not 10 minutes after I walked into the lounge, which was packed, Lamonica entered the room.
"Hey! The Mad Bomber is here!" I shouted, using Lamonica's nickname from his playing days. I walked over, again, and introduced myself.
Lamonica laughed and said, "You're following me!"
Lamonica's presence at Holmes' party was not so random. He is longtime friends of two of Holmes' closest friends, Bob and Darla Randolph. Lamonica is also friendly with another couple at the party, Antonio Fargas (who played Huggy Bear on the "Starsky & Hutch" TV series, among many other roles) and his wife, Sandra. Antonio's son Justin was a Raider running back from 2003-09. Fargas referred to the entire group as "The Raider Family," even though Holmes is an avid Redskins fan and some of us back the Niners.
More Raiders …
The guy in the white Raiders T-shirt who looked like team owner Mark Davis at "Sexxy" at Westgate Las Vegas on Wednesday, was.
It was Davis' second, and probably not last, visit to the show.
A 'Cocktail' break
"The Cocktail Cabaret" at Cleopatra's Barge at Caesars Palace is going dark from May 19-June 6. Co-producer Keith Thompson says the cast is taking a vacation. The time does allow for a new marketing push for the 5 p.m. show, and a possible time shift to 6 p.m. That 5 p.m. slot is something of an odd fit for a Strip show, though some visitors (including this one) like the idea of taking in a show in time for dinner, then another show … such as the one the Raiders' owner visited Wednesday.
John Katsilometes' column runs daily in the A section. Contact him at jkatsilometes@reviewjournal.com. Follow @johnnykats on Twitter.